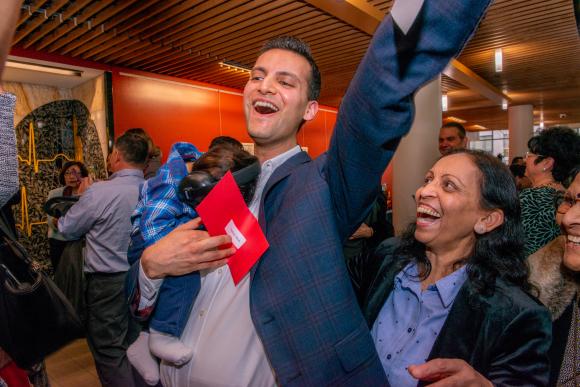 PROVIDENCE, R.I. [Brown University] — Dripping rain did little to dampen the nervous excitement as 125 fourth-year medical students — as well as their friends, families and faculty — awaited important and potentially life-changing news at Brown University's Warren Alpert Medical School.
At precisely noon Eastern Time on Friday, March 15, balloons dropped and a drum roll resounded as the students lined up to receive red envelopes containing their residency assignments — where they'll begin practicing medicine after they graduate in May.
For the students, Match Day is the culmination of four busy, highly demanding years of rotations and classes — not to mention a grueling nine-month residency application and interview process. 
"Match Day is one of the most enjoyable events during medical school," said Dr. Allan Tunkel, associate dean for medical education. "Our students have worked so hard and will now find out where they will be doing residency training as they embark on their professional careers. I am very proud of our students and their accomplishments. I look forward to following their careers with admiration and pride."
Some family and friends supported their future doctors with flowers. Others expressed their love and support in a less traditional manner.
Alicia Rolin's whole family wore matching shirts with the titles "Miss" and "Mrs." crossed out and replaced with "Doctor." Even their dog, waiting at home, was wearing a matching shirt, said her sister Dr. Stephanie Rolin — who went through her own Match Day five years prior and spearheaded the matching shirts. Alicia Rolin applied to 16 residencies, hoping to specialize in pediatrics. 
Neesha Nama's fiancé and best friend dressed up as matches — in tan sacks and paper-flame hats — to support her on Match Day. Nama was hoping to go to Duke University for a residency in medicine, though she applied to many other programs.
When the fateful moment came, the students tore open their envelopes. The lobby echoed with screaks of excitement and shouts of locations. The crowd contained numerous sets of teary eyes, from parental tears of pride to tears of relief or, in a few cases, even disappointment.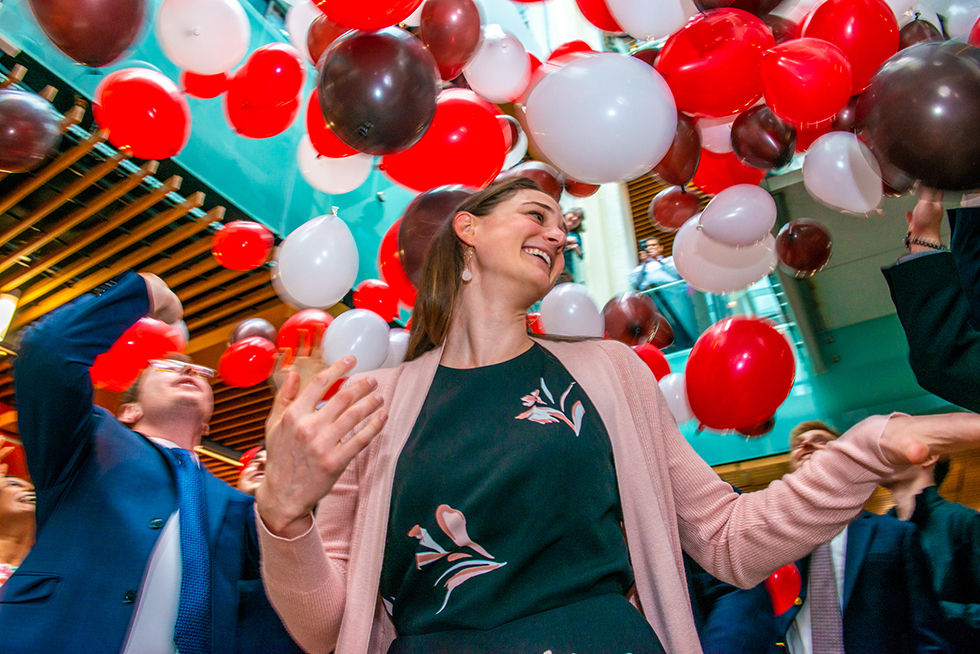 Maddy Wozniak and her boyfriend, Jonathan Staloff, were "very, very excited" to be going to Seattle, Staloff said. They had participated in the National Resident Matching Program as a couple to try to ensure positions in the same general area. Wozniak applied to about 27 pediatrics programs, and Staloff applied to about 33 family medicine programs. Both ended up being matched to their top choice, the University of Washington School of Medicine, in their respective specialties.
Including Wozniak and Staloff, 55 students matched to primary care programs, including family medicine, internal medicine and pediatrics. Another 21 students were destined to become surgeons, having been matched to various surgery programs, and radiology drew 11 students. Ten students were matched to psychiatry residency programs.
Of the class of 2019, over half — 69 in total — will stay in the Northeast, with 19 students remaining in Rhode Island to train at Brown-affiliated programs.
One student, Tim Wright, began the day already knowing where he would be conducting his residency. He participated in the U.S. Army's Health Professions Scholarship Program and will complete his residency at Madigan Army Medical Center in Washington state. After he completes his military residency, he will be deployed, serving one year of active duty for each year he was supported by the program. 
Alicia Rolin was quite pleased to be matched with the pediatrics program at the University of Michigan. 
Nama ended up matching with her top choice program at Duke University and now can turn her mind to her next major life event. She will be getting married in two weeks.
To view the full 2019 Match List, visit the Alpert Medical School's website. A Facebook Live video of the big moment is also available.