PROVIDENCE, R.I. [Brown University] — Technology's impact on education. How universities can level the economic playing field. The roles of government, business and higher education in preparing a global workforce.
Opinion leaders and experts from a wide range of preeminent higher education institutions in Africa, Asia, Europe, Latin America and the U.S. convened at Brown University on April 4 and 5 for a two-day symposium that explored those topics and more.
Titled "Building the Human Capital of Tomorrow: A Global Responsibility," the event brought together 37 global leaders to discuss the future of higher education and ways in which academia, government and the private sector can join forces to meet the needs of a changing workforce. It was the 10th annual "Reinventing Higher Education" conference organized by Spain's I.E. University, and the partnership with Brown marked the first time it has been held in the U.S.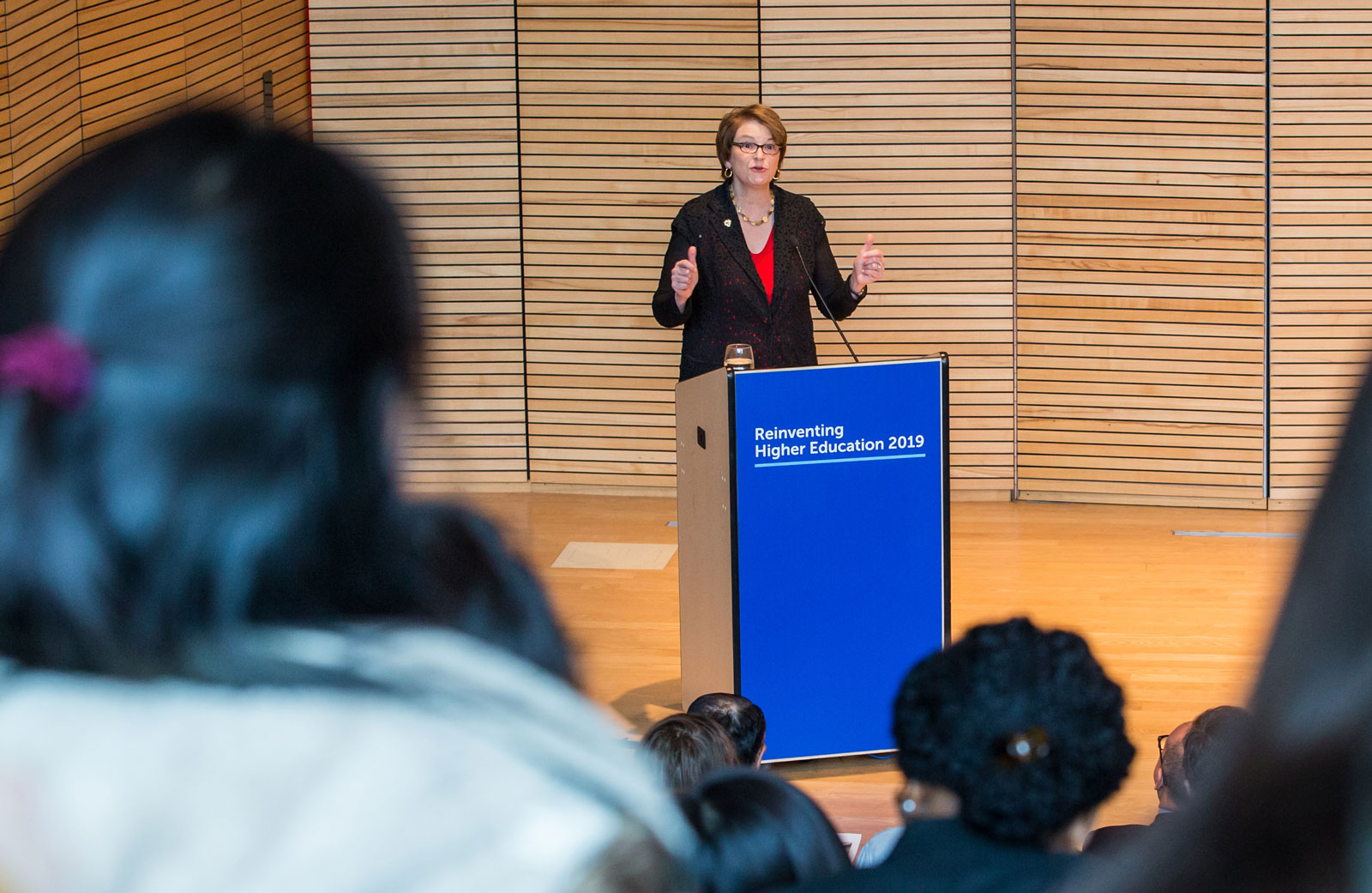 In welcoming participants, conference co-host and Brown President Christina Paxson invited them to explore opportunities for collaboration to create more efficient, equitable and effective models for delivering education to both existing and new groups of learners. She also challenged them to consider how higher education can devise solutions to rising income equality worldwide.
"At its core, higher education is where young people go for self-exploration, intellectual enrichment, career preparation and civic engagement," Paxson said.  "At the same time, a four-year college degree remains a transformative tool for countering inequality. We all know from research and life experience that people do better with more education than with less. It democratizes opportunity and prepares workers to compete in a global economy."
Jim Yong Kim, former World Bank president and vice chairman of Global Infrastructure Partners, delivered the keynote address, titled "Building the Human Capital of Tomorrow."
A Class of 1982 Brown graduate who is now a senior fellow at the University's Watson Institute for International and Public Affairs, Kim conveyed the importance of education in his own life, noting that his worldview was transformed when he attended Brown. He spoke about the power of technology to increase people's aspirations about and the dangers that await when those aspirations are not fulfilled by opportunity.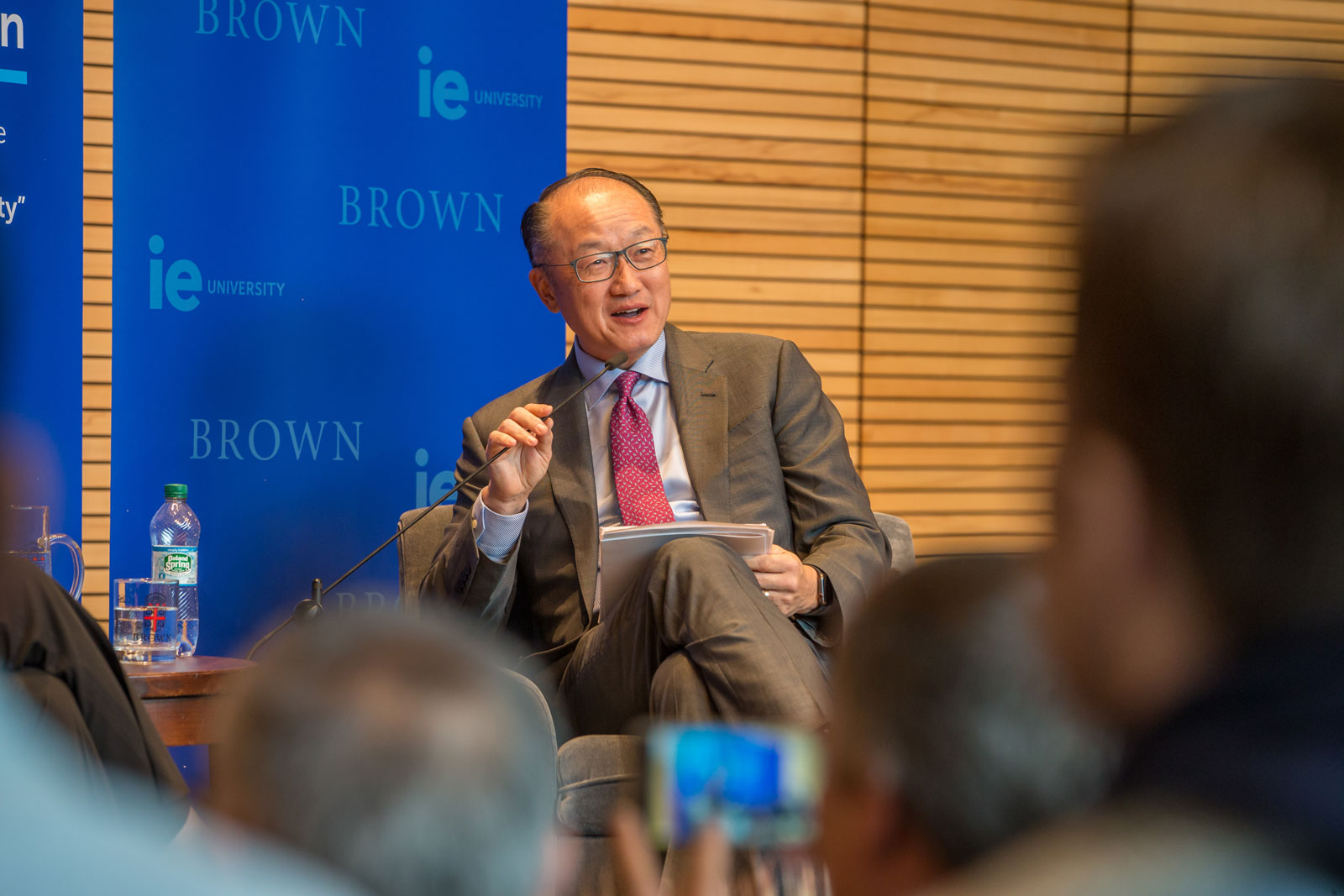 "If aspirations are met with opportunity, you can get dynamic economic growth," Kim said. "But if you have rising aspirations with no opportunity, it often leads to fragility, violence, conflict and, of course, ultimately migration. We have to make the strongest commitment to create higher opportunity."
Journalists from the New York Times, the Economist and the Financial Times moderated a series of discussions during the two-day symposium. Academic, business and government leaders from five continents, 20 countries, and representing nearly 1 million students at their institutions, addressed topics including building human capital, innovation in the delivery of teaching and learning, and the social impact of universities, among others.
The intersection of technology and education in preparing learners for a global economy was a theme throughout. Brown Provost Richard M. Locke invited participants on a "Future of Work" panel to examine the larger role of their institutions in advancing a society that is being quickly transformed by new technologies.
"We as universities have a responsibility not just to our students, but also to the societies in which we are embedded," Locke said. "So what is our role to try to shape these experience and shape the kind of education we provide for the future of our society?"
Among those who responded to that question, Maria Zuber — vice president for research at the Massachusetts Institute of Technology (MIT) and a Brown Ph.D. graduate — described MIT's effort to post courses online at no cost to expand access to the institute's distinctive educational experience. MIT is also creating a College of Computing that will enable students from all disciplines, including the humanities and social sciences, to use and develop artificial intelligence and other cutting-edge computing technologies, she said.
"As higher education institutions, our role is to educate people in this rapidly changing environment," Zuber said. "Our responsibility is to evolve with the times and provide the kind of education that people need."
Conference co-host and I.E. University President Santiago Iñiguez posited that while technology continues to augment education in new and exciting ways, it does not yet have the capability to replace in-person learning.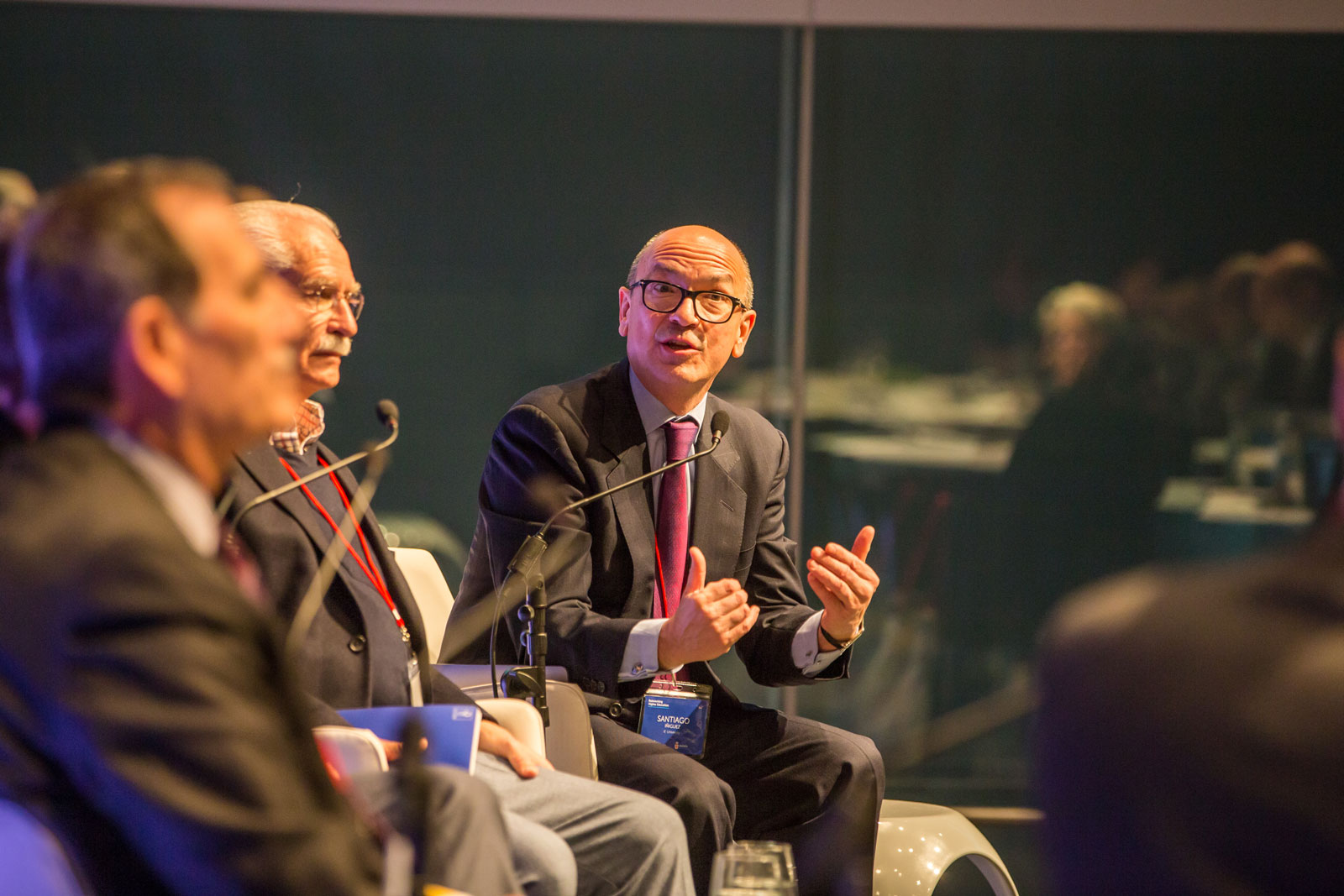 "Technology provides opportunities for us to personalize education and extract the best out of participants in class," Iñiguez said. "We can strengthen participants' strengths and moderate their weaknesses and enhance and enrich the whole learning process… But the promise of technology replacing education has not been fulfilled."
Though higher education institutions continue to grapple with the best ways to employ new technology, its impact on new ways to deliver education will be profound, many speakers agreed.
Jean Chambaz, president of Sorbonne Université in France, envisioned a mix of traditional on-campus experiences and technology-based learning (online courses, blended online/on-campus experiences) serving individual students as they venture through lives and careers, seeking to build new skills along the way.
"The university of tomorrow would be a university where you don't go for three or four years, but for life," Chambaz said. "You start and you stay one year, two years. Then you have a working experience. You go back again, online or blended or on-site, to develop new capacities and skills. You go on your way, you come again. It's another kind of journey. The university could help [prepare] a work force all along their life."
Reflecting on the role of the private sector in defining that journey, Bank of America Chairman and CEO Brian Moynihan noted that employers need to advocate and communicate clearly with higher education leaders about the skills required for today and tomorrow's workforce.
"I don't think it's for us to redesign the educational system," said Moynihan, a Class of 1982 Brown graduate. "I think it has to come from the educational system to us. It is for us to be clear about what we would like to do and when there is a bridge to be built, it's for business to describe that bridge to university presidents and career development offices and help them understand that building the bridge has to happen."
Many leaders stressed that the importance of intercultural competence for members of the 21st century workforce, particularly in the current global political climate, has never been more urgent. Universities should be highly intentional in advancing those skills among students.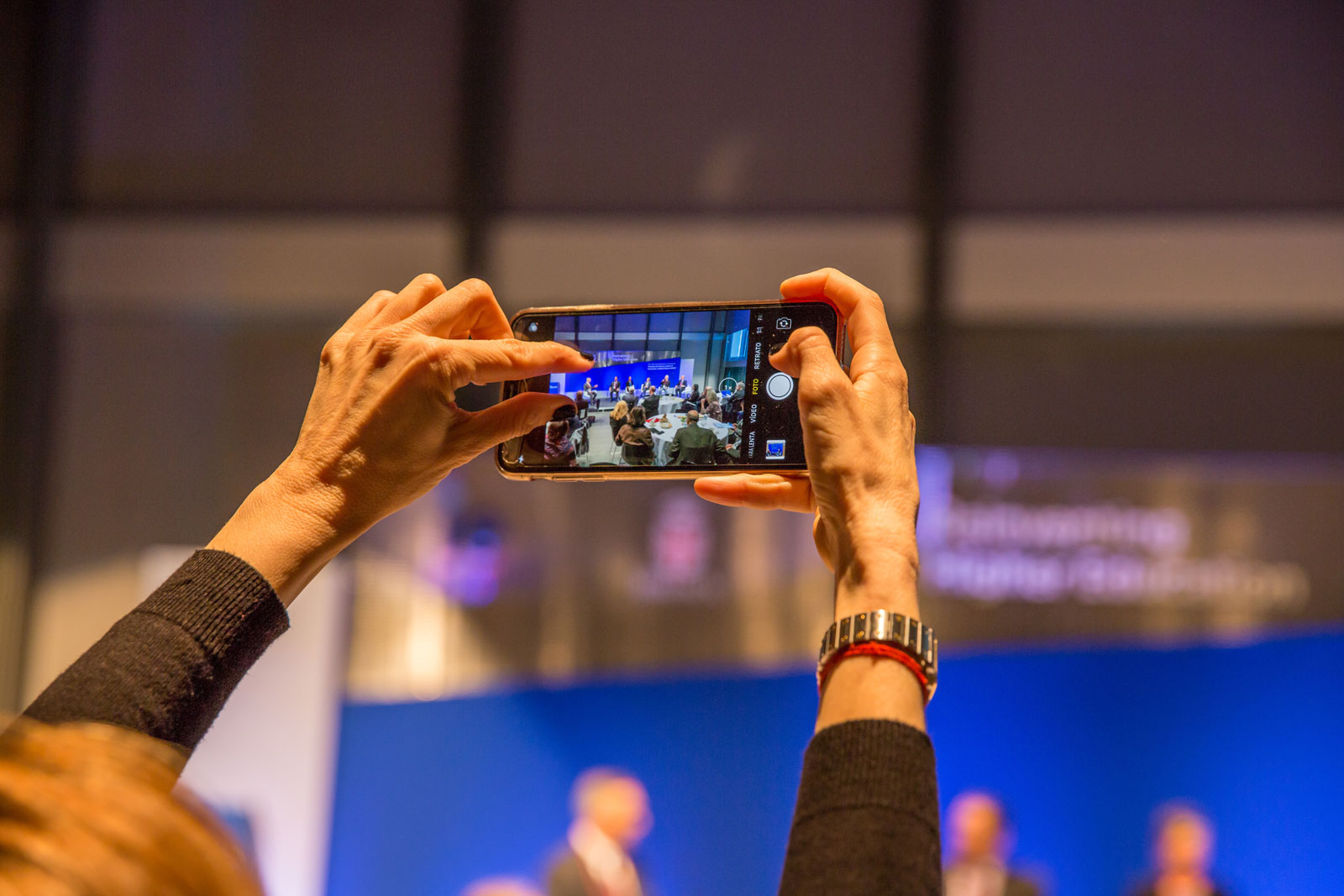 Julio Frenk, Mexico's former minister of health who now serves as University of Miami president, said that he is fortunate to live in a city and work on a campus where no single racial or ethnic group is a majority. Yet that fact alone does not create inclusive learning communities in which knowledge benefits from diversity of perspective.
"You can have diversity by numbers, and you can still have a highly fractured community," Frenk said. "You can have an 'archipelago university' — a very diverse institution where people segregate according to affinities. You need to invest institutional energy and resources to break that and build cultural belonging."
The collaboration to host the conference at Brown emerged from a successful alliance between I.E. Business School and Brown's School of Professional Studies, which offer a joint executive master of business administration degree. Designed for business executives around the world, the blended program features a mix of live videoconferences, interactive forums and digital activity with face-to-face modules in the U.S., Spain, South Africa and elsewhere across the globe.
Shankar Prasad, Brown's deputy provost for global engagement and strategic initiatives, said the symposium offered an opportunity for Brown, I.E. and other universities to highlight distinctive, successful approaches to education, and also to reflect on the commonality of purpose among the many institutions represented.
"The challenges that each of our institutions face are very different, but we're united by the same mission," Prasad said. "It really helps to abstract to a higher level and have the opportunity to think about why are we all here, what are we in the business of doing and how can we reinforce the importance of knowledge production as well as skill and training. I'm thrilled that Brown gets to be at the center of this conversation."