PROVIDENCE, R.I.[Brown University] — Every year in April, the American Public Health Association convenes National Public Health Week to share public health research and promote health and well-being in communities across the nation. 
And each year, Brown's School of Public Health hosts an extensive lineup of events and conversations to celebrate the week and showcase the high-impact work of its student and faculty scholars. 
"National Public Health Week is an annual celebration of public health and its vital role in promoting health and well-being," said Bess Marcus, dean of the School of Public Health and an expert in health behavior and exercise promotion. "The themes during the week — from prevention through mindfulness to the health threat posed by immigration enforcement — all seek to bring awareness to some of the urgent health issues facing the world today. Our vision for the next five years is to impact urgent health challenges and improve health equity."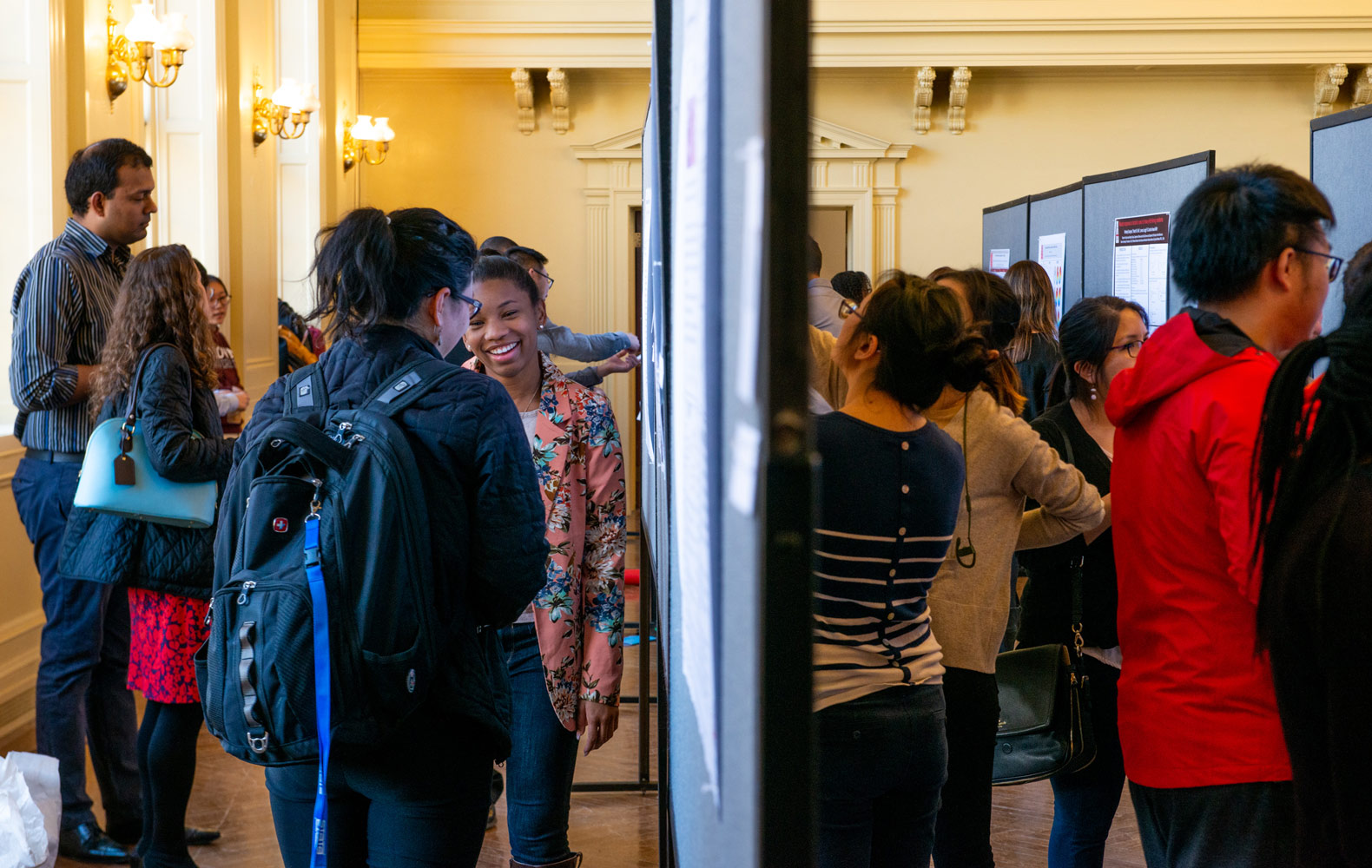 On Thursday, April 4, approximately 90 public health undergraduate, master's and doctoral students presented ongoing research projects to their peers and members of the Brown community and beyond at the school's 20th annual Public Health Research Day.
At the scientific version of a performance recital, the students explained research questions and offered a glimpse at preliminary results on a wide-ranging set of topics — everything from student perceptions of sexual assault resources to strategies women have developed to improve their own adherence to HIV treatment.
Alison Weber, who will receive her master's degree in public health in May before returning to Brown as a doctoral candidate, shared details on her research in Cape Town, South Africa, which has a high prevalence of people living with HIV. The World Health Organization runs a program to reduce the transmission of HIV from mother to child during or shortly after pregnancy, Weber said — but many postpartum women stop taking antiretroviral drugs, despite the benefits for their health. 
As a follow-up to a large study in which some new mothers received HIV care at the same location as their children's checkups, which increased their antiretroviral adherence, associate professor Jennifer Pellowski's team interviewed participants. Weber, who analyzed the interviews, said the women detailed various strategies they had developed to improve their own adherence to treatment, despite many barriers to care. Many participants said they felt more motivated to continue treatment when they felt they were educated and understood the purpose of the treatment, she said. Social support also helped them adhere to treatment. 
Weber said that by understanding the strategies these women developed, public health practitioners in South Africa and around the world could develop new interventions to assist other people living with HIV in sticking with their treatments.
"The women talked about struggling with issues that I could not have anticipated and added nuance to my understanding of what are categorized as 'barriers' and 'facilitators' of their retention and adherence," Weber said. "As I move forward into my Ph.D. work at Brown, I will continue to keep women's voices in the center of my work and treat research participants as experts in their own health."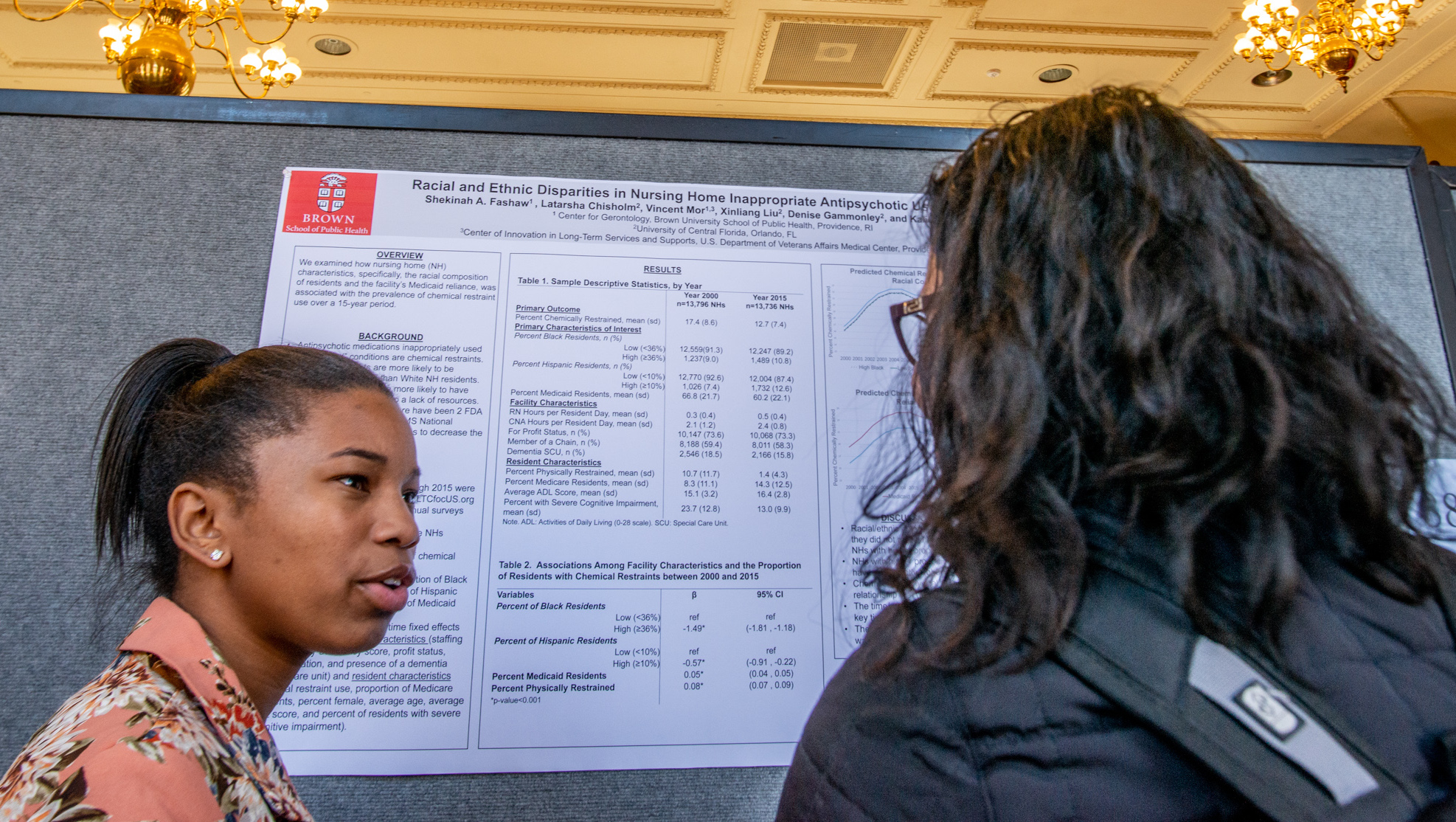 Studying a different public health challenge in the U.S., and in a much older demographic, second-year doctoral student Shekinah Fashaw presented on her work analyzing data on nursing homes from 2000-2015. Her goal was to see if there were racial and ethnic disparities in the inappropriate use of antipsychotics among nursing homes. Antipsychotics should only be used with patients with mental illnesses such as schizophrenia and bipolar disorder, but have been inappropriately used to chemically restrain people with dementia, she said. 
Fashaw was surprised to see that nursing homes with a high proportion of black or Hispanic residents had less inappropriate use of antipsychotics than nursing homes with a high proportion of white residents.
"The main finding was so surprising that I re-ran the numbers and double-checked my controls," Fashaw said. 
She did find that nursing homes with a high proportion of residents on Medicaid had more inappropriate use of antipsychotics. Fashaw  will continue her research with associate professor Kali Thomas to attempt to determine why nursing homes with high minority populations have less inappropriate use of antipsychotics.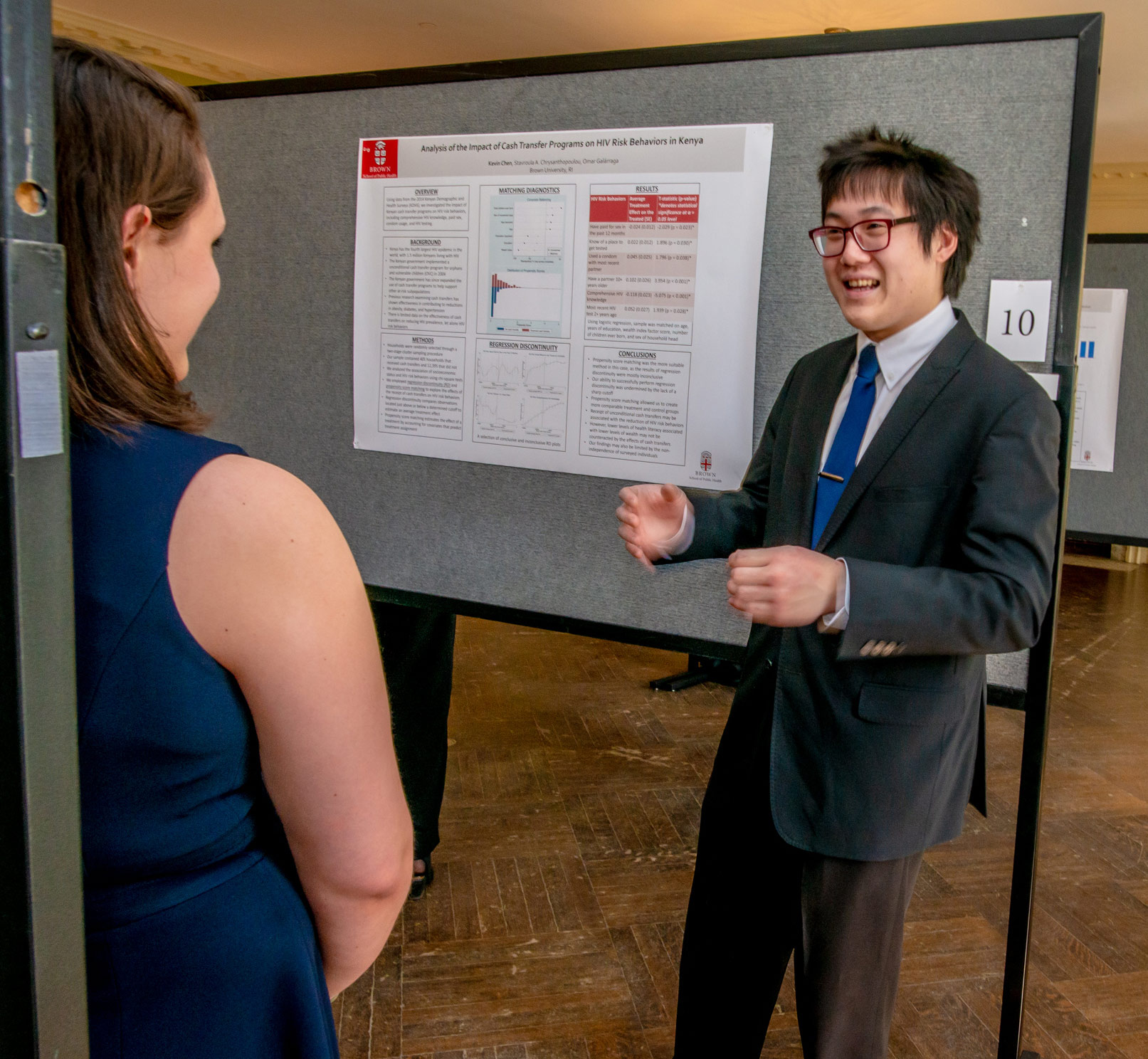 Focusing even closer to home, Brown undergraduate Naomie Shembo, a senior concentrating in public health, shared her research on the perceptions among Brown students about on-campus sexual assault prevention and response resources. This work was conducted for Shembo's thesis in collaboration with professor Kate Carey. 
Shembo surveyed approximately 100 fellow undergraduates and found the students generally trusted on-campus resources, including the Title IX and Gender Equity office, the University's Sexual Harassment and Assault Resources and Education advocates, and Sexual Assault Peer Educators. Yet older students and women reported less trust in on-campus resources.
"I thought there would be more gender differences in student perceptions of on-campus resources," Shembo said. "However, the views of men and women only differed on three of the questions." 
She added that it was encouraging that all students are aware of the variety of resources available to them on campus.