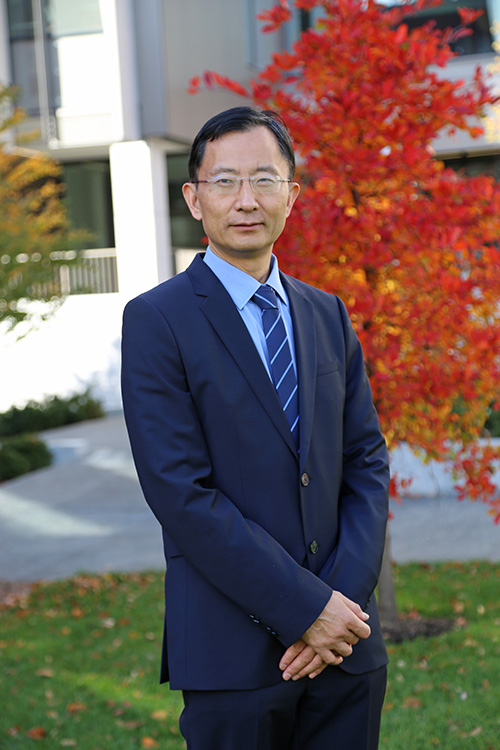 PROVIDENCE, R.I. [Brown University] — Huajian Gao, a professor in Brown's School of Engineering, has been elected a member of the American Academy of Arts and Sciences, one of the nation's most prestigious honorary societies. Gao joins more than 200 new members of the Academy, which includes leading thinkers in science, public affairs, business, arts and humanities.
The academy selects its members through a highly competitive process that recognizes individuals who have made pre-eminent contributions to their disciplines and to society at large.
"I am most excited and deeply humbled to be elected to the American Academy of Arts and Sciences," Gao said, "a society of preeminent scholars whose membership includes American founding fathers like George Washington, Thomas Jefferson and Benjamin Franklin, as well as great scientists and inventors like Albert Einstein, Charles Darwin and Alexander Graham Bell."
Gao's lab at Brown focuses on the mechanical properties and behavior of materials in engineering and biology. His recent work runs the gamut, from finding new techniques for making better structural steel to aiding the development of a new type of antibiotics. In a recent paper published in the journal Nature, Gao and his colleagues showed a potential means of engineering metals that resist fatigue, which is responsible for the vast majority of failures in devices and structures.
In a paper published just this week, Gao and colleagues showed that a "cardiac patch" with finely tailored mechanical properties can be placed on the heart to help prevent left ventricle remodeling — a stretching of the heart muscle that's common after a heart attack and can reduce the function of the heart's main pumping chamber.
Gao is co-author of hundreds of papers, which other researchers have cited more than 41,000 times. He's the recipient of the highest societal honors from the American Society of Civil Engineers, the American Society of Mechanical Engineers and the Society of Engineering Science. In 2012, he received the Alexander von Humboldt award, Germany's highest award for international scientists.
Gao joins 37 current and former Brown faculty members who have been elected to the academy, including University President Christina Paxson and Nobel Laureates Leon Cooper and Michael Kosterlitz.
Founded in 1780, the Academy is one of the nation's oldest learned societies and independent policy research centers, convening leaders from the academic, business, and government sectors to address critical challenges facing our global society.