PROVIDENCE, R.I. [Brown University] — For each first-year Brown undergraduate who travels through the famed Van Wickle Gates at Opening Convocation, the journey to College Hill is unique. Arriving from locales across the globe, Brown students embody a vast range of backgrounds, cultures, perspectives and stories, which ultimately intersect and diverge in myriad ways on campus.
Ruth Miller and Patricia Rodarte, selected to address their fellow graduates at Commencement 2019 as this year's senior orators, represent this breadth quite literally. Their home communities of Anchorage, Alaska, and El Paso, Texas, respectively, lie more than 3,800 miles away from each other.
Despite the vast distance between their starting points and their very distinct undergraduate experiences at Brown, both seniors have consistently drawn on the strengths of their origin communities to persist and to thrive.
Both said also that they will launch their post-collegiate journeys with a commitment to use the knowledge, tools and privileges they gained on campus to better the world. In their remarks during Commencement, they will encourage their peers to do the same. 
Rodarte, who drafted her address during last winter's 35-day U.S. government shutdown sparked largely by disputes over funding of a southern border wall, said she will explore the idea of border crossing.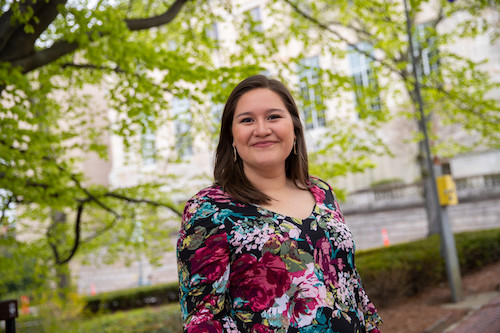 Growing up in El Paso, located directly on the U.S.-Mexico border — and with family on both sides — Rodarte traveled frequently between the countries, as did many in her community. When she came to Brown, she found herself traversing new borders into the unfamiliar cultures of New England and the Ivy League. 
The experience, she said, tested her personally and academically as she sought to reconcile the privilege of earning a Brown education with the challenges she faced as a first-generation college student in the University's eight-year Program in Liberal Medical Education (PLME), through which students earn both a bachelor's degree and a medical degree from the Warren Alpert Medical School. 
It wasn't easy, but she embraced the opportunities offered at Brown, including performing HIV prevention research at public clinics in the Philippines and in her hometown, as well as taking a related Wintersession course in Israel. Those experiences not only entailed more literal border crossings, but also enabled her to explore the boundaries between the study of pathology and the people impacted by that research. The cross-cultural perspective that she gained, she said, will help her to be a better physician.
"Students at Brown are already passionate and knowledgeable about helping others, but sometimes to be effective you really have to dig deep into yourself and dissect the thoughts that you have that actually may be keeping you in your own bubble," Rodarte said. "I want to encourage students as they move forward to burst outside the bubble."
At Brown, Rodarte became a vocal advocate for first-generation college students completing pre-medical coursework, leading the creation of a student-run committee that provides support and community to first-generation PLME students. Despite what she described as early struggles in her first life science classes at Brown, she ultimately proceeded to serve as a teaching assistant to biology professor Ken Miller— the author who wrote the biology textbook she had used in high school — for three years, as well as for two other immunology courses.
"Teaching has been a great way of paying it forward," Rodarte said. "Especially with my experience of having a hard time in these classes and maybe sometimes not getting an A, I'm able to give back by teaching students who've similarly had a hard time." 
Miller, too, said she will invite her fellow graduates to use their Brown education to contribute positively to society. A Dena'ina Athabascan Alaska Native and the daughter of two Native American rights lawyers, she said she was always encouraged to advocate for those who are marginalized.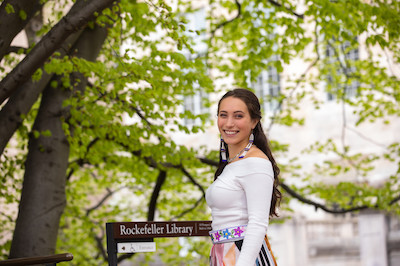 During her sophomore year, Miller and 11 other Brown students traveled to North Dakota for five days to join the Standing Rock Sioux in their movement against the building of the Dakota Access Pipeline. The experience was powerful, she said, but left her exhausted as she worked to meet her academic demands while simultaneously investing time and energy into her activism around indigenous people's rights on and off campus.
"That year, I learned the lesson of patience, and I learned that there's value in preparing myself for the battles to come using all of the resources that I have at my disposal," Miller said. "That meant deciding to make the most of this exceptional education that so many don't have access to. I had to learn how to contextualize my life here for four years within this six-block campus with what I would put this education in service of in the future, and how I would use it to mobilize for the fights that I care about."
A development studies concentrator, Miller has continued to advocate for native communities. On campus, she has been a co-coordinator of Natives at Brown and a co-programmer of the Native American Heritage Series. In the greater community, she recently represented the United Nations Association of the United States of America at the U.N. Permanent Forum on Indigenous Issues. Along the way, she learned to pace herself and to offer more compassion to others, and to herself, as she seeks to create change in the world. That message is one that she wants to impart to her peers in her oration.
"The most powerful message I can leave is one of 'radical compassion' to remind the student body that we each have the tools to pursue change in this world," Miller said. "We each have the courage to fight for what we believe in, but we will be worlds more effective if we do it with our human empathy, if we do it with our compassion, if we do it with our heart." 
After four years of intensive study, both Miller and Rodarte are looking toward the future. Rodarte is planning to take a year away from her studies, possibly crossing more borders through global travel before starting medical school at Brown. Miller expects first to return to Alaska to spend extended time with her community and family before heading to Hawaii and then New Zealand to pursue grassroots work building global networks of indigenous peoples to collaborate toward social and political change. 
Both orators noted the privilege afforded by their educational experience at Brown education and said what is essential now is how they will make use of that in their lives and careers ahead.
"What matters much more is what we'll do with it, how we'll put that education into service in the world, and what we hope to achieve when we leave this place," Miller said. "No matter what area any of us goes into, if we lead with a sense of responsibility to the world… if we learn to exercise compassion in our actions, whether they be professional or personal, I think that already is an impetus for change."
Together, Miller and Rodarte will continue Brown's 251-year-old tradition of students speaking at the University's Commencement ceremony. While it was once common for students to speak at college graduations, most universities now invite dignitaries to offer keynote Commencement addresses. Brown is distinctive in reserving that honor for members of the graduating class. Nearly every spring since 1769, University seniors have delivered orations to their peers after the annual procession through the Van Wickle Gates. 
As in years past, the orators were selected through a rigorous review process, which began with a call for nominations in the fall and submission of sample speeches over the winter break. A selection committee comprising faculty and students then invited the top candidates to deliver their proposed addresses earlier in the semester. 
"Brown is well known for its Open Curriculum, which for the past 50 years has placed faith in students' ability to craft their own unique, academic experiences," said Samuel Perry, an associate professor of East Asian studies at Brown who chaired the committee. "Our tradition of asking seniors to serve as Commencement speakers exemplifies this, but goes back even further."