PROVIDENCE, R.I.[Brown University] — Since 2013, the number of people in the U.S. who die after opioid drug overdoses has increased precipitously — the Centers for Disease Control and Prevention puts the figure at approximately 130 fatal overdoses across the nation each day. And countless other individuals contend daily with the challenges of opioid use disorder.
In recognition of this growing health crisis, Brown University's Warren Alpert Medical School began in 2015 to revamp its curriculum in a way that fully integrates training on the use and misuse of opioids into all four years of its medical education program.
Throughout each of their four years of training, Brown's medical students learn how to treat substance-use disorders through the use of motivational interviewing — a counseling method intended to encourage behavior change — as well as hands-on practice in the community and participation in workshops with other health care students.
"Expanding our curriculum on opioid use disorder and other substance-use disorders came from a need we recognized in the Rhode Island community and the nation," said Dr. Sarita Warrier, assistant dean of medical education. "Unfortunately, we have seen a high rate of opioid overdoses — training our medical providers to recognize and treat this crisis is critical."
Last year, the Association of American Medical Colleges recognized the medical school's curriculum expansion with a 2018 AAMC Curricular Innovation Award. And this month, the two physician-educators who lead the program shared lessons they've learned in developing the innovative curriculum on addiction, opioids and pain management with the country's medical education community as part of a national workshop.
Dr. Michael Mello — a professor of emergency medicine and medical education who co-leads the program with Dr. Paul George, associate dean of medical education — said that compared to three years ago, students emerge as new doctors significantly more prepared to address concerns about alcohol and drug use with patients.
"Students are developing their skills throughout all four years so that when I'm seeing them in the fourth year, they're at a much higher level," Mello said. "I hope that translates into them being able to provide better discussions with patients in the clinic and can help them along in their pathway to recovery more effectively."
In the classroom, in the community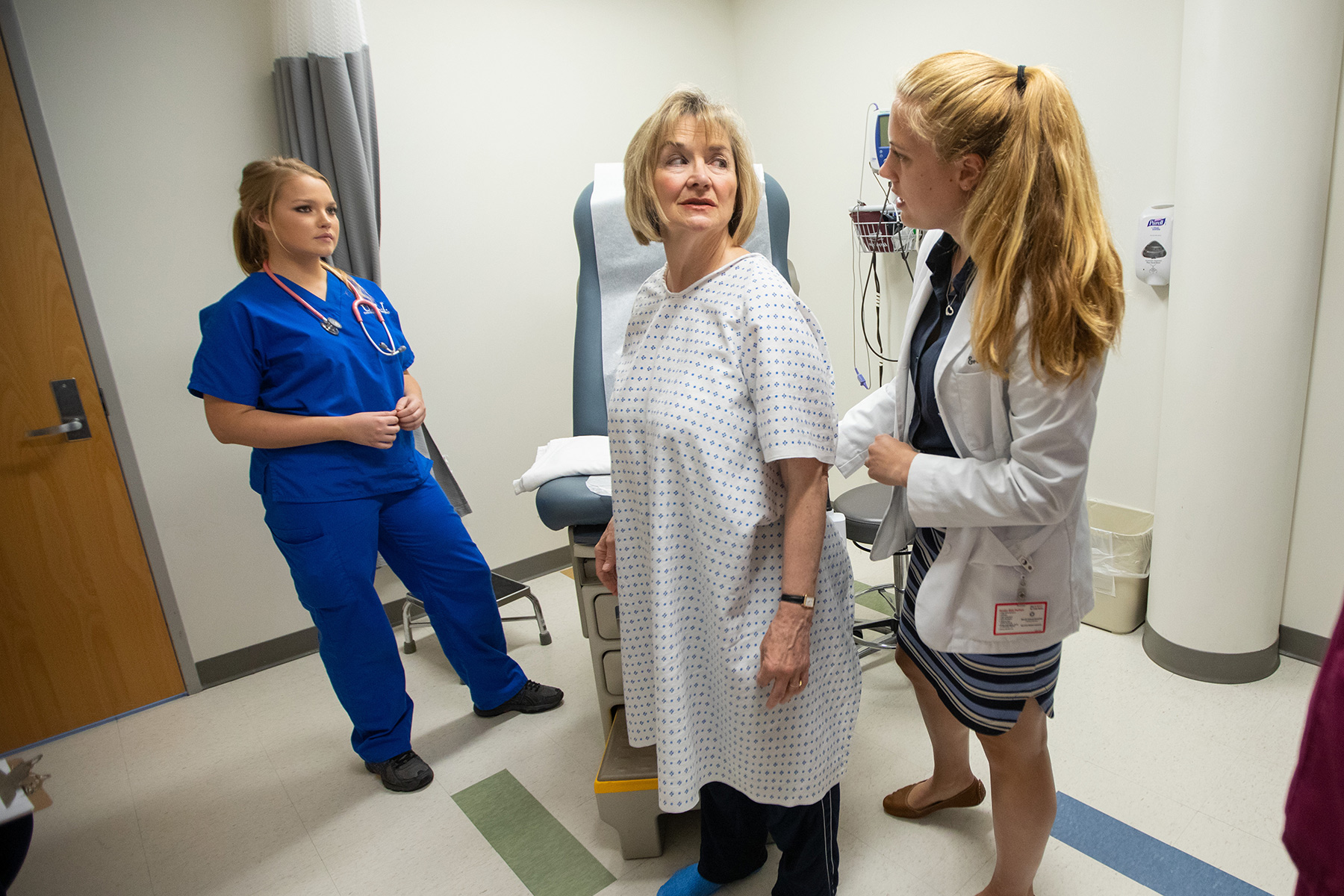 Because addiction and opioid use disorder impact people in all walks of life, leaders at Brown's medical school felt it was essential for the expanded curriculum to ensure that every future physician earning an M.D. from the school receives solid training in opioid and substance-use topics.
"In other schools with a less robust addiction curriculum, it might only be the handful of people like me who are specifically interested in addiction that actually learn about it in a meaningful way," said Paul Wallace, a Class of 2019 medical student who will focus on addiction psychiatry during his residency at University of California, San Francisco. "Here at Brown, most students have meaningful learning experiences around addiction."
With lessons and experiences woven into pre-clinical classroom instruction, every medical student at Brown is introduced to the details of opioid addiction during their first two years. Lessons include the physiology of pain, neuroscience of addiction, methods to treat pain, and motivational interviewing, Warrier said.
One key motivational interviewing method is called SBIRT— or screening, brief intervention and referral to treatment. All in the space of a quick conversation, this involves assessing whether a patient has a substance-use disorder, pointing out in a non-judgmental way how the disorder has negatively impacted their life and assessing if they are ready to change. It culminates with providing resources to those ready to change or offering tools to reduce the harm of using opioids, such as prescribing naloxone — a medication that can rapidly reverse the effects of an overdose.
"We're asking our future radiologists and our future dermatologists to be able to screen for opioid use disorder," Warrier said. "We think it's important that all specialties are able to do it. They're going to see consequences of opioid use disorder in all of those fields, so being able to consider the impact of substance-use disorders in whatever specialty they go into will be essential."
After the students are introduced to SBIRT during year one, they apply the training in the community. Since 2015, first- and second-year medical students have conducted approximately 5,000 SBIRT screenings. These assessments occur at doctor's offices, hospitals and community health centers throughout Rhode Island as students work alongside physician-mentors and participate in clinics.
"By having us comfortable having these conversations, medical students can make a big difference in the community at large," Wallace said. "You never know if you're going to be the person who breaks through to a patient, whether you have developed a good rapport with the patient or just have good timing in that you happen to be the person who is there when they feel like they are ready to make a change."
While these conversations do not always lead to major lifestyle changes, discussing the topic in a non-judgmental manner can help patients understand that drug use is a health concern that their doctor can help with, Mello said.
Later in medical school, during educational rotations in clinical settings, third- and fourth-year students generally have even more interactions with patients with substance-use disorders, Warrier said. These experiences can be eye-opening, students say. 
"This past year, when I was working with my doctoring mentor, a patient came in — she just moved here from out of state, was pregnant, going through withdrawal and hadn't had a chance to start medication-assisted treatment," said Jason Tsichlis, a Class of 2021 medical student at Brown. "In that moment, it went beyond 'I know opioids do X, Y and Z to dopaminergic neurons,' to 'How do I actually make this patient feel comfortable and get them the resources they need?'"
In addition to experiences in the clinic, many of the third-year medical school rotations include in-depth lectures on substance-use disorders and their consequences, Warrier added. Approximately half of Brown's fourth-year medical students elect to rotate through the emergency department, where they receive additional training on substance-use disorders and how to interact with patients. 
"The emergency department is a real opportunistic setting to see patients with alcohol and drug problems, but we have a lot of demands on us during that time," Mello said. "We have a waiting room full of folks and people who are critically ill, needing immediate attention. Of course we want to give every patient the services they need — the treatment they need — but we have to be efficient about it."
For that reason, brief-but-effective interventions are critical. Mello conducts a role-play session in which students have 5 minutes to have a complete conversation addressing the mock patient's substance-use concerns. He has run a similar training for the emergency medicine residents — doctors who have earned an M.D. and are continuing their specialized training in emergency medicine at Brown.
Team-based approach to patient care
While those initiatives help to prepare medical students to treat patients in their future roles as individual physicians, in today's world of health care delivery, that's often not enough. Complex cases, and patients with multiple health needs, require coordinated health care teams.
During a workshop before clinical rotations begin, Brown's medical students work together with students from nursing, pharmacy, physical therapy, social work programs in Rhode Island. Each workshop consists of four blocks in which mixed groups of five or six students analyze a patient case presented on paper, interview and diagnose a standardized patient played by an actor, learn best practices for counseling patients on naloxone, and listen to a panel of individuals who are recovering from opioid use disorders.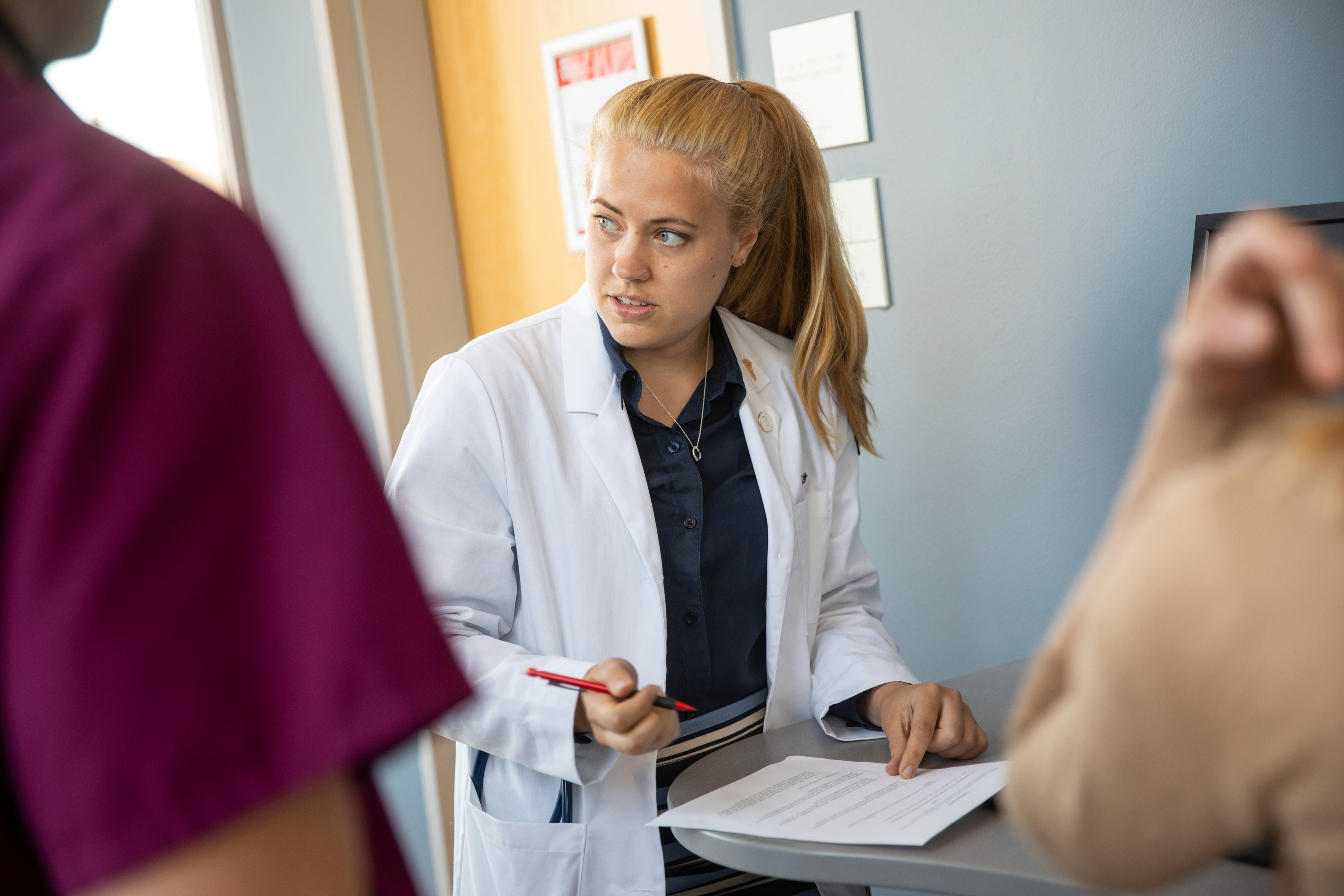 Erica Veazey, a medical student in Brown's Class of 2021, said the experience provided a solid introduction to the real-world need to work collaboratively to care for patients. 
"Working as a team to treat the standardized patient brought everything we've learned in theory to life," Veazey said as she completed a workshop earlier this month. "It really makes me appreciate students from other professions because there are so many things that I would never think about asking — or resources that I haven't heard of — that they just have on the top of their minds. Being able to integrate the foundational knowledge that we've learned over the first two years into not only clinical practice, but teamwork-centered clinical practice, is just upping our learning so many levels."
The medical school has been hosting workshops with students from other health care professions for nearly a decade, and Warrier said that a 2015 grant from the U.S. Substance Abuse and Mental Health Services Administration allowed it to add another workshop focused specifically on substance-use disorders.
"Understanding the skills and training of their colleagues in other health professions will help our students to take better care of their patients as a team," Warrier added. "There's much more to opioid-use disorders than what we often see as medical doctors. Our students need to think about other resources that could be helpful such as counseling, physical therapy and medications for assisted treatment."
Sparking new national solutions
As part of medication-assisted treatment for opioid use disorder, FDA-approved medications often prescribed to treat opioid addiction include methadone, naltrexone and buprenorphine, which can reduce withdrawal symptoms and block the effect of other opioids. The Drug Abuse Treatment Act of 2000 requires physicians to obtain a waiver to prescribe the medications, which typically requires an additional eight hours of training. 
Given the Warren Alpert Medical School's extensive curriculum on opioid use disorder, Brown graduates who also complete their medical residency in Rhode Island are eligible to receive a Drug Enforcement Agency (DEA) waiver to prescribe medication-assisted treatment beginning in their second year of residency, as part of a partnership with the Rhode Island Department of Health. 
This program became the first of its kind in the nation upon its launch in 2017, and it has sparked other medical schools to start similar programs in recent years.  
"We're very proud of the fact that we can graduate about 140 students a year who will be able to prescribe buprenorphine," Warrier said. "This is a really good way to expand the accessibility of opioid use disorder treatment in the state."
Currently this accreditation is limited to medical school graduates who complete their residency in Rhode Island, but George hopes that new legislation will make national certification and waiver eligibility possible.
Wallace said that the effort to start the program in Rhode Island but explore its expansion is reflective of Brown's significant role in the state's community of health care educators and providers. 
"It matters a lot that the medical school and Brown-affiliated physicians have taken an active role in addressing the opioid epidemic," he said. "Rhode Island still has a high rate of opioid overdose deaths, but it seems to be at the very least plateauing and maybe even turning a corner... Hopefully going forward, Brown will continue to be leaders not only in the state, but in the national discussion around the opioid epidemic, too."