PROVIDENCE, R.I. [Brown University] — Although rising junior Adrian Lee came to Brown University interested in pursuing a career in medicine, he spent the last three months watering plants and extracting DNA from leaves.
Lee, who is concentrating in biochemistry and molecular biology, spent his summer studying how plant growth is regulated, working alongside Alison DeLong, an associate professor in the Department of Molecular Biology, Cell Biology and Biochemistry. 
"What interested me in this project was using CRISPR/Cas9," Lee said, referencing the heralded genetic engineering tool that is revolutionary in the precision and ease with which it can produce changes in everything from earthworms to aspen trees. "It piques my interest when I think about what I'm doing and how we will understand more about ethylene production and plant growth."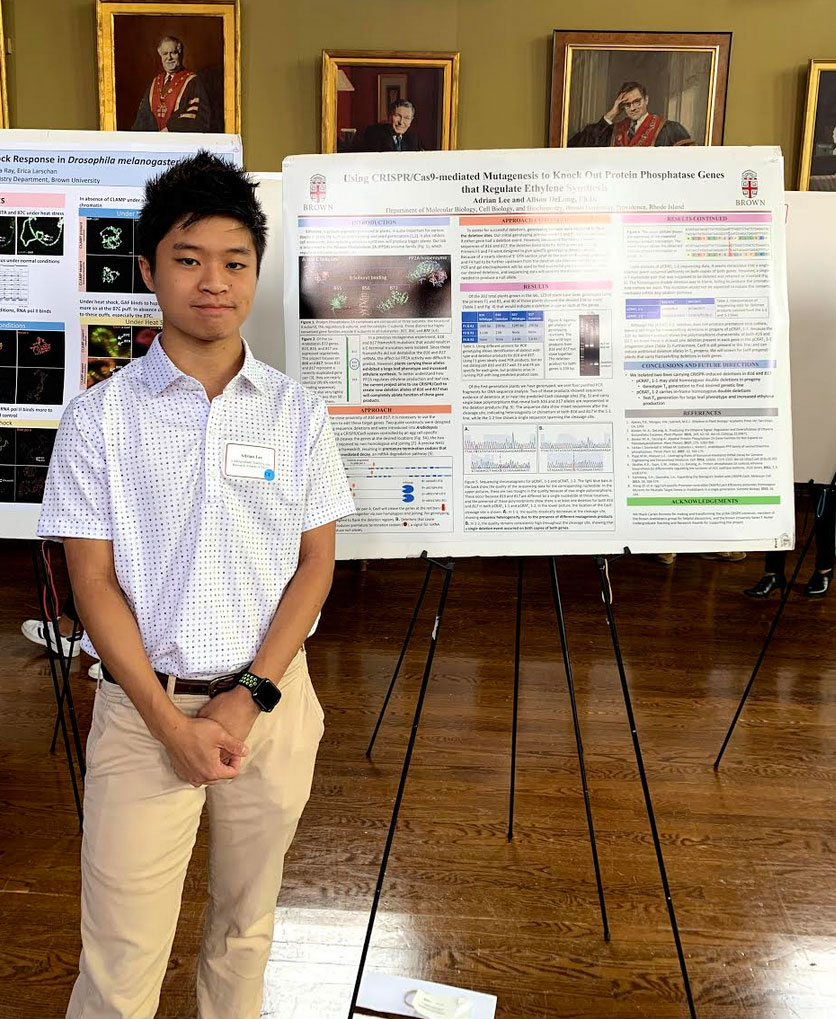 Ethylene is a gaseous plant hormone responsible for everything from sprouting seeds to ripening bananas. Lee is using the CRISPR/Cas9 system to delete two regulatory proteins involved in the production of ethylene in Arabidopsis, a small plant related to cabbage and mustard that is a common test subject among plant scientists.
He started working with DeLong in the fall of 2018 — his first experience doing laboratory work — and then applied for a Karen T. Romer Undergraduate Teaching and Research Award (UTRA), a Brown-funded grant that supports students working with faculty on collaborative research projects.
"This summer research experience was a nice way to stay on campus and learn more about what I'm doing in the lab," Lee said. "Earlier, I gave a presentation to the three molecular plant labs about what I'm doing this summer. It forced me to go back over what I should know and the papers I should read. It really enhanced my understanding of what I'm doing." 
Not only has the experience deepened his subject matter expertise, Lee said conducting research daily in the laboratory has improved his time management skills, ability to execute intricate procedures and aptitude for learning from mistakes. 
His current challenge is identifying a plant where the genes for both regulatory proteins were deleted in the whole organism, he said. So far, he's only found plants where one of the two gene copies were deleted, or plants where the genes were deleted in only some parts of the plant.
By deleting the genes encoding two of the proteins involved in regulating ethylene production, Lee hopes to improve the understanding of ethylene's nuanced role in plant growth. In the future, this may lead to the production of larger plants. These particular genetic mutations would be very difficult, if not impossible to achieve using traditional plant breeding techniques. 
Lee said he is still intent on going to medical school after he graduates, yet perhaps now with an interest in joint M.D./Ph.D. programs.