PROVIDENCE, R.I. [Brown University] — Three Brown University faculty members have won fellowships from the John Simon Guggenheim Memorial Foundation, the organization announced this month. 
Josh Pacewicz, an associate professor of sociology and urban studies; Kavita Ramanan, a professor of applied mathematics; and Daniel Jordan Smith, a professor of anthropology, were among 175 new fellows chosen from a field of nearly 3,000 applicants. 
The fellowships are awarded to writers, scholars, artists and scientists on the basis of "prior achievement and exceptional promise," the foundation says. Past winners have included Nobel laureates, Fields medalists, poets laureate, members of the national academies, winners of the Pulitzer Prize and more. 
The Brown faculty members will use their fellowships to study political polarization in the United States, advanced mathematical modeling and entrepreneurship in Nigeria, respectively.
Pacewicz is working on a new book titled "Architects of the Divided States: Legislators, Lobbyists and Advocates in Polarized Times." The book is a mixed methods study of bureaucrats, advocates, lobbyists and elected officials in several states, which speaks to growing divergence in state-level policy in the United States. It shows that this divergence is structured by policymakers' state-specific career trajectories. The book makes use of a social network analysis to map key policymakers' political careers; hundreds of interviews to show how they shape conventional wisdom in the domains of public health care, voting rights and environmental regulation; and observation of unfolding initiatives to show how policymakers draw on their networks to shift policy by creatively co-opting federal programs, participating in interstate compacts and other means that fly under the public radar.
What determines the fraction of individuals infected in an epidemic or pandemic? How does spiking of individual neurons lead to brainwaves? What is the systemic risk, or probability of cascading failures, in an interconnected banking network? Qualitative insight into such questions can be gained by analyzing large networks of randomly evolving particles or strategic agents. But such systems are typically too large and complex to be amenable to exact analysis or brute-force numerical methods. While the case of dense interaction networks has been well studied, Ramanan has recently introduced novel mathematical frameworks to study cases where such interactions are sparse, which is relevant for many applications. Combining tools from several fields, including graph theory, probability and partial differential equations, she aims to develop rigorous analytical and computationally tractable approximations to beat the curse of dimensionality and provide a significant improvement over existing approaches.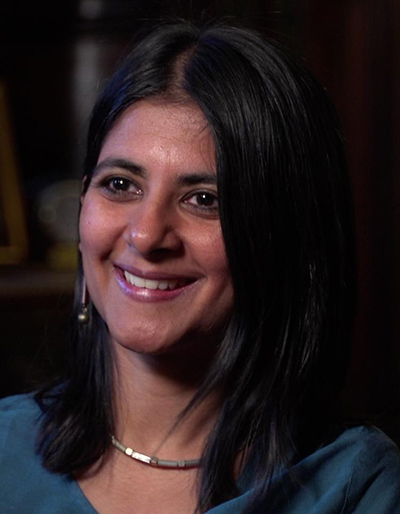 Smith's Guggenheim project is titled "Infrastructural Deficiency, State Complicity and Entrepreneurial Citizenship in Nigeria." Smith notes that in Nigeria, Africa's most populous country, people have a common saying that "every household is its own local government." This, he says, is a reference to the state's failure to provide and maintain fundamental infrastructure, which leaves citizens to cobble it together on their own. The study and resulting book will investigate how Nigerians cope with widespread shortcomings in domains such as water, electricity, transportation and security. Based on his preliminary findings, Smith observes that the state is in fact highly present even in its apparent absence. Entrepreneurial activities and informal economic enterprises to provide infrastructure require many dealings with the government. Paradoxically, he suggests, all of this seemingly non-state activity may be central to the consolidation of state power and the substance of citizenship.