PROVIDENCE, R.I. [Brown University] — For more than 20 years, Public Health Research Day has been a highlight of the Brown School of Public Health's academic year. Normally hosted on campus, the annual student research showcase brings together students, faculty, staff and collaborators from the Rhode Island Department of Health in celebration of the research achievements of more than 80 students and trainees along with colleagues. The event shares high-impact projects with the Brown community and draws attention to critical public health challenges.
In response to the coronavirus pandemic, the on-campus event, originally scheduled for early April to coincide with National Public Health Week, was cancelled. But the school was determined to move forward with sharing the research posters created for the event.
"Public health research only has value if its results are shared, discussed and acted upon," said Bess Marcus, dean of the School of Public Health. "It was really important that we not only share our students' work, but that we give them an opportunity to discuss it and to answer questions about their findings, even virtually."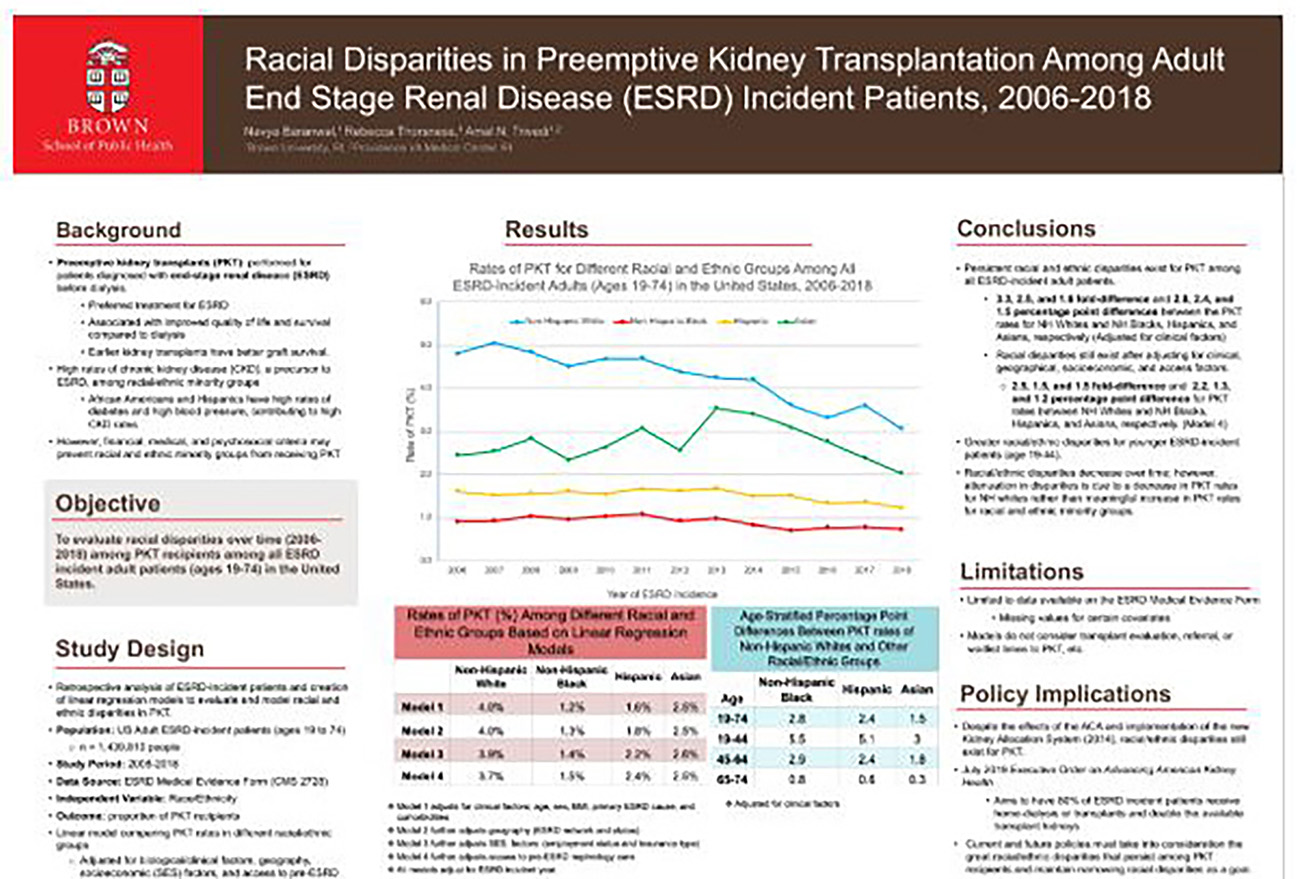 The solution was an innovative online platform that allowed for sharing research posters as well as for interaction between the student researchers and Brown community members.
"We knew it was vital to the school community that research day still happen to showcase and recognize the incredible research that our students and postdocs engage in with their faculty mentors," said Barbara Dailey, manager of academic affairs.
Despite the move online, the quality of this year's posters was in no way diminished, the school's leaders say. According to Professor Jennifer Tidey, associate dean for research, the six-person judging committee, composed of faculty and alumni, had a difficult time choosing winners.
"The posters presented by our students and trainees demonstrated their depth of knowledge in their fields as well as an impressive breadth across disciplines at the School of Public Health," Tidey said. The 85 posters submitted this year cover more than 30 research areas, including adolescent health, aging, global health, opioids, data analytics and HIV.
The intersection of child health and environmental exposures was the topic of two of this year's winning posters. Noelle Henderson, author of the poster judged to be best in the master's student category, investigated the exposure effects of benzophenone, a chemical used in sunscreens and personal care products, on mammary gland morphology and development in humans. Postdoctoral winner Clara Sears worked to identify periods of heightened susceptibility to lead toxicity during early childhood growth.
Several students investigated racial disparities in access to health care. Navya Baranwal, the undergraduate poster winner, studied racial disparities in preemptive kidney transplantation among those with end-stage renal disease.
The winning doctoral poster, authored by biostatistics Ph.D. candidate Bing Li, addressed a key question in the implementation of markers for diagnosis and prediction: How well will those markers, developed from the data of a particular source population, continue to perform as populations grow and change?
Although students were disappointed at not being able to present their research projects in person, many expressed their gratitude for the opportunity to share their findings virtually. "I want to thank the School of Public Health for supporting our research," Sears said, "and for giving us the opportunity to share our results with the wider community."
The full list of award winners is available on the School of Public Health website.