PROVIDENCE, R.I. [Brown University] — During its annual spring meeting from May 20 to 22, the Corporation of Brown University elected two new members to its Board of Fellows and eight new members to its Board of Trustees. Each was asked to serve on Brown's governing body based on their commitment to the University and its mission of education and research.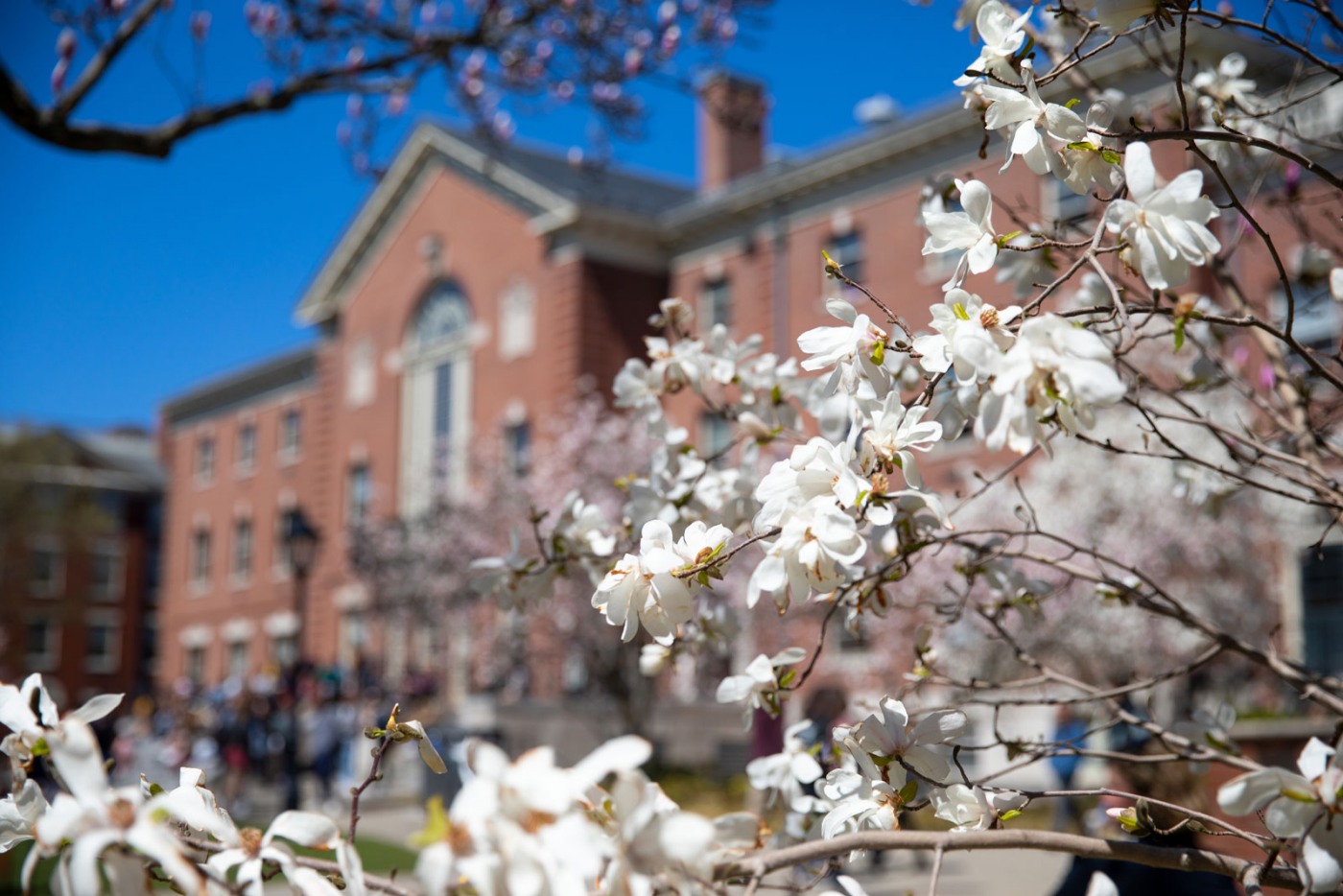 Jeffrey F. Hines, a 1983 Brown graduate who earned an M.D. from the Warren Alpert Medical School in 1986, and a trustee since 2015, and Joan Wernig Sorensen, a 1972 Brown graduate and a trustee from 2006 to 2012 and 2013 to 2019, were elected to the Board of Fellows. Members of the Board of Fellows customarily serve 11-year terms.
Eight new trustees — Marcia J. Dunn, Robert P. Goodman­, Alan G. Hassenfeld, Earl E. Hunt II, Divya Mehta, Joelle Murchison, Greg Penner and Maria T. Zuber — were elected by the Corporation. Members of the Board of Trustees customarily serve six-year terms, with new alumni trustees serving for two years. Mehta will serve as a new alumni trustee.
Members are elected by the Corporation and are formally engaged in October at the first Corporation meeting of the academic year.
All members are dedicated to ensuring that their work will produce an intellectual environment that will shape the careers and lives of future generations. The roles and responsibilities of Corporation members are outlined in detail on the Corporation website.
New Members
Marcia J. Dunn, a 1982 Brown graduate who concentrated in semiotics, is an ophthalmologist specializing in corneal and refractive surgery. She serves as a clinical instructor at the Icahn School of Medicine at Mount Sinai Medical Center in New York. At Mount Sinai, she is a member of the medical school admissions committee and is on the Department of Medicine Advisory Board. Dunn earned an M.D. from Mount Sinai School of Medicine and completed her residency and fellowship at Mount Sinai Hospital. She is a diplomate of the American Board of Ophthalmology and a fellow of the American College of Surgeons. Dunn was a member of the Brown Women's Leadership Council where she co-chaired the 125 Years of Women at Brown conference. In addition to other Brown commitments, she is a member of the Internship Council and the Parents Leadership Council. She is a trustee of the Parrish Art Museum and TADA! Youth Theater, and a trustee emeritus of the Roundabout Theatre Company. She is a member of the musical theater council of the Public Theater and is also a member of the photography committee at the Whitney Museum of American Art. She is a board member of the NYC Parents in Action and co-chairs the organization's seminars committee.
Robert P. Goodman, a 1982 Brown graduate and trustee from 2013 to 2019, is a managing partner of Bessemer Venture Partners, a global venture capital firm, where he has been a leading investor in enterprise software, mobile and B2B marketplace companies for over 20 years. In that time, he has helped over 20 companies reach successful mergers and acquisitions and initial public offering exits. Previously, he founded three startup companies, one of which created the cellular phone systems in 10 countries in the Caribbean. Goodman is passionate about working with talented entrepreneurs to bring their ideas to fruition. Goodman earned an MBA in 1986 from Columbia Business School. At Brown, he is a member of the Carney Institute for Brain Science and Institute at Brown for Environment and Society advisory councils and served as co-chair for the 30th Reunion gifts committee.
Alan G. Hassenfeld, a Brown trustee from 1990 to 1996, is chairman of Hassenfeld Family Initiatives, a philanthropic organization with the goals of globalizing safety and human rights within the area of children's products; empowering women in developing countries; and improving the economy, education and business opportunities in Rhode Island. Additionally, he is a director and chairman of the executive committee of Hasbro Inc., a global toy, game and family entertainment company. He is an honorary advisor to the Toy Association and has served as co-chairman of the governing body of the International Council of Toy Industries CARE Process. Hassenfeld earned a bachelor's degree from the University of Pennsylvania. He is an advisory committee member of the Hassenfeld Child Health Innovation Institute, founded at Brown in 2016 with support from the Hassenfeld family. He is co-chair of the board of advisors of Brandeis International Business School, a trustee of the University of Rhode Island Foundation and a director of Salesforce.com. Additionally, Hassenfeld is a trustee of the Miriam Hospital Foundation, chairman of the Jerusalem Foundation (USA), a director of the Committee Encouraging Corporate Philanthropy, honorary director of the Prostate Cancer Foundation, a member of the dean's council of the Kennedy School of Government at Harvard University, and honorary director of the Jewish Alliance of Greater Rhode Island. 
Jeffrey F. Hines, a Class of 1983 Brown graduate and trustee since 2015, earned an M.D. from the Warren Alpert Medical School in 1986. He is currently the medical director of diversity, inclusion and health equity and the chief of gynecologic oncology with WellStar Health System in Atlanta, Georgia. He began his career in the U.S. Army Medical Corps, deploying as a battalion surgeon during operations Desert Shield and Desert Storm. He received a Meritorious Service Medal and the Southwest Asia Service Medal with two bronze service stars. Following his deployment, Hines held academic teaching positions at Texas A&M College of Medicine, Georgetown University School of Medicine, Uniformed Services University for the Health Sciences and Morehouse School of Medicine. He serves as a co-chair of the Brown Annual Fund. He has also served as the founding chair of the Warren Alpert Medical School's Advancing Diversity Committee, as a co-chair for the Atlanta-area Brown Alumni Schools Committee, and on the board of trustees for the Brown Medical Alumni Association. He received Brown's Leadership Award in 2003. He is also past president of the board of trustees for Fulton County's Hammonds House Museum of African American Art and is involved in regularly scheduled medical missions to global locations including Jamaica and the Philippines.
Earl E. Hunt II, a 2003 Brown graduate, is a partner in the securities division at Goldman Sachs, where he manages some of the company's largest and most strategic clients. He also serves as a member of the partnership committee. Hunt joined Goldman Sachs as a vice president in 2015 and was named managing director in 2017 and partner in 2018. Prior to joining Goldman Sachs, Hunt worked at Citi for 11 years, where he was a director in leverage finance sales. He began his career in the 2004 Citi analyst/associate program for fixed income and equities. He was recognized professionally in 2019 with the Finance Catalyst Award by the Council of Urban Professionals in New York. Hunt earned a bachelor's degree in economics from Brown, where he was also captain of the men's basketball team. Currently, in service to Brown, he is a co-chair of the President's Leadership Council and a member of the Sports Foundation Board of Directors. Hunt was a member of his 10th Reunion committee and co-chaired his 15th Reunion. He was inducted into the Brown Athletics Hall of Fame in 2014.
Divya Mehta, Class of 2018, will graduate from the London School of Economics with a master's degree in international development and humanitarian emergencies in September 2020. Motivated by selfless pursuit and entrepreneurial drive, Mehta has strived to make her communities more supportive and inclusive. While at Brown, she served as a Meiklejohn Advisor, a Women's Peer Counselor, a Matched Advising Program for Sophomores Mentor, a Presidential Host, and in multiple research and teaching assistantships at the Watson Institute for International and Public Affairs. Through her mentorship and leadership positions, Mehta co-founded the undergraduate departmental group for the Center of Contemporary South Asia, helped to expand Residential Life's efforts to support international and low-income students, and served on the International Advisory Board to advise on the development of two new administrative positions to serve Brown's international community. After graduating, she collaborated with the administration to create and pilot the position of an international student career coordinator as part of Global Brown — the team behind NAFSA's 2019 Campus Internationalization award to Brown. Highlights of her work included creating new programming for students from low-income families on alternative career paths, developing an [email protected] resource database and establishing the International Student Career Conference.
Joelle Murchison, a 1995 Brown graduate, is principal and founder of ExecMommyGroup, a diversity and inclusion strategic consulting practice. She previously served as associate vice president and chief diversity officer at the University of Connecticut (UCONN) and as vice president of enterprise diversity and inclusion at Travelers Insurance. She is also currently an adjunct professor of management at UCONN School of Business. Murchison holds an Ed.M. from Harvard Graduate School of Education and an M.S. from Syracuse University's Newhouse School of Public Communications. At Brown, Murchison is a member of the Women's Leadership Council and Pembroke Center Associates, and serves as inclusion officer of the Class of 1995. She is a founding member of the Inman Page Black Alumni Council and was previously a member of the Brown Alumni Association Board of Governors. Murchison is also a member of Delta Sigma Theta Sorority Incorporated. She serves as chair of the board of RE-Center Race and Equity in Education, a trustee of the Amistad Center for Art and Culture and a board member of College Possible.
Greg Penner, a Brown parent, is chairman of the board of directors of Walmart, Inc. He is also a founder and general partner of Madrone Capital Partners, an investment management firm. Penner was named chairman of Walmart in 2015 and he has served on the board since 2008. He has held a variety of roles at Walmart, including senior vice president and chief financial officer in Japan and senior vice president of finance and strategy at Walmart.com. Prior to joining Walmart, he was a general partner at Peninsula Capital, an early-stage venture capital fund and a financial analyst at Goldman Sachs. He is a former director of Baidu, Inc., Hyatt Hotels Corporation, and Teach for America, among others. Penner earned a bachelor's degree in international economics from Georgetown University and an MBA from the Stanford Graduate School of Business.
Joan Wernig Sorensen, a Class of 1972 Brown graduate, has had a long career in development, alumni relations and higher education administration. She has been a fundraising consultant to numerous nonprofit organizations in Providence, R.I., and Deer Isle, Maine. She served as a regional vice chair for Brown's $1.6 billion Campaign for Academic Enrichment and was a member of the Brown Annual Fund Leadership Council. She was the Brown Annual Fund co-chair from 2007 to 2010. Sorensen has previously served on the Brown Alumni Association Board of Governors, as a regional chair of the Brown Alumni Schools Committee and as president of the Brown Club of Rhode Island. She currently serves on Brown's Library Advisory Council and the Carney Institute for Brain Science Advisory Council. Sorensen is one of the co-chairs of the $3 billion BrownTogether campaign. She is a member of the board of the Haystack Mountain School of Crafts in Deer Isle, Maine, and is a founding board member of Opera House Arts in Stonington, Maine.
Maria T. Zuber, who earned a Ph.D. from Brown in 1986 Brown and has been a fellow since 2009, is the E. A. Griswold Professor of Geophysics and Vice President for Research at MIT, where she is responsible for research administration and policy. She oversees MIT Lincoln Laboratory and more than a dozen interdisciplinary research laboratories and centers, including the Koch Institute for Integrative Cancer Research, MIT Energy Initiative, the Research Laboratory of Electronics and Haystack Observatory, among others. Zuber's research bridges planetary geophysics and the technology of space-based laser and radio systems. Since 1990, she has held leadership roles associated with scientific experiments or instrumentation on 10 NASA missions, most notably serving as principal investigator of the Gravity Recovery and Interior Laboratory (GRAIL) mission. She has won numerous awards, including the MIT James R. Killian Jr. Faculty Achievement Award — the highest honor the MIT faculty bestows to one of its own. Zuber is the first woman to lead a science department at MIT and the first to lead a NASA planetary mission. In 2008, she was named to the U.S. News / Harvard Kennedy School List of America's Best Leaders. In 2013, President Obama appointed her to the National Science Board; in 2018 she was reappointed by President Trump. She served as board chair from 2016 to 2018.