First Readings to focus on historical ties, present-day legacies of slavery
Students in Brown's undergraduate Class of 2024 will read a digitized version of the pioneering "Slavery and Justice Report," the selected text for this year's First Readings program.
PROVIDENCE, R.I. [Brown University] — As ongoing social unrest compels Americans to face the nation's legacy of anti-Black racism, incoming first-year undergraduates at Brown will cast a critical eye toward the University's own connections to slavery as they read the "Report of the Brown University Steering Committee on Slavery and Justice" — the University's selection for the 2020 First Readings program.
The 2006 text, frequently referred to as the "Slavery and Justice Report," examined Brown's historical ties to the trans-Atlantic slave trade and proposed actions for the University to hold itself accountable for the ways in which it benefited from its involvement with slavery. The report — composed by a committee of students, faculty and staff members tasked with examining Brown's institutional ties to slavery — has broadly influenced higher education's engagement with historical connections to slavery since it was first published.
First-year students — whose experience at Brown will begin in January 2021 — will read the report during a moment of national reckoning on the impact of anti-Black racism on America's past and present, said Dean of the College Rashid Zia in an Oct. 16 message announcing the selection to the Brown community.
"Reading this text will be challenging, especially this year as our nation comes to grips with centuries of systematic injustice and anti-Black violence, and especially for those who have experienced this injustice and violence first-hand," Zia said. "As a community of students and scholars, it is our obligation — particularly those who have not shared these experiences — to seek out learning and share knowledge. The painful truth is that the narratives most commonly shared about our nation's history often overlook the pervasive, persistent, and insidious nature of slavery and racial injustice."
Students will have access to a digital First Readings edition of the report that has been updated to optimize their reading experience. Designed by Brown's Center for Digital Scholarship, the new edition presents historical documents cited in the report and provides supplemental materials — including readings, videos and transcriptions of historical documents — compiled by the Center for the Study of Slavery and Justice and the University Library. Students will be able to annotate the online report, highlighting passages and adding notes that will be retained between logins.
"The new digital platform allows a whole new level of engagement that we just couldn't achieve in print," said Allison Levy, digital scholarship editor at Brown. "Students will be able to take a deeper dive into the report and the historical documents that inform it."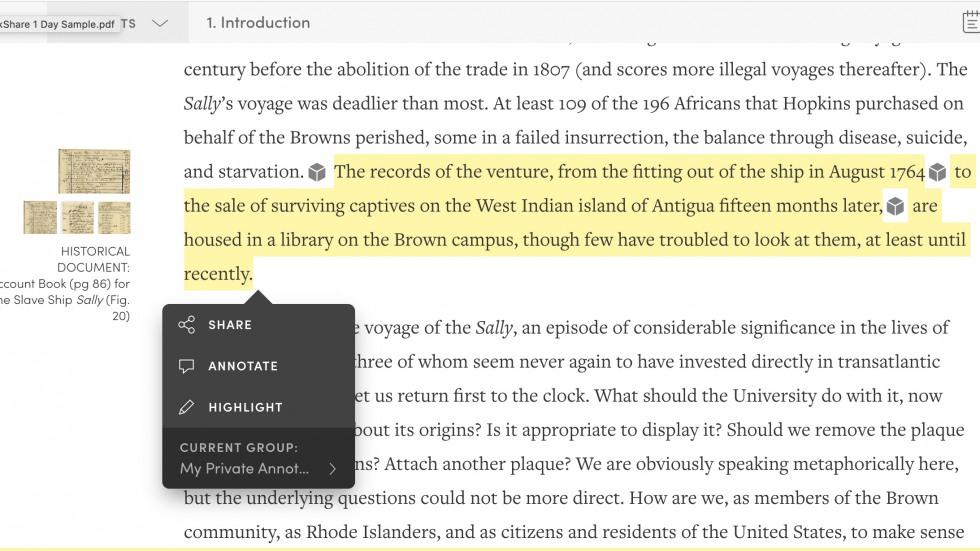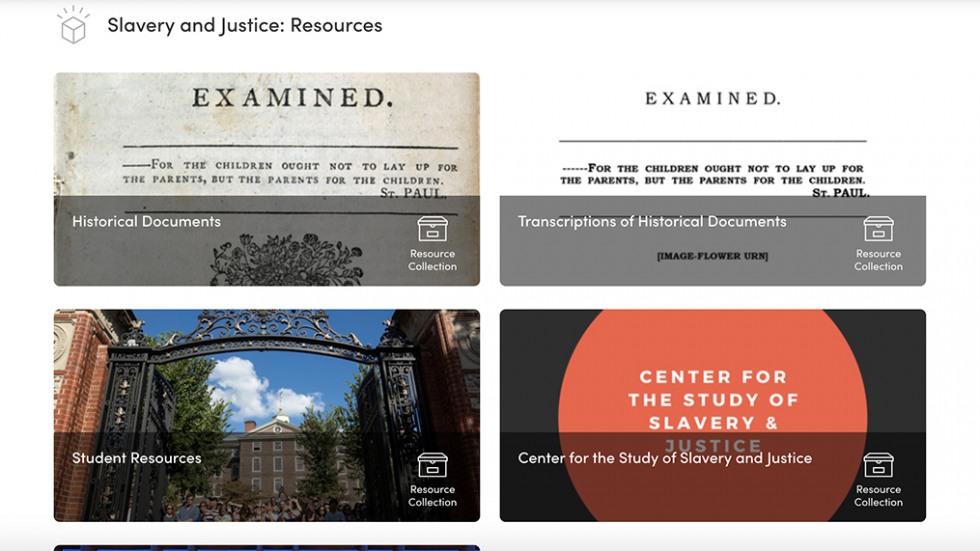 Typically undertaken during the summer months, the First Readings schedule has shifted this year to coincide with the Class of 2024's planned arrival on campus, which was postponed to this January as part of the University's efforts to de-densify campus to curb potential spread of COVID-19. Faculty-led small group discussion seminars will be held virtually during the month of November.
In addition, all members of the Brown community have been invited to attend a virtual event exploring the historical context for the report. The webinar will be led by Anthony Bogues, director of the Center for the Study of Slavery and Justice — which was launched in the wake of the Slavery and Justice Report to convene research, projects and programs that address pressing issues related to slavery and its legacies — and James Campbell, former Brown history professor and chair of the committee that wrote the report.
The students, faculty and staff on this year's First Readings selection committee chose the Slavery and Justice Report from among a pool of texts — representing a range of periods, mediums and cultures — nominated by members of the Brown community.
This year's selection committee included Zia and Linda Dunleavy from the Office of the Dean of the College; undergraduates Peter Zubiago and Tanushri Sundar; faculty members Dotun Ayobade (Africana studies), Clyde Briant (engineering), Matthew Guterl (American studies and Africana studies), and Gary Wessel (biology); and Sarah Evelyn, director of academic engagement for the humanities and social sciences at University Library.