PROVIDENCE, R.I. [Brown University] — On the afternoon of Thursday, Nov. 5 — as people across the nation waited on tenterhooks to learn the future of the United States presidency and the fate of political party representation in Congress — students and faculty experts at Brown University gathered to discuss the events of election week since polls shuttered on Tuesday night.
Hosted by the Taubman Center for American Politics and Policy at Brown's Watson Institute for International and Public Affairs, the election debrief invited students at Brown to join political science scholars in unpacking what happened on Election Day and debating what was still to come. Leading the conversation were Richard Arenberg, interim director of the Taubman Center, and Wendy Schiller, a professor of political science.
At the time of the discussion, final votes remained untallied in the battleground states of Georgia, Nevada, Arizona, Pennsylvania and North Carolina, leaving the future of the presidency and some U.S. Senate and House of Representatives seats unclear. Yet both scholars indicated that signs as of Thursday afternoon were increasingly pointing to a win for former Vice President Joe Biden — despite the fact that the election was not the overwhelming Democratic Party victory many pollsters had predicted.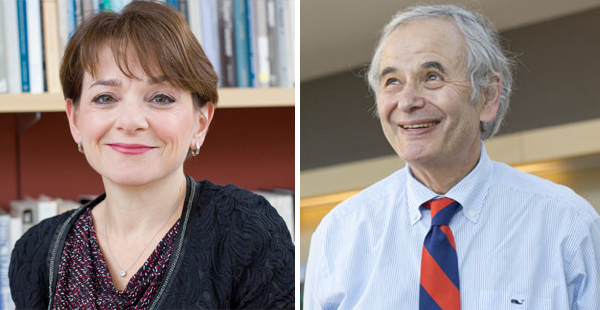 "I think if I had to choose whether to be Joe Biden or Donald Trump at this moment, I would prefer to be Joe Biden," Arenberg said. "But my pre-election prognostication was that there would be a landslide victory for Biden, and that hasn't happened. And this suggests that perhaps the Trump strategy of barnstorming the battleground states with big rallies was more effective than many of us expected."
Schiller said the preliminary results suggested that Democrats failed to connect with millions of Americans in battleground states.
"The failure of Democrats was a failure of grassroots politics," Schiller said. "Democrats win when they are grassroots, knocking on doors, talking to voters face to face and running get-out-the-vote drives. They did not do that this time, and they did not do that in 2016. The Trump campaign did do that, with and without masks on."
As a result, Schiller and Arenberg said, it looked unlikely that Democrats would seize control of the Senate in 2021, as polls across the political spectrum had predicted.
Both Chris Garrity, a graduate student in political science, and sophomore Ellis Clark deliberated about why the polls missed the mark in declaring Democrats clear front-runners in key Senate and House races across the country. Clark, a Detroit native who closely watched vote-counting progress in northern states on Tuesday and Wednesday, wondered why Minnesotans simultaneously carried Biden to victory and ousted longtime U.S. Rep. Collin Peterson, a Democrat.
Arenberg and Schiller agreed that part of the issue was that pollsters assumed most newly registered voters would support Democrats, when in fact a large percentage of new registrants did so to vote for Trump. Pollsters also seemed to overestimate the percentage of wealthy, educated Americans who would vote Democrat and appeared to underestimate overall turnout by Republicans.
Schiller also said that while many Republicans refrained from voting for Trump a second time, their disapproval for the sitting president didn't seem to extend to the Republican Party as a whole.
"You can see suburban voters saying, 'I don't like Trump, but I don't want to give Democrats complete control,'" Schiller said. "They saw the polls predicting Biden would win, so they said, 'If Biden wins, let's balance things out by keeping Republicans in control of the Senate.'"
The post-election debrief was one of many University gatherings hosted in the wake of Election Day. Members of the Brown community came together on Wednesday, Nov. 4, for a webinar where students, faculty and staff shared thoughts and perspectives on the unfolding events of the election. Earlier that day, 300 people tuned in to "Race & Social Movements in America," a discussion on the connections between the Black Lives Matter and civil rights movements that included faculty in Africana studies, urban studies and anthropology.
Shortly after the election debrief on Thursday, School of Public Health faculty discussed possibilities for improving the response to the pandemic in the aftermath of the election. On Thursday evening, the Swearer Center gathered staff and students for a discussion titled "Where Do We Go From Here?"
The busy lineup of debates and discussions was evidence of Brown's enduring strength in the face of massive uncertainty, noted Brown President Christina H. Paxson in a Nov. 4 letter to the University community.
"As challenging as this political season continues to be, we are able to invest ourselves — our fervor, our ideas and our drive to improve the world — in what Brown does best, which is advancing knowledge and pursuing solutions through education, research and service," she wrote.
Paxson also emphasized that regardless of the election results, the University would continue to take swift action — from standing up for international workers to combating systemic racism — on issues that have implications for Brown's academic mission and the people who ensure every day the University's ability to fulfill that mission.
"This is the assurance we offer: No matter what the outcome of the election, the University will continue to take action on issues that have implications for the education, research, scholarship and people who make Brown who we are," Paxson wrote. "Our commitment to stand for what's right for higher education and what's right for Brown has not wavered, no matter who has occupied the White House and no matter what the makeup of Congress or local governments has been over the years. And this will not change."
Schiller, too, assured students concerned that their ideas and priorities would not be represented by national leadership. Regardless of what plays out on the national stage, she said, students will always be able to make their voices heard at the city, county and even state levels.
"When I was in college, I didn't approve of the federal administration," Schiller said. "I joined a campaign to elect the first Black mayor of Chicago. I decided that if I can't effect change at the national level, I'm going to effect change where I am. Wherever you are, you can change the tone, you can change the political structure — and that change could be incredibly important."