Date
November 11, 2020

2020-11-11
$20 million gift to enable full scholarships for U.S. military veterans at Brown
A generous gift from U.S. Army veteran and Brown parent Joseph P. Healey will provide crucial support for Brown's plan to double the number of student veterans enrolled as undergraduates by 2024.
PROVIDENCE, R.I. [Brown University] — One year after Brown University launched a plan to double the number of U.S. military veterans enrolled as undergraduates by 2024, a new $20 million gift marks a major step toward the goal of providing full financial support to current and future generations of student veterans.
The generous gift from Joseph P. Healey — a U.S. Army veteran, son of a Brown alumna, parent to two Brown students and co-founder of investment management firm HealthCor — will create a permanent endowment for a scholarship for veterans. The gift will also establish another scholarship for students in Brown's Resumed Undergraduate Education program, which has welcomed many military veterans to campus over the last decade.
Brown University President Christina H. Paxson announced the gift at the University's annual Veterans Day ceremony on Wednesday, Nov. 11, held virtually this year given limits on gathering sizes because of the pandemic. [See full video, below.] Healey's gift will be instrumental in supporting currently enrolled military veterans, she said, and inspiring many others to pursue undergraduate degrees at Brown.
"As the University has expanded military partnerships and more veterans have pursued undergraduate degrees at Brown, we have pledged to expand support for these exceptional students," Paxson said. "In doing so, we honor the sacrifices they have made to uphold our freedoms and strengthen the academic experience of every member of our community, which benefits from the unique perspectives and experiences our student veterans contribute. This generous gift from Joe Healey and his family marks a major step toward fulfilling our promise."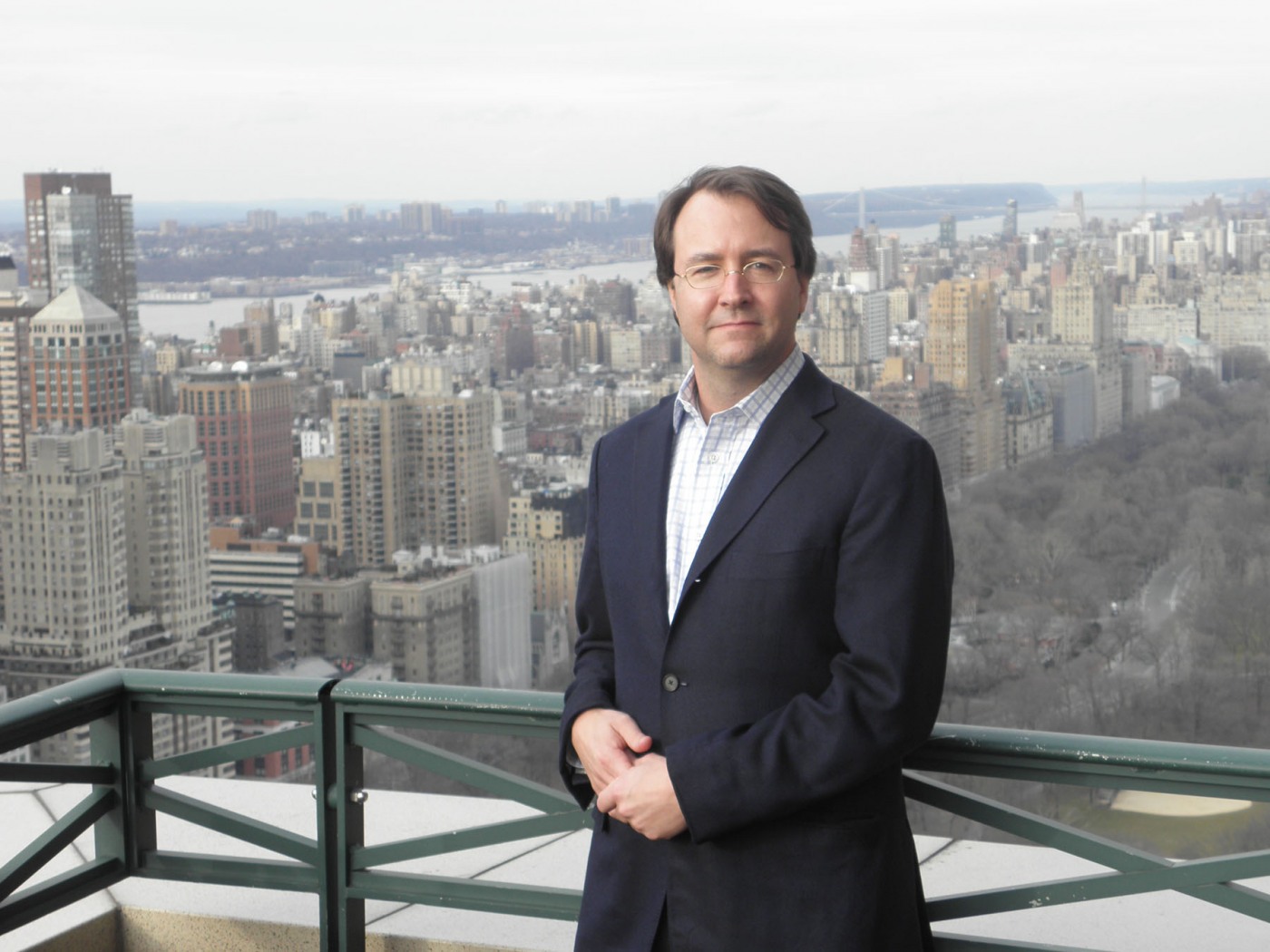 Of the total $20 million gift, $10 million will fund the Elaine and Joseph Healey Scholarship for Veterans, creating a permanent endowment that will prove essential in the University's effort to eliminate all out-of-pocket costs toward undergraduate tuition and fees for undergraduate student veterans for the long term.
The additional $10 million, a bequest, will establish a scholarship for students in Brown's RUE program, which enrolls students who delayed their undergraduate study due to family commitments, financial concerns, health issues, military service, employment opportunities or compelling needs to explore other paths. In honor of Healey's mother, a Brown alumna who earned her degree through the RUE program in 1980, the scholarship will provide support for RUE students, with preference given to student veterans.
Healey said during the Veterans Day ceremony that he hopes his gift provides student veterans the opportunity to receive a world-class education free from financial obligations that, for many, would be hard to meet.
"A Brown degree is a ticket that opens doors for the rest of your life," Healey said. "To give veterans who have served our country a chance to attend Brown — the way that Brown gave that chance to my mom, and the military gave a chance to me — was a unique opportunity to return an investment that was made in my mother and in me."
A promise to student veterans
Healey's gift follows multiple initiatives in recent years at Brown to recruit veterans and expand affiliations with Reserve Officers Training Corps programs, and comes one year into a five-year plan to double the number of student veterans enrolled as undergraduates. To achieve its enrollment goal, the University launched a number of actions in 2019 to support veterans, both during the application process and after they matriculate.
Beginning with the Class of 2024, Brown extended its need-blind admission policy to include prospective students who have served in the U.S. Armed Forces; made standardized test scores optional for all undergraduate applicants with U.S. military service; and strengthened recruiting through a partnership with Service to School, which counsels veterans on admission to highly selective colleges and graduate schools. The University also increased financial support for veterans, replacing all family contributions with scholarship aid and boosting Yellow Ribbon awards, which fully eliminated all out-of-pocket costs toward tuition and fees.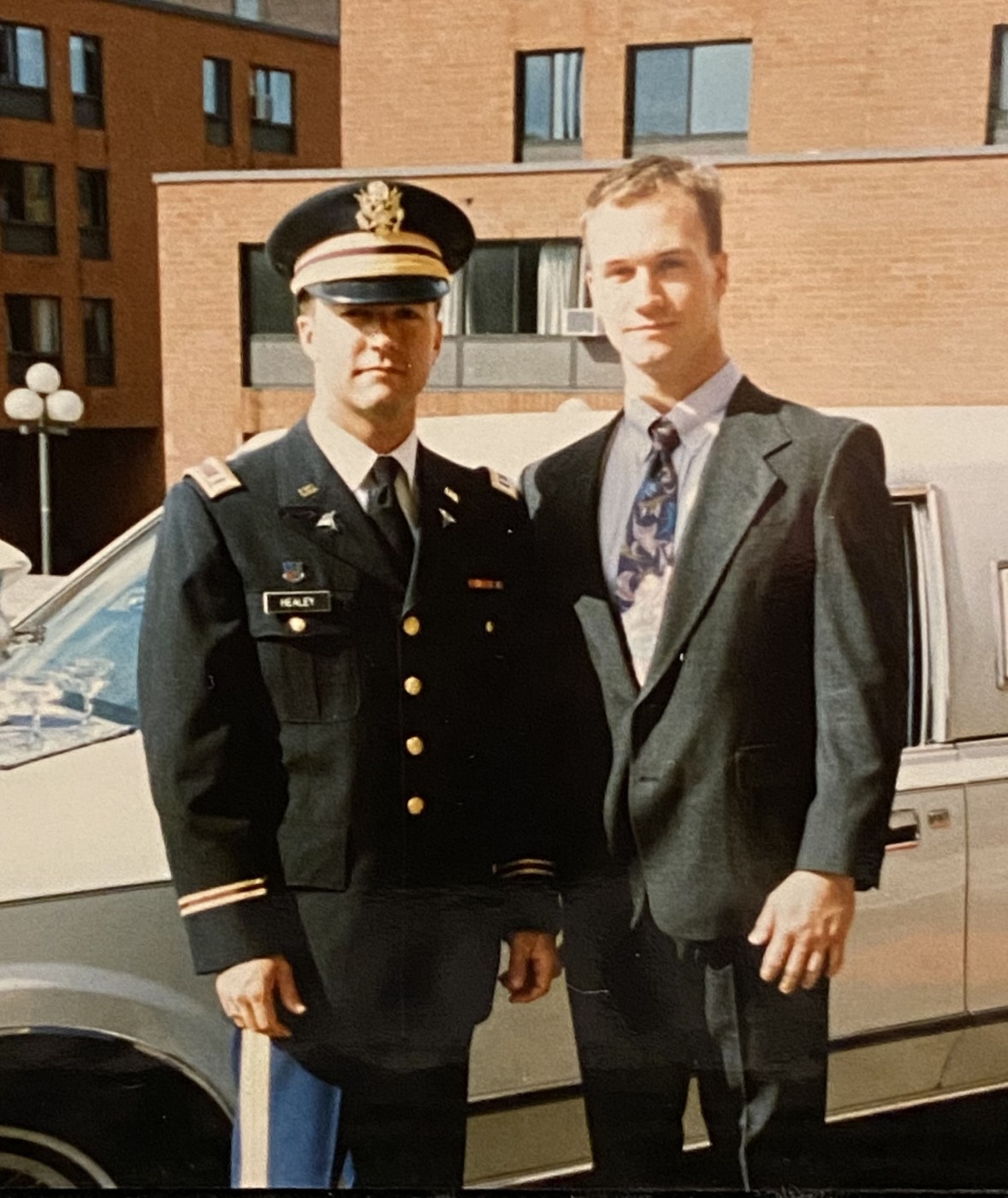 Taken together, these steps directly address key challenges that veterans encounter when returning to school after military service, said Kimberly Millette, program director for Brown's Office of Military-Affiliated Students.
"Some veterans come from low-income and first-generation households that typically have fewer financial resources available to make college attainable," Millette said. "And after years spent completing their service commitments, they no longer have access to the support systems that high schools offer to college applicants. By removing obstacles to admission and relieving financial burden, Brown is demonstrating its commitment to increasing and supporting the student veteran community on campus."
In benefiting U.S. military veterans and RUE students resuming study after interruptions to formal education, Healey's gift will support programs and institutions that laid the foundations for his own professional successes.
Before he was a parent to two Brown undergraduates, he was the son of one. As a child, he participated in activities on campus while his mother — a RUE student who was raising Healey and his brother on her own — completed her bachelor's degree. After graduating in 1980, his mother fielded a wealth of new professional opportunities.
"Brown gave my mom her chance at a second life," Healey said.
When it was time for Healey to consider his own college education, military service offered a way to earn a bachelor's degree despite limited financial resources. As a student at Boston University and member of the school's U.S. Army ROTC chapter, Healey studied biomedical engineering.
After graduation, he served as a first lieutenant in the U.S. Army Medical Service Corps, where he was stationed at the former Walter Reed Army Medical Center in Washington, D.C., from 1988 to 1992. Healey spent his days helping Walter Reed's world-class pathologists connect their medical equipment to PCs and online networks — a new venture in the late 1980s, when the internet was in its early stages  — and spent his nights attending graduate school at the University of Maryland, where he earned a master's degree in technology management in 1993.
"The military is near and dear to me," Healey said. "It gave me the chance to have an education I wouldn't have had access to otherwise."
Strengthening an academic home for veterans
U.S. Marine Corps veteran Katie Yetter, a junior cognitive neuroscience concentrator at Brown and program coordinator in the Office of Military-Affiliated Students, said that with support from donors like Healey, the University is making clear that Brown can be an academic home for student veterans.
"Brown is showing the 18-year-old in boot camp who has a dream to go to college, like I did, that it is 100% possible for them to do it. They don't have to worry about how they're going to get the funding to pay for their education and whether it's possible for a veteran to get accepted into a place like Brown."
The student veteran community has already seen a positive impact. The Class of 2024 — the first to be admitted with the new need-blind, test-optional policies for veterans in place — includes 15 veterans of the U.S. Armed Services, which is more than double that of the previous year, with nine applying through Brown's new partnership with Service to School. The overall population of student veterans on campus increased this year by 24%, from 21 to 26 in total.
"Brown is showing the 18-year-old in boot camp who has a dream to go to college, like I did, that it is 100% possible for them to do it. They don't have to worry about how they're going to get the funding to pay for their education and whether it's possible for a veteran to get accepted into a place like Brown."
U.S. Marine Corps Veteran and Member of the Brown University Class of 2022
A more robust student veteran community will ease the transition from military service to student life for former service members, said Noah Landwerlen, a sophomore political science concentrator and president of the Brown University Student Veterans Society.
"When we walk into a class, the students and professors are excited that we're there, but if there's one more person in there who shares our experiences, it makes it that much better," said Landwerlen, who served as a pararescueman for the U.S. Air Force.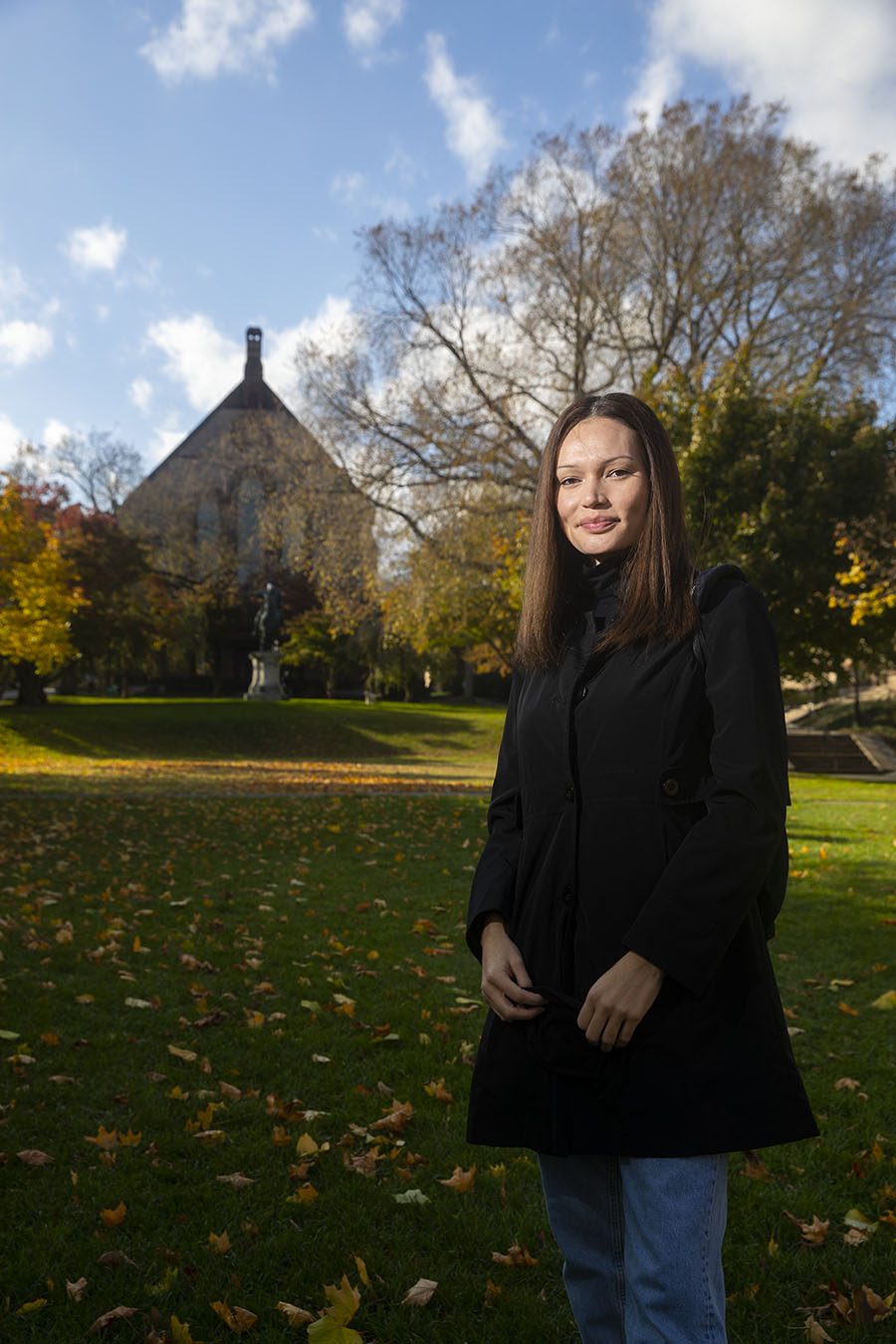 More student veterans on campus also means more opportunities for veterans to lend their one-of-a-kind perspectives to academic discourse, he added. For example, one of his professors invited him to share his experiences in Afghanistan during a discussion of U.S. foreign policy in the country.
"When you can contribute a different perspective by talking about things you've actually lived, it's wonderful," Landwerlen said.
Expanding the student veteran community at Brown will also give former service members greater opportunities to impact the lives of fellow veterans through work in the civilian sector, said Tiara Young, a sophomore biology concentrator and vice president of the Student Veterans Society.
"At Brown, we have more opportunities to grow our professional networks and pursue research projects that take up issues that affect veterans," said Young, a U.S. Marine Corps veteran who plans to become a physician. "If more veterans come to Brown, more will be able to become leaders in fields that impact the lives of veterans."
Support for veterans beyond Brown
Now many years into a successful career in health care investment management, Healey has focused his philanthropic efforts on organizations that promote equitable learning opportunities for children and young adults. He serves on the board of directors of the Child Mind Institute — a nonprofit dedicated to assisting children with mental health and learning disorders — and is a member of the leadership advisory board at Boston University's School of Engineering. 
In 2002, Healey established the Joseph P. Healey Scholarship at Bishop Hendricken High School, a private high school in Rhode Island that he attended with scholarship support as a teenager. To date, the fund has awarded more than $1 million in scholarships to 39 students. He has also donated to Brown's contemplative studies program in honor of his mother.
With the gift from Healey, Brown has reached $11.3 million in funds raised toward the $25 million endowment required to admit veterans through a need-blind process and provide full financial support during their time at Brown, according to Joan Wernig Sorensen, a BrownTogether campaign co-chair who is leading fundraising efforts to support the initiative for veterans. A Class of 1972 alumna, honorary degree recipient and parent to two Brown graduates, Sorensen joined her husband E. Paul Sorensen — who has received bachelors, master's, doctoral and honorary degrees from Brown — last year as the inaugural donors to the initiative.
"The Healey family's gift is another example of the extraordinary generosity of our Brown parents and alumni," Sorensen said. "Student veterans enrich the Brown experience in significant and meaningful ways through their diverse perspectives, leadership skills and the unique life experiences that they bring. It is gratifying to see the significant progress Brown has made in such a short time since launching the veterans initiative."
The gift also builds a foundation for continued efforts to increase support available to student veterans at Brown, said Larry Eichler, a parent of a Brown graduate and founder and co-chair of the Brown University Veterans Alumni Council.
"This demonstration of critical support will help the council to expand our outreach and to continue to build on the strong military-affiliated community at Brown, which provides a network for student veterans and alumni alike," Eichler said. "It is my hope that the Healey family's generosity will inspire others to contribute to the endowment for student veterans."
https://www.youtube.com/embed/SkzTX5zDB0g
2020 Veterans Day Ceremony
President Christina H. Paxson announced Healey's gift at the University's annual Veterans Day ceremony, held virtually on Nov. 11.