PROVIDENCE, R.I. [Brown University] — When students at Brown's Warren Alpert Medical School learned that Match Day would be held via Zoom again this year, Alec Kinczewski thought, "That's it?"
"Match Day is the most important day of medical school," Kinczewski said.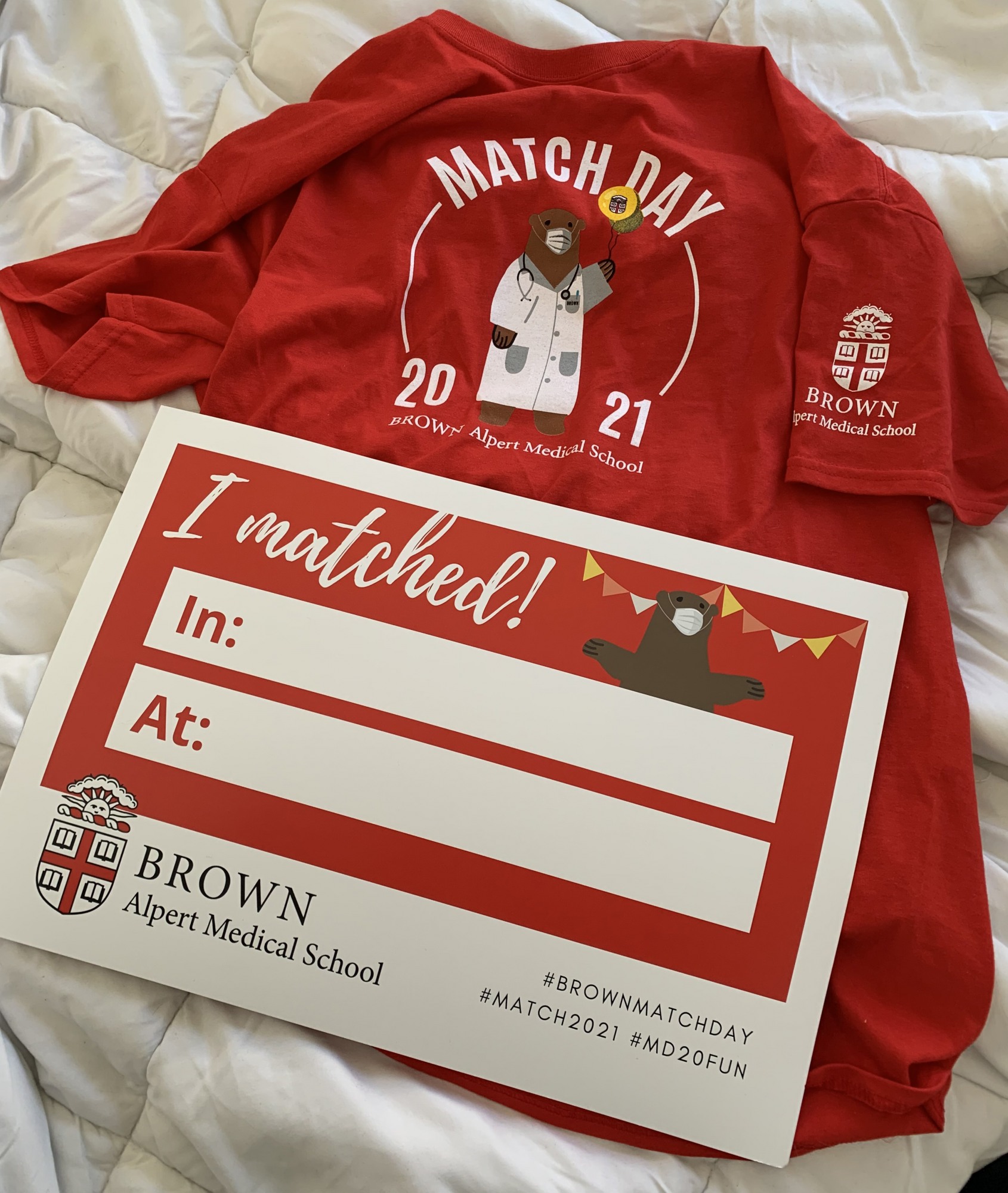 It's the day that fourth-year medical students find out where they'll train in their specialty of choice for the next three to seven years. It's the culmination of four years of hard work, then months of applications and interviews at residency programs across the country.
But just as the COVID-19 pandemic curtailed nearly all of those in-person interviews, the more typical in-person Match Day celebration was also a no-go. Last year, schools across the country shut down their festivities just days before they were scheduled to take place, scrambled to figure out video platforms and made the best of the situation.
As president of the Medical Student Senate, Kinczewski was determined to make Brown's second virtual Match Day feel special. The senate handed out custom t-shirts and Champagne flutes for the Zoom countdown and toast, as well as "I matched!" signs that each member of the medical school's Class of 2021 could fill out and share on social media.
As for the canceled party, the garrulous Kinczewski seemed a bit relieved. The atmosphere can be "intense," he said last week. "It will be kind of nice to have a little bit of space." His parents and sisters joined him in Newport as he opened the email informing him of his destiny: the University of Washington's psychiatry program in Seattle.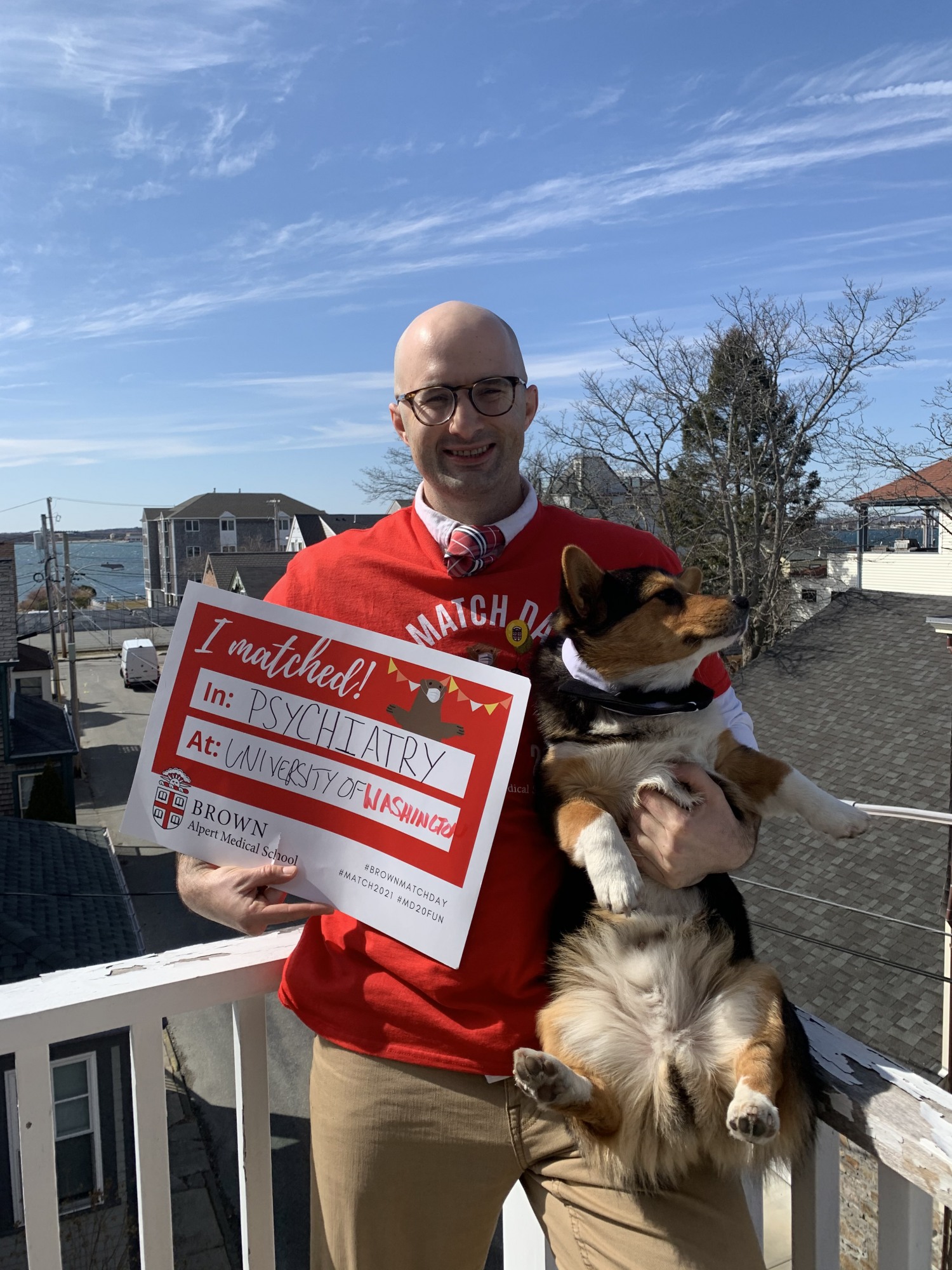 "This is kind of perfect," Kinczewski said Friday afternoon as he went out for lobster rolls with his family. A U.S. Army veteran with a master's degree in population medicine, he was attracted to University of Washington's Veterans Affairs hospital, large public hospital and university medical center — "the three kinds of hospital I was looking for," he said.
Aspiring pediatric dermatologist E.B. Henebeng had envisioned her own Match Day party since her first year of medical school and felt disappointed to miss out. Instead, she gathered around a screen with her parents and sister, while more family and friends watched the big reveal online. As she listed the loved ones from California, Georgia and New York who were able to celebrate with her virtually, Henebeng said, "That's the nice part with the Zoom. People who would have been really far away can also participate."
Henebeng will train in Brown's dermatology program, after a preliminary year in pediatrics at the Zucker School of Medicine in New York. "Providence is where I was born and raised," she said. "I'm excited to have the opportunity to stay and take care of my community."
Angela Zhang, who grew up in Seattle, will also have that chance. She matched to the University of Washington pediatrics residency's new health equity track; one of the clinics in which she'll practice is in the community where she grew up. "I'm excited to be going home and spending more time with my family," she said.
The program devotes "a lot more time to developing health equity leaders, which I really value in my career," added Zhang, a former fellow in the medical school's Office of Diversity and Multicultural Affairs.
Zhang opened her email with her partner in Providence while Zooming with family members on the West Coast. She's been to every Match Day since she came to Brown, and said that she actually looked forward to the "more intimate" virtual event. "It's a celebration of the four years the class had spent together," she said.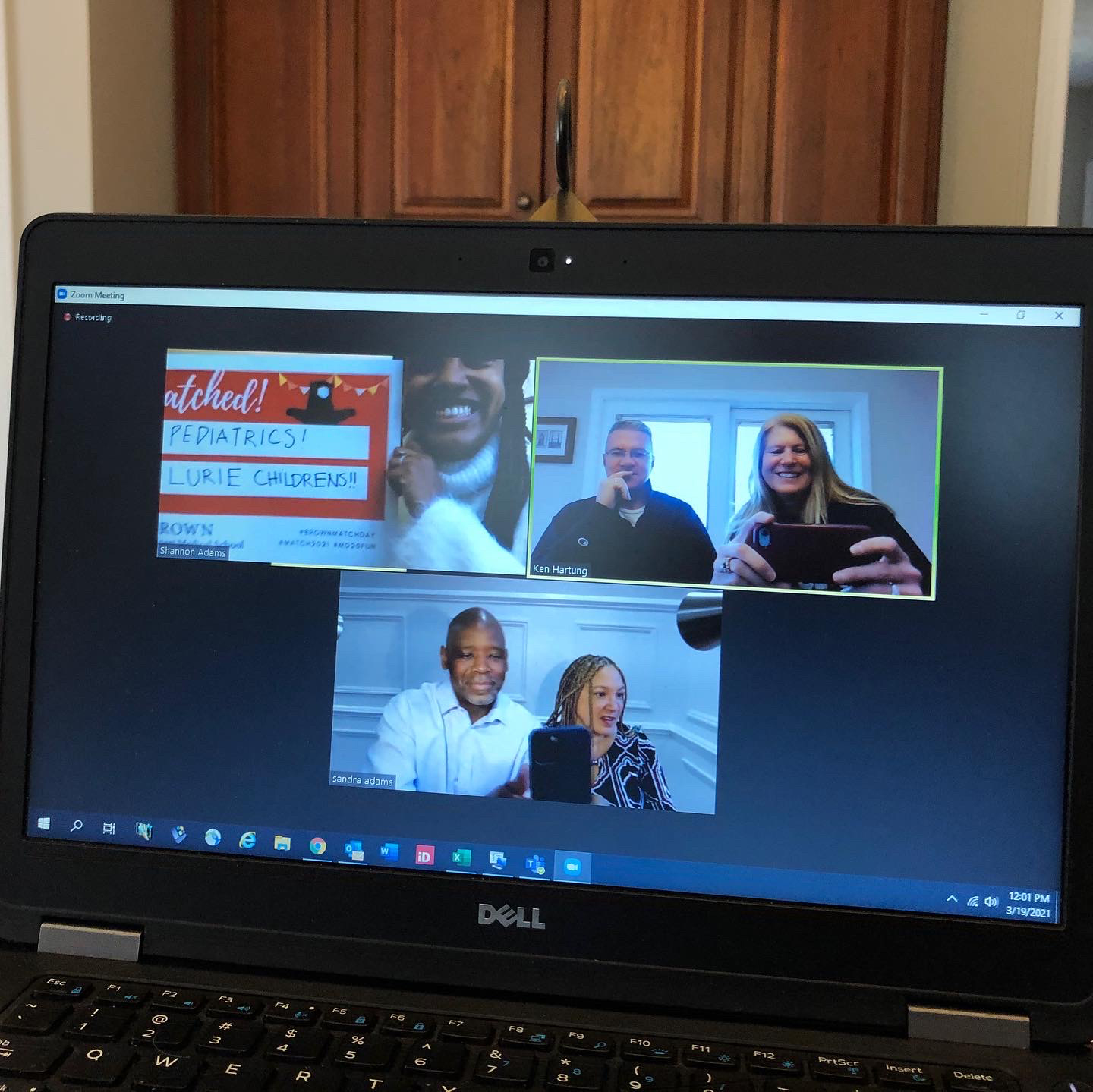 Before finding out her residency match, Shannon Adams-Hartung ate breakfast with classmates "to help ease the nerves of the day," she said. At noon, her family and her husband's family watched on Zoom as she found out she'd matched to Northwestern's pediatrics program — her first choice.
"Working with kids is something I always knew I wanted to do," Adams-Hartung said, "and now the time is finally here." She applied to programs that had a research component and seemed to offer the kind of professional support she has received at Brown.
"I realized how important it was for me to have that mentorship and have that community around me," she said. "I loved people I met at Northwestern. I loved their mission and the patient population there." Adams-Hartung and her husband loved Chicago, too: "It felt really perfect from the beginning."
Geography played a big role in Anna Delamerced's program choices. She did all her remote residency interviews from her family home in Cincinnati, and the extra time with her parents helped her set her priorities.
"My brothers are still here in Rhode Island," she said. Tino, a third-year medical student, and Joseph, a junior, are both at Brown. "I wanted to be at least driving distance from them."
She got her wish: Delamerced will train in pediatrics at Yale. She was with her brothers when she heard the news, while their parents listened in via FaceTime. "I opened the email and was happily surprised," she said. "I'm very grateful to my family, friends and mentors who helped me get this far."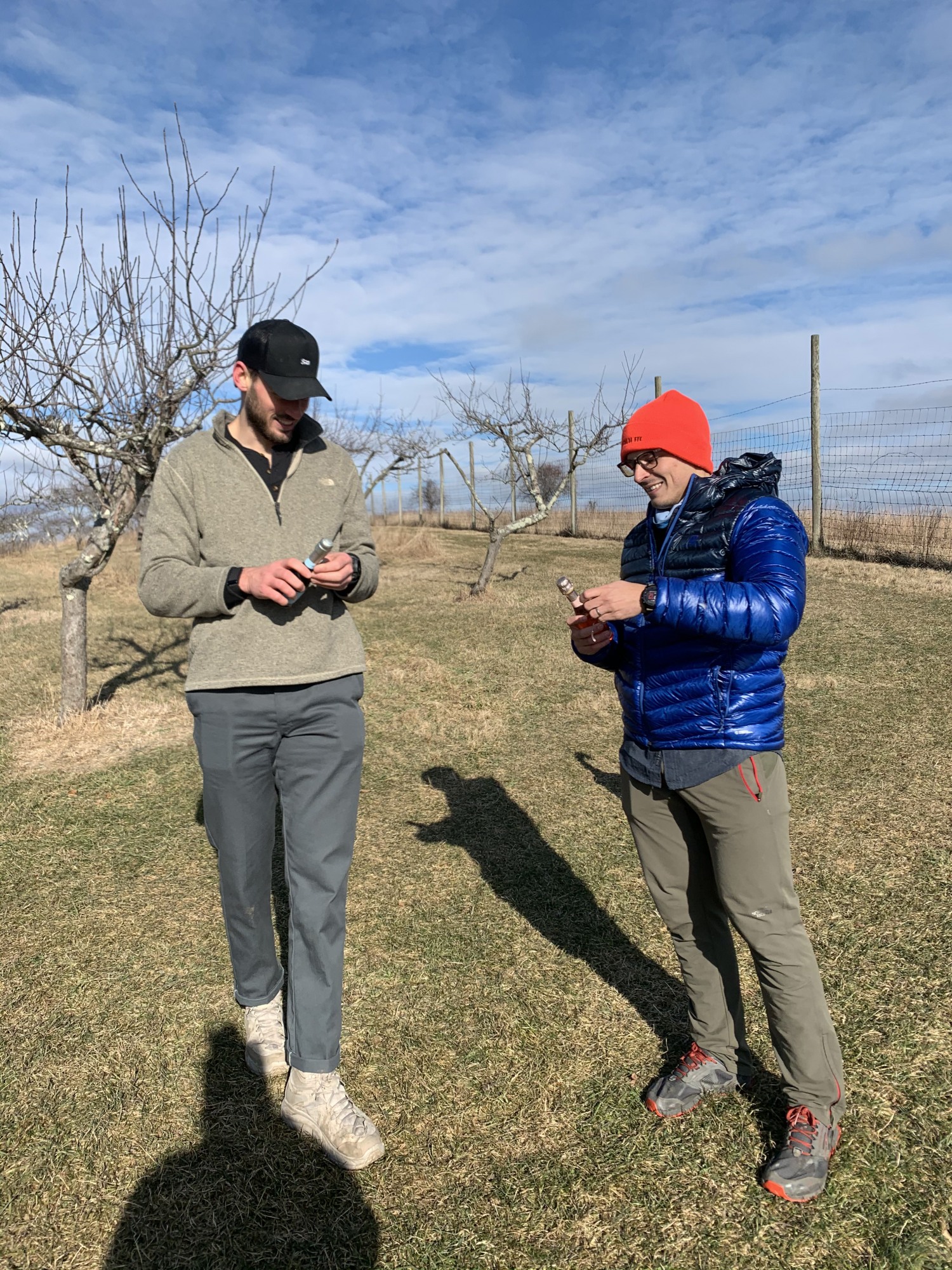 One of the few students who got to have all the fun of Match Day with none of the stress was Pat McGlone. A second lieutenant in the U.S. Army Reserve, he participated in the military match on Jan. 6. That day, he and a student from another medical school went for a hike in Connecticut with their partners as they waited for the news. Though the military match is relatively small, it didn't go off without a hitch.
"It was supposed to be an email coming out at noon," McGlone said. "Then it's 12:04, 12:05 with no email, and we're both like, oh jeez, what's it gonna be."
Finally, he got a phone call. It was the director of one of his favorite orthopedic surgery residency programs: Walter Reed National Military Medical Center, where he had spent a month in rotation last September.
"I just really loved the people there," McGlone said. "All the attendings, all the residents I met — they were all people I wanted to learn from and train with."
With his wait over, McGlone could spend this Match Day relaxing and enjoying his classmates' successes. Now all Brown medical students have earned a few months of rest before graduation, moving to new cities and enduring several challenging years as medical residents.
For McGlone, residency will bring an additional challenge: his wife, M.D.-Ph.D. student Tina Hinman, still has another four years left at Brown.
"It's something we always knew was a possibility when we got together," he said. "But long term, it's probably the best move for me to be there.
A full 2021 Match List and a map of the residency program locations for Warren Alpert Medical School's soon-to-be graduates is available on the school's website.