PROVIDENCE, R.I. [Brown University] — As the U.S. Surgeon General under President Barack Obama, Dr. Vivek Murthy guided the nation through outbreaks of Ebola and Zika, the opioid epidemic and a loneliness crisis.
When it came time for President Joseph Biden to appoint a new Surgeon General after taking office earlier this year, many public health leaders fervently hoped he'd turn again to Murthy, said Dr. Ashish K. Jha, dean of the Brown School of Public Health as he introduced Murthy as a guest speaker for an April 29 virtual celebration of the school's Class of 2021 graduates.
"We needed a Nation's Doctor who was trustworthy and would speak to us plainly about the challenges ahead and what we needed to do," Jha said.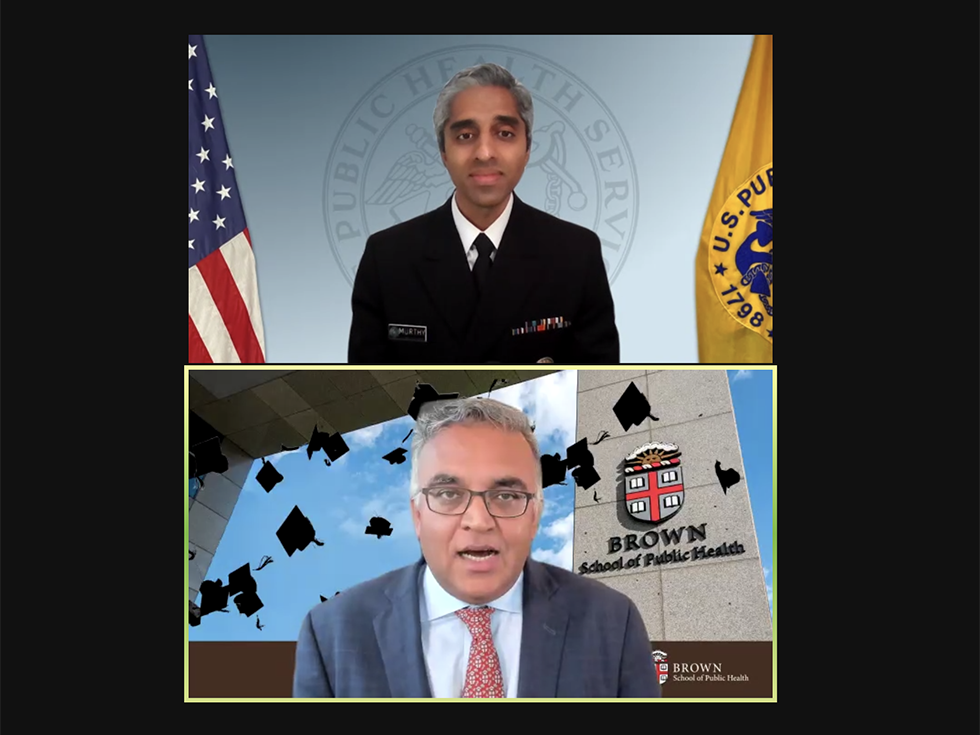 That may well have been what Murthy's official role called for, and it's also how he chose to address the School of Public Health community in his remarks. The country's 21st Surgeon General took time out from helping and informing a public still reeling from the coronavirus pandemic and navigating post-vaccination guidelines to address graduates and faculty from the school via video. Dressed sharply in the uniform of the U.S. Public Health Service Commissioned Corps but speaking in a tone of deep empathy, Murthy acknowledged the unique situation faced by this year's class of graduates, who will receive their degrees during Brown's Commencement ceremonies on May 1 and 2.
"I know many of you didn't expect that your education in public health would be disrupted by, of all things, a public health emergency," he said. "Yet in the midst of the suffering, our world has endured. This gathering, your graduation, is a testament to all the reasons we have to be hopeful about the future."
Murthy spoke plainly, clearly and honestly about the ways in which the pandemic has created additional challenges and opportunities for public health professionals. Never have more people understood what public health officials do, as well as what they stand for, he said.
"The truth is, you are now seen in a way that public health professionals have never been seen before," Murthy said. "That comes with a new level of influence and a new level of challenge."
At the same time that more people have come to see public health experts as trusted sources of information, he explained, others have made these leaders targets of their frustration. The visibility can create enormous stress and strain, Murthy said, at a time when the health issues facing Americans — the opioid epidemic, for example, and a growing mental health crisis — are intensifying.
To stay true to themselves as well as to the core missions of public health, Murthy suggested that the emerging public health leaders in the audience anchor themselves to three sacred commitments.
The first may sound obvious, Murthy admitted: Stand up for the value of every life. He pointed out that countless voices tell people every day they aren't valued, because of the color of their skin, or the people they love, or the god they worship, or the sound of their accent.
"Speaking out can be very costly — people can accuse you of being political," he said. "But when speaking the truth is disparaged as political, it's our responsibility to do it anyway, because that's what it takes to stand up for the value of every human life."
Murthy made clear that public health doesn't exist in a silo, and that's why the second commitment must be, "Don't stay in your lane."
"When I became Surgeon General," Murthy said, "I got to witness how public health could strengthen the foundational building blocks of health in our communities."
For example, he talked to psychologists who delivered social and emotional learning programs in schools; advocates who brought mobile farmers markets to food deserts; doctors who organized group walks. These are people, he said, who pushed past traditional boundaries of their professions, and that kind of imagination and creativity is what's needed from public health leaders to create a world where everyone can thrive.
Murthy referenced his own experiences throughout his talk, but nowhere as much as when discussing his third commitment for public health professionals: put people first.
In 2017, Murthy explained, his life changed overnight when his first tenure as Surgeon General ended abruptly in the months after President Donald Trump's tenure began. Separated from the work and colleagues he loved, with no idea of what to do next, Murthy struggled for months. And because he'd been so focused on work for so long, he'd drifted away from his loved ones. He craved their support but didn't feel justified in asking for it.
"Feeling distant from the ties that had nourished me for so long led to a deep sense of loneliness, and loneliness paved the way for self-doubt and shame, as I came to question my self-worth," Murthy said.
Help eventually came not from professional pursuits or public recognition, Murthy said, but from regular people — his wife, parents, sister and his two best friends, all of whom proactively stepped up to provide company and connection.
"At a moment when I felt like my soul had a tear in it, they patched me up with their acts of love," Murthy said. "That is the power of human connection: It makes us whole, focuses us on what matters and reminds us of who we are, especially when we forget."
The second-time Surgeon General urged the soon-to-be Brown graduates to build a life centered around relationships with people — a lesson he feels he learned the hard way.
In addition to these gifts of advice, Murthy offered what he called a "practice" that members of the Class of 2021 could turn to in moments of inevitable future doubt. Asking participants to place their right hand gently over their heart, close their eyes and take a deep breath, Murthy urged them to think of the people in their life who have supported them and their journey to this point.
"Feel their love flowing through you, strengthening you, guiding you, filling you with peace," he said. "Know that love is always there for you, no matter what happens in the world, because it resides within you."
For many, those felt like powerfully gentle words at the end of a brutally tough year.