PROVIDENCE, R.I. [Brown University] — Across the nation, medical students are more likely to experience burnout and depression than peers on different career paths, research shows. In fact, nearly half of all U.S. medical students report symptoms of burnout, including emotional exhaustion, feelings of detachment toward patients and a low sense of personal accomplishment. This elevated risk can persist into residency training.
Brown University's Warren Alpert Medical School is confronting that challenge head-on.
With the appointment of its first chief wellness officer, the school has taken a major step toward providing advanced support, guidance and tools for medical students to protect their mental health and preserve their emotional wellness. As envisioned, the chief wellness officer will serve as a champion for the promotion of a healthy environment for students and for the development of lifelong skills to maintain physical and mental well-being during medical school as well as in their future careers. The full-time staff member will also help to develop and maintain a culturally competent wellness curriculum for medical students.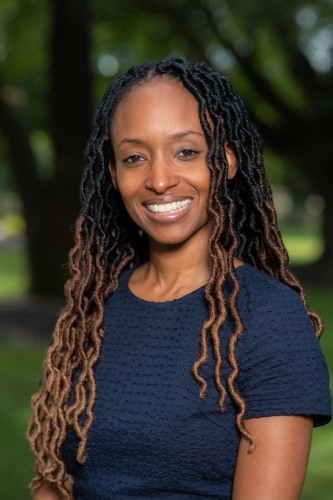 As the school's inaugural chief wellness officer, Kelly Holder brings a wealth of experience. After earning a bachelor's degree in biochemistry at Oakwood University, a historically Black university in Alabama, Holder earned a master's in psychology and Ph.D. in clinical psychology at Loma Linda University in California. She completed her psychology internship at the Loma Linda V.A. Healthcare System and a postdoctoral fellowship in HIV mental health/behavioral medicine at Harbor-UCLA Medical Center.
This summer, she joined Brown from the Penn State College of Medicine and Hershey Medical Center, where she directed the Office for Professional Mental Health, starting a mental health service for medical and graduate students that was eventually expanded to treat residents, faculty and physicians. In addition to her role at the medical school, Holder will also be an assistant director for Counseling and Psychological Services at Brown.
On the eve of the first exam of their medical school careers for new Brown medical students, Holder discussed the importance of self-care for those training to provide medical care for others, and how her new position can help to support future physicians.
Q: How do you envision your role as the chief wellness officer for the Warren Alpert Medical School?
Mental and emotional wellness is essential to complete health. We simply cannot ignore this fact. I view my role as another way to serve the students, faculty and physicians in Brown's medical school, and aid them in not just meeting their immediate self-care needs but also creating and developing plans that can help them learn more about how take care of themselves in a way that's sustainable for a profession that demands a lot. I think that the creation of this position shows that Brown is committed to supporting medical students and faculty in improving their wellness and also working to change the field.
Q: What does wellness mean to you?
I think of wellness as the ability to regularly practice life-sustaining and health-promoting behaviors. There are models that define eight dimensions of wellness: physical, emotional, spiritual, financial, occupational, social, environmental and intellectual. I really like that concept because those eight dimensions encompass the aspects of our lives that help us feel whole. They're all connected. When we hit bumps in any one of those areas, we feel it in all the other areas, as well.
Q: What is the significance of wellness for people training to become medical professionals in particular?
It's essential to teach medical students how to create boundaries and help them learn good wellness habits so that they can continue those practices throughout their careers. The physician's inclination is to focus on patients and put their own health last. But that's what leads to burnout and causes talented, caring professionals to leave the field. We need to step in early and show medical students that in order to sustain a medical career over the long term and give their best to their patients, it's critical that they figure out what they need to stay healthy and happy. On a broader scale, if we can teach these concepts to medical students and help them adhere to them throughout residency and after becoming attending physicians, we can aid with improving the culture of wellness in medicine.
Q: What experiences from your career best illustrate the importance of medical student wellness?
I've seen how difficult it can be for medical school students and physicians to do their jobs when they're struggling with something in their personal life. For example, taking care of a patient with cancer or Alzheimer's or mental illness is already a challenge, but when the physician has a family member who is also dealing with these conditions, that can add an enormous amount of emotion, exhaustion and stress. Or perhaps the physician or medical student is the one dealing with some of these health issues. Yet they're often asked to show up and perform at work as if they don't have any problems of their own. One of the things I've enjoyed most about my job has been aiding students in processing their own experiences and helping them get through their personal challenges, so that they can bring their best selves to their patients. I've learned that as they get better at taking care of themselves, they're better at providing care for other people.
Q: What are some of the challenges in promoting wellness among a medical school community?
In addition to aiding medical students and faculty physicians in establishing and reaching their own personal wellness goals, there is also a question of how much the health care system, overall, interferes with their ability to care for their wellness. It's not helpful to simply make self-care another item on a very long list of things physicians should accomplish on their own. A challenge for wellness officers in any health system is figuring out how to evoke widespread change and make wellness more accessible and realistic for medical students, residents and physicians — how can we be at the right tables with the right people to make the big-picture changes that need to happen to help people at all levels?
Q: What do you have planned for the coming year?
One of the things I'm really excited about is creating "well checks" for the medical students, so that they have an opportunity to talk about how they're doing and then receive one-on-one support about what they want to do moving forward. All incoming students will have an opportunity to meet with a counselor to talk about their wellness. At this appointment, students will receive a brief assessment and will be offered advice and suggestions, help with accessing useful resources or simply a listening ear. For example, if they feel like they need a professional mentor, we'll offer a list of relevant programs and organizations, and provide the information and connections they need. These "WAAMS checks" (Wellness at Alpert Medical School) will begin in September. At institutions that currently offer these types of check-ins, students tend to see them as a great benefit and actively request more of them.
As for other plans: I'm happy that the medical students have returned to campus, because I'm eager to learn as much as I can about what it means, and what it feels like, to be a medical student and a faculty physician here at the Warren Alpert Medical School. I want to create programs that are robust, relevant and meet the particular needs of our medical school community.
Q: What's the most important thing that every first-year medical student should know about protecting their own well-being as they embark upon their training?
This is going to sound simple, but they shouldn't be afraid to ask for help. The types of students who end up in medical school may not have ever found themselves in a situation where they've needed assistance, so when they do, the feeling can be scary or embarrassing. But there are so many resources available for medical students who are struggling. No one has to go through it alone.