PROVIDENCE, R.I. [Brown University] — Amid the brilliant red, yellow and orange leaves decorating Brown's campus on a sun-dappled autumn afternoon on Thursday, Nov. 11, were a few other distinctive colors — the bright blue, mottled brown-green and deep navy of U.S. Air Force, Army and Navy uniforms, respectively.
A notably large group of uniformed students and guests fell into step behind the Brown ROTC Color Guard as part of a procession from the College Green that kicked off the University's 2021 Veteran's Day ceremony. The event honored the service of veterans past and present, affirmed the University's commitment to those who plan to serve and welcomed U.S. Sen. Jack Reed — a U.S. Army veteran and chairman of the U.S. Senate Committee on Armed Services.
"Brown's commitment to veterans is ongoing," University President Christina H. Paxson said. "I want to stress that it's a commitment not just to honor our veterans on one day, but to understand their unique experiences and embrace them as members of the Brown community all the time."
The annual ceremony was held on the Ruth J. Simmons Quadrangle, near Soldier's Memorial Gate, the most prominent campus marker honoring military service and one inscribed with the names of the 42 members of the Brown community who lost their lives in World War I.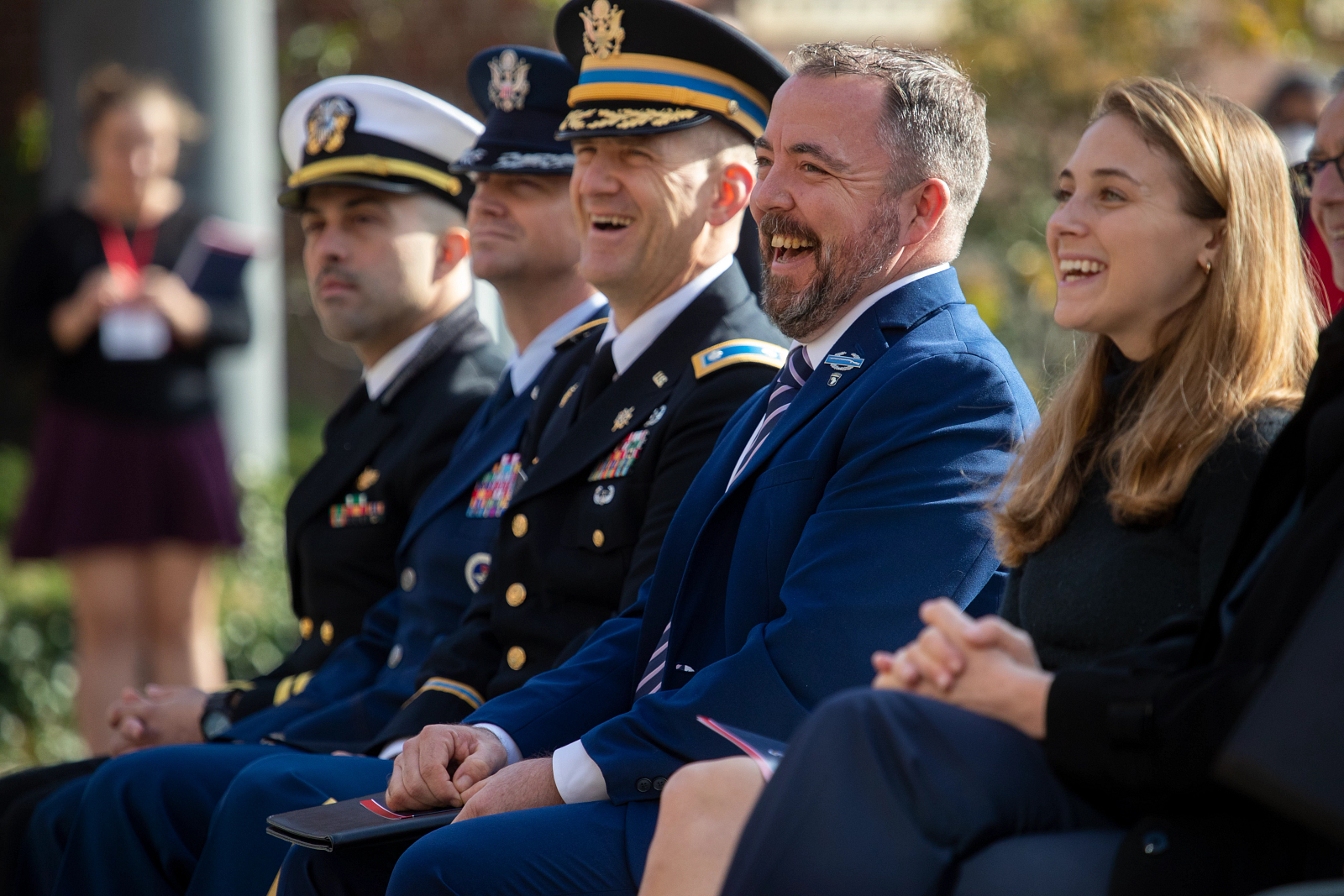 Rhode Islander Hayley Gasbarro — a Brown junior whose father, U.S. Navy Lieutenant Jay Gasbarro, just returned from a deployment in the Arabian peninsula — offered a stirring rendition of the national anthem, and a series of speakers offered tributes to service and pleas to improve support for military veterans. The event featured an ROTC Contracting Ceremony, during which current Brown students were sworn into service as members of the Reserve Officer Training Corps. This year, a total of 16 students — the most since Brown renewed its ties to ROTC programs beginning in 2016 — pledged allegiance to the Army, Air Force and Navy.
Before leading the Army cadets through their oath, Lt. Col. Tyler Jones noted the significance of doing so on Veterans Day: "I can think of few better ways to honor veterans than to hold a contracting ceremony where we can show how the next generation of our nation's leaders is also willing to answer the call," he said.
Jones also cited the exponential growth in participation of Brown students: Over the past two years, the number of Brown students who are cadets in the Army ROTC program alone has nearly doubled, from 10 to 18. And 36 Brown students in total serve in ROTC programs across the Army, Air Force and Navy chapters.