PROVIDENCE, R.I. [Brown University] — During its annual spring meeting in May, the Corporation of Brown University elected two new members to its Board of Fellows and eight new members to its Board of Trustees. Each was invited to serve on Brown's governing body based on their commitment to the University and its mission of education and research.
Robert Goodman, a 1982 Brown graduate and trustee from 2013 to 2019 and 2020 to 2022, and Alison Ressler, a Brown graduate and trustee since 2004 who is ending her second three-year term as the Corporation's vice chancellor, were elected to the Board of Fellows. Members of the Board of Fellows customarily serve 11-year terms.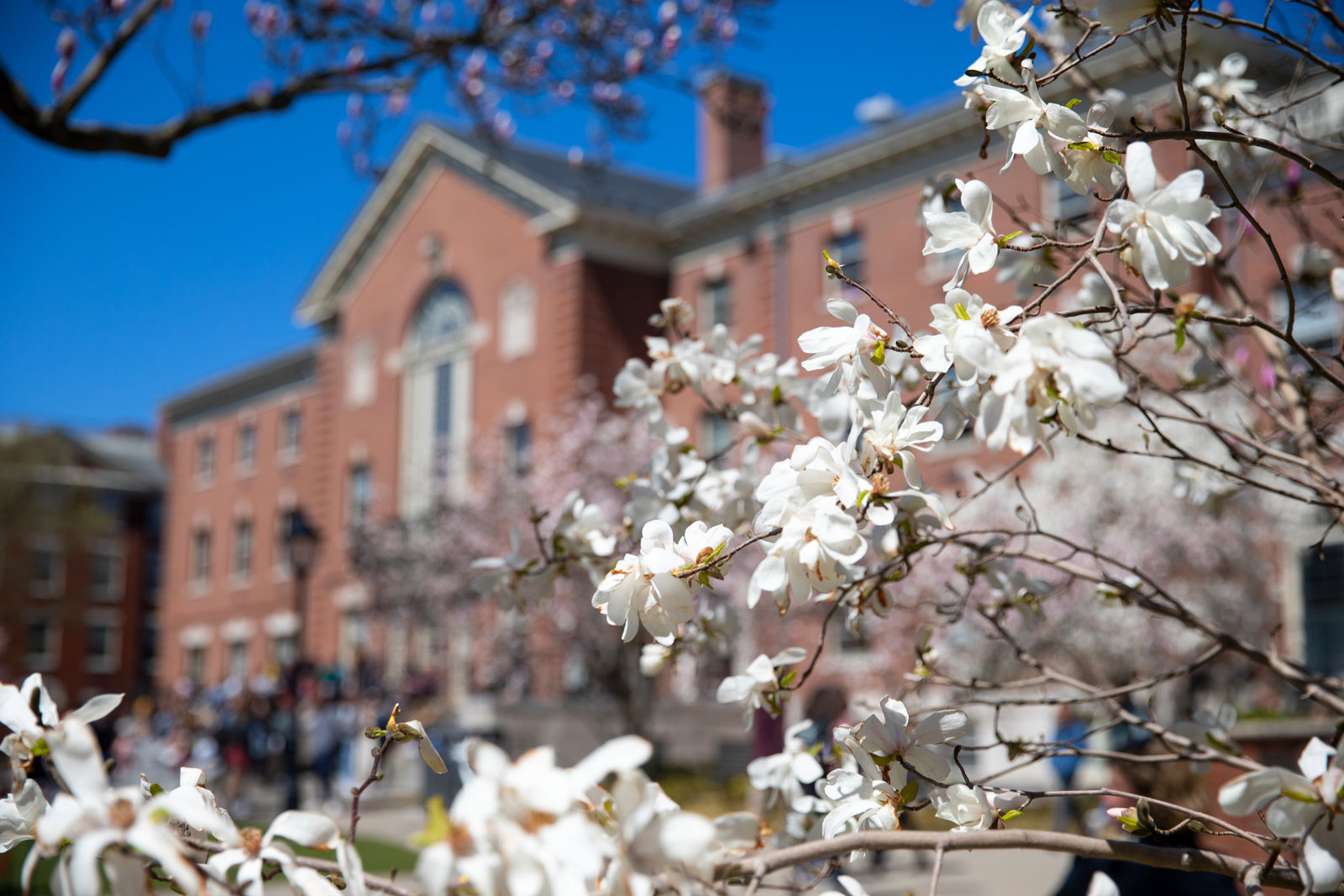 Eight new trustees — James Esposito, Xochitl Gonzalez, Joseph P. Healey, Ayanna MacCalla Howard, Harald O. Mix, Mya L. Roberson, Omar K. Shoman and William Zhou were elected by the Corporation. Members of the Board of Trustees customarily serve six-year terms, with new alumni trustees serving for two years. Zhou will serve as a new alumni trustee.
Members are elected by the Corporation and are formally engaged in October at the first Corporation meeting of the academic year.
All members are dedicated to ensuring that their work will produce an intellectual environment that will shape the careers and lives of future generations. The roles and responsibilities of Corporation members are outlined in detail on the Corporation website.
New Fellows
Robert Goodman, a 1982 Brown graduate and trustee from 2013 to 2019 and 2020 to 2022, is a managing partner of Bessemer Venture Partners, a global venture capital firm, where he has been a leading investor in enterprise software, mobile and B2B marketplace companies for over 20 years. In that time, he has helped more than 20 companies reach successful mergers and acquisitions and initial public offering exits. Previously, he founded three startup companies, one of which created the cellular phone systems in 10 countries in the Caribbean. Goodman is passionate about working with talented entrepreneurs to bring their ideas to fruition. Goodman earned an MBA in 1986 from Columbia Business School. At Brown, he is a member of the Carney Institute for Brain Science and Institute at Brown for Environment and Society advisory councils and served as co-chair for the 30th Reunion gifts committee.
Alison Ressler, a Brown graduate and trustee since 2004 who is ending her second three-year term as the Corporation's vice chancellor, is a partner and member of the management committee of Sullivan & Cromwell LLP. She advises boards of directors and special committees of global companies, private equity investors and financial advisers in mergers and acquisitions, corporate governance and capital markets transactions. Based in Los Angeles, Ressler is the head of S&C's California practice and co-head of the firm's Global Private Equity Practice. Ressler is recognized as one of the leading lawyers in her field, having received industry awards including the American Lawyer's national "Dealmaker of the Year," the Deal's "Women in M&A: The Powerhouse 20," the Los Angeles Business Journal's "2019 Business Hall of Fame," and one of the Financial Times's 10 most innovative lawyers in North America. In 1980, Ressler received a bachelor of arts from Brown magna cum laude and Phi Beta Kappa as a classics concentrator. While a student at Brown, she was active in community service and served as the president of Brown Community Outreach. Ressler earned a J.D. from Columbia University in 1983, where she was a Harlan Fiske Stone Scholar. She was elected vice chancellor of Brown's Board of Trustees in 2016 and, prior to that, served as its treasurer since 2008. She currently co-chairs the Dean's Council of Columbia Law School, is a member of the Board of Trustees of the Harvard-Westlake School, and a member of the board and executive committee for the Los Angeles 2028 Summer Olympics organizing committee.
New Trustees
Jim Esposito serves currently as co-head of the global investment banking division at Goldman Sachs and has been based in London since 2010. He serves on the management committee, co-chairs the partnership committee, and is a member of the diversity and inclusion committee. Previously, Esposito was co-head of the Global Markets Division and earlier in his career was co-head of the Global Financing Group. He earned a bachelor of arts from Brown in 1990, concentrating in economics and political science. As an undergraduate, Esposito was a member of the varsity wrestling team. He is a Brown parent who has served on the President's Leadership Council and the President's Advisory Council on Economics. He serves on the Board of Overseers of the Tuck School of Business at Dartmouth College, where he earned an MBA in 1995, and is a board member of Beat the Streets New England.
Xochitl Gonzalez, a Class of 1999 graduate, is the author of the New York Times bestselling novel "Olga Dies Dreaming" (Flatiron Books, 2022) and the producer and screenwriter of the novel's televised adaptation of the same name. Gonzalez is a contributor to the Atlantic, and her writing has been published in Vogue, the Cut, Allure and Kweli Journal. Previously, she was executive director of the office of institutional advancement at Hunter College, where she oversaw alumni relations, annual giving and 150th anniversary programs. She was also a co-founder and strategist at the Gate, a brand marketing and strategy firm, co-founder at Just About Married, a wedding coordination service, and a co-founder and creative director of AaB Creates, a design and event production firm. Gonzalez began her career as a special events coordinator and later as the director of events and marketing for the Clio Awards. She earned a bachelor's degree in the history of art and architecture from Brown and an MFA in fiction from the University of Iowa's Writers' Workshop. There, she was an Iowa Arts Fellow and the recipient of the Michener Copernicus Award for Fiction. Gonzalez is a board member of the Lower East Side Girls Club of New York.
Joseph P. Healey is co-founder, partner, co-chief executive officer and portfolio manager of HealthCor Management, a health care and life sciences investment management firm. He is also co-founder and partner of the affiliated HealthCor Partners Management, a health care private equity firm. Previously, from 2000 to 2005, Healey was a portfolio manager at SAC Capital Advisors. He additionally served as a health care portfolio manager at Kingdon Capital Management and as an analyst and portfolio manager at Dreyfus Corporation. Healey served as a first lieutenant in the U.S. Army Medical Service Corps at the Walter Reed Army Medical Center from 1988 to 1992. He is chairman of HealthCor Catalio Acquisition Corp. and a former director of Trimeris, Inc. Healey earned a bachelor's degree in biomedical engineering from Boston University and a master's in technology management from the University of Maryland. He is a member of the Dean's Leadership Advisory Board for the College of Engineering at Boston University, a co-chair of the Child Mind Institute and a certified financial analyst. He is the parent of a Brown graduating senior and a current student.
Ayanna MacCalla Howard, a member of the Class of 1993, is dean of the College of Engineering at The Ohio State University, where she is also a professor in the college's Department of Electrical and Computer Engineering with a joint appointment in the Department of Computer Science and Engineering. Additionally, Howard is founder and president of the board of directors of Zyrobotics, a company that designs AI-powered STEM tools for early childhood education. Prior to joining Ohio State in 2021, she was a professor at Georgia Tech. There, she served as chair of the School of Interactive Computing and was chair of the robotics Ph.D. program. From 1994 to 2005, Howard worked at NASA's Jet Propulsion Laboratory, joining first as a computer scientist, later becoming a senior robotics researcher and deputy manager of the strategic university research partnership office. Howard earned a bachelor's degree in engineering from Brown, a master's and Ph.D. in electrical engineering from the University of Southern California, and an MBA from Claremont Graduate University. She is a board member of Autodesk and Motorola Solutions. She is also an appointed member on the National Artificial Intelligence Advisory Committee.
Harald O. Mix, a Class of 1983 alumnus and parent to three Brown undergraduates, is the founder and CEO of Altor Equity Partners, a private equity fund focused on investing in and developing medium-sized companies in Northern Europe. He is also chairman and co-founder of Vargas Holding, an investment firm and impact company builder focused on climate transition. Vargas Holding has been a co-founder of several companies, including the leading European li-ion battery manufacturer Northvolt and H2Green Steel, which is establishing the first commercial scale manufacturer of fossil-free steel. Prior to establishing Altor in 2003, Mix was co- founder and deputy CEO of IK Investment Partners, where he focused on private equity investments in the Nordics. Previously, he worked in the principal investment group of the First Boston Corporation and at Booz Allen & Hamilton. He serves on the several boards including Carnegie Investment Bank and Kinnevik. Mix earned a bachelor's degree in applied mathematics and economics from Brown, and an MBA from Harvard Business School. He has served on the boards of the Viktor Rydberg Gymnasium and the Swedish-American Foundation.
Mya L. Roberson, a member of the Class of 2016, is an assistant professor of health policy at the Vanderbilt University School of Medicine. Her research interests are in applying epidemiologic methods to health services research to promote health equity using big data, with specific interest in equity in cancer care delivery for Black people in the U.S. South. She is the inaugural associate editor for diversity, equity and inclusion at JAMA Dermatology. Roberson is a member of the American Society for Preventive Oncology's Health Disparities Special Interest Group Leadership Council, the American Association for Cancer Research, and vice chair for the AcademyHealth Disparities Special Interest Group. She was a Robert Wood Johnson Foundation Health Policy Research Scholar and a Truman Scholar. Roberson earned a bachelor's degree in public health from Brown and master's and doctoral degrees in epidemiology from the University of North Carolina's Gillings School of Global Public Health.
Omar Shoman is the chairman of OAKS Family Office, a Singapore-based asset management firm. Before that, he was a board member of Arab Bank. Shoman is a trustee of the King Hussein Cancer Foundation as well as a trustee of the Khalid Shoman Foundation. He recently became a member of the ACLU's Investment Committee. Shoman's involvement at Brown includes the Middle East Council and the President's Leadership Council. He holds a bachelor of arts in ancient studies from Brown University.
William Zhou graduated from Brown in 2020 with concentrations in economics and computer science. He served as vice president and then president of the Undergraduate Council of Students, and played an important leadership role on campus in the spring semester of his senior year during the early months of the COVID-19 pandemic. He is passionate about giving back to Brown, and also served on University Resources Committee, the Undergraduate Financial Board, the Brown University Community Council, and as a Meiklejohn Leader. After graduation, he partnered with the Brown Alumni Relations Office to host the Class of 2020's virtual reunion. He currently works as a consultant at Bain & Company, advising companies across technology, media and consumer products.