PROVIDENCE, R.I. [Brown University] — A take-anywhere, on-demand physical therapist in your pocket. A chatbot to talk patients through privacy issues related to genetic screening. AI-enabled software that uses data from an Apple Watch to personalize care for patients with heart disease. A data platform to help detect preeclampsia, gestational hypertension or postpartum hemorrhages — and save the lives of mothers.
Those were some of the innovative ideas presented at the inaugural Digital Health Pitch Competition, a virtual Brown University event hosted this week by the Brown-Lifespan Center for Digital Health and the Nelson Center for Entrepreneurship.
Interdisciplinary teams composed of junior researchers, medical residents and graduate students from Brown and Lifespan responded to a call for digital health innovations focused on improving population health, public health and/or health care delivery — with an emphasis on equitable health outcomes. The teams vied for a judges' prize of $20,000 and an additional $5,000 audience favorite award, plus ongoing mentorship.
"The Brown-Lifespan Center for Digital Health was developed as a hub where creative minds across diverse disciplines and perspectives can come together to create impactful and innovative digital health solutions to pressing public health challenges," said Dr. Megan Ranney, its founding director. "Our goal is to incentivize and accelerate collaborative innovation across the Brown/Lifespan ecosystem, with an eye to ensuring effectiveness, sustainability and equity."
Ranney is also the academic dean of Brown's School of Public Health and an associate professor of emergency medicine at the Warren Alpert Medical School. She emceed the event with Jennifer Nazareno, an assistant professor of the practice at Brown who has extensive experience mentoring students as they work to launch nonprofit, for-profit and social enterprise start-ups.
Turning interest into viable commercial ideas
The event was the culmination of months of engagement among the participating teams, according to organizers. Forty-five parties initially expressed interest after the competition was launched in February, and all were invited to attend virtual seminars focused on bringing a digital health product to market. Twenty teams were then connected with mentors who brought expertise in business strategy, research design, medicine and engineering.
The eight finalists invited to pitch their ideas in the final event were selected by a group of researchers and entrepreneurs that served as judges for the event. All of the six judges have experience with identifying and advancing promising health care solutions; many are also Brown alumni. 
The decision to hold the event virtually was made out of an abundance of caution around COVID-19, but also made sense given the theme of digital creativity and adaptability. The format enabled presenters to share their ideas from wherever they were based, which included locations in Rhode Island, around the U.S. and — for a team represented by Brown medical resident Dr. Margaret Thorsen — in the hospital.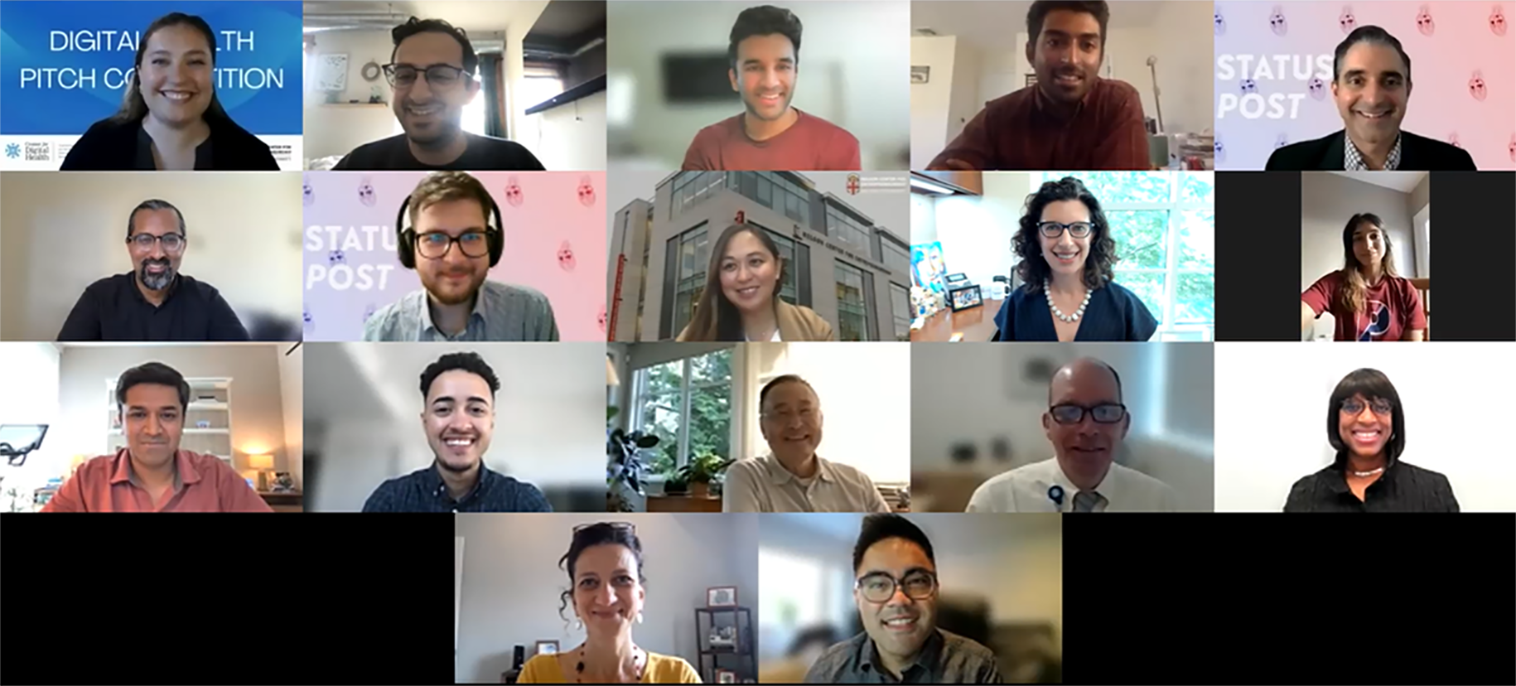 Each team was given 5 minutes to pitch its idea and 4 minutes to answer questions from the judges. More questions came from audience members at the end. The event moved with impressive swiftness — some presenters had clearly been practicing their speed-talking — to culminate in two votes. While the judges were deliberating on the overall winner, event attendees voted on the $5,000 "audience favorite."
The audience chose a venture called Formly, which allows underserved patients to take control of chronic pain and rehabilitation journeys by connecting them with physical therapists who asynchronously review recorded videos of their movements and provide personalized instruction. The idea was pitched enthusiastically by Sudheesha Perera, a fourth-year Brown medical student, and Tony Dagher from the University of Chicago's Pritzker School of Medicine. This model, they said, could help patients in pain who live in "PT deserts" and not have easy access to physical therapy.
The night's big winner was Docs for Health, presented by Dr. Rahul Vanjani, a primary care physician based at the Rhode Island Hospital Center for Primary Care, the academic residency clinic for Brown's internal medicine residency program.
Vanjani's digital platform is intended to empower health care providers to proactively address patient social risk factors to improve overall health. In his pitch, he explained how the platform would screen patients for social risk factors, like unhealthy living conditions, and refer them to organizations, like a housing support group and legal aid organization. But in a new approach, Docs for Health would also help health care providers easily and quickly complete the required paperwork that could connect patients to resources and assistance — for example, a letter to a landlord about poor housing conditions to prompt repair — and track patient outcomes.