PROVIDENCE, R.I. [Brown University] — The effects of the COVID-19 pandemic have been phenomenally wide-ranging, and newly minted scuba diver Rebecca Ward-Diorio wants to find out how deep the pandemic's effects go, specifically in the Galápagos Islands marine communities.
A rising senior at Brown University concentrating in ecology, organismal and evolutionary biology, Ward-Diorio is studying how pandemic-mandated restrictions that drastically decreased human travel may have affected the Galápagos archipelago and surrounding marine reserve.
Under the guidance of Professor of Biology Jon Witman and funded through the Maria L. Caleel '87 Memorial Undergraduate Biology Research Fellowship, Ward-Diorio is spending Summer 2022 plunging into the depths of the Pacific Ocean in an effort to document the impact of this decreased presences of humans (and sharks and sea lions) on the biodiversity of the Galápagos.
Every few days, Ward-Diorio heads out into open water on a dive boat powered by a 300 horsepower engine. At the site, she adjusts her oxygen tank and gathers cameras and other equipment, including underwater clipboards, lead pencils and waterproof paper, which make it possible to write notes when completely submerged.  
She spends at least an hour under the surface of the sea, at depths of 18 feet, 45 feet and occasionally even more. She pairs up with Brown post-doctoral student Robert Lamb to conduct fish censuses to record the species, size, number and location. She also takes photographs and familiarizes herself with the different types of fish in the area. She'll use these underwater observations and data when she returns to the Brown campus in Fall 2022 and resumes work on her senior thesis project, a requirement for Brown biology concentrators.
Ward-Diorio said that she's seeing the synergy between her courses at Brown and her field work, from classes on conservation and wildlife protection, to more general biology classes about invertebrates.
"It's been so fun to be able to apply what I've learned in the classroom to my work here," Ward-Diorio said. She's also been learning from scientists from around the world who came to the Galápagos to conduct research.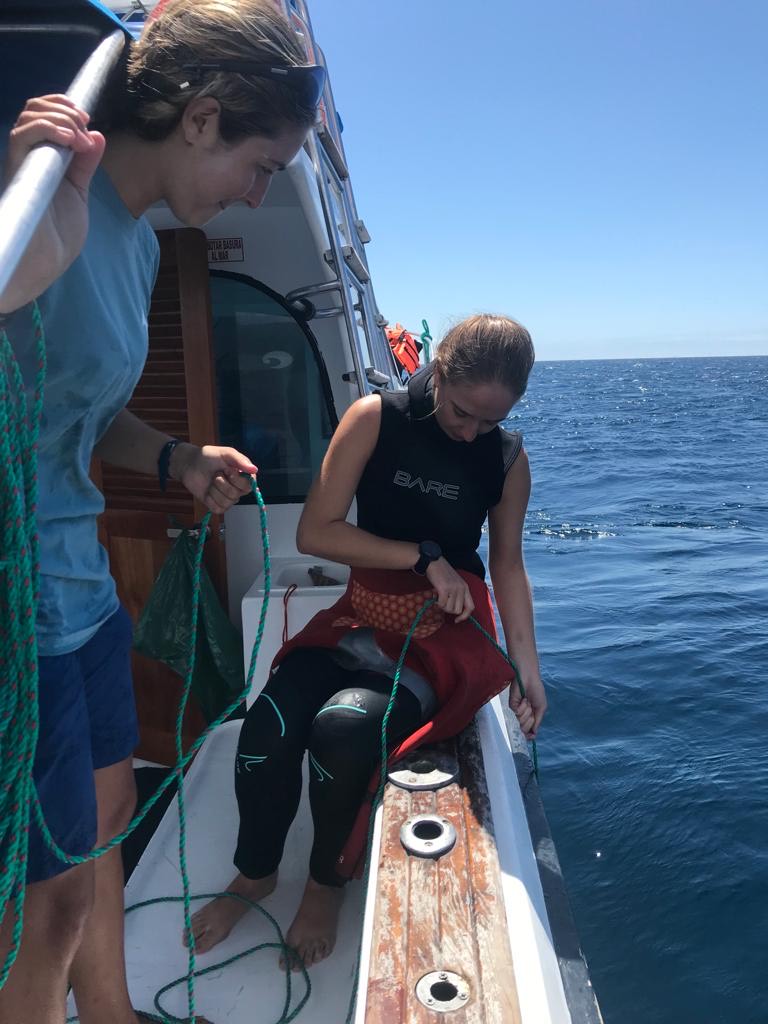 The Galápagos National Park is considered one of the world's most interesting destinations for diving, Ward-Diorio said. This remote archipelago of islands 600 miles off the coast of Ecuador is home to a striking number of endemic species, like the massive Galápagos tortoises and swimming iguanas that are hard to find anywhere else. Before 2020, upward of 200,000 people visited the area each year. But global travel restrictions instituted in response to the pandemic caused that number to dwindle to almost no visitors.
Ward-Diorio will measure this side effect of the pandemic by analyzing species richness and fish reactions to humans as well as to sharks and sea lions. When she returns to Brown in the fall, she will review video from six sites in the Galápagos, three with historically high diver presence and three with historically low diver presence, for years that have a full day's worth of user recorded video. Analyzing data from October 2020 the present, she will survey fish diversity to see if it changed depending on the frequency and number of human and shark and sea lion visits at each of the sites.
A capstone experience
Ward-Diorio received her advanced open-water diving certification in Spring 2022, which was one of the last things she needed to do to prepare for a trip she's been planning since her first year at Brown.
"This research opportunity is really the culmination of my educational experience at Brown so far," Ward-Diorio said.
It's also one of the highlights of her life as a marine enthusiast. Ward-Diorio grew up in Pennsylvania, but her heart has always been in Maine, where she was born and lived until she was six years old. Ward-Diorio's family still returns to Maine for vacations, and the summer before Ward-Diorio started fifth grade, her family made a detour to the New England Aquarium in Boston. Ward-Diorio was fascinated by the richness of aquatic life, and especially charmed by the seals and sea lions.
"From that point on, I've wanted to someday become a marine biologist and focus on seals as an area of study," she recalled.
When Ward-Diorio decided to study at Brown, she homed in on the work of Witman, who focuses on marine ecology and has been conducting research in the Galápagos Islands since the 1990s. During her first weeks at Brown, Ward-Diorio connected with a fellow biology student who had recently returned from a trip to the Galápagos with Witman's team. Ward-Diorio was intrigued; when the student invited her to a meeting with the Witman Lab, she met students who shared her passion for marine biology and she began volunteering on research projects.
"I wanted to get as involved as possible, as quickly as I could," Ward-Diorio recalled.