PROVIDENCE, R.I. [Brown University] — On Brown University's first day of medical education classes in Fall 1972, Pardon Kenney breathed a great sigh of relief.
The year before had been one of worry. Kenney was then in his fourth year of a six-year program that would earn him bachelor's and master's of medical science degrees; he'd matriculated in 1968 on the near-guarantee that by the time he was ready to enter medical school, he'd be able to do so at Brown.
But by Fall 1971, that promise had yet to be fulfilled. A share of Brown faculty initially opposed the establishment of a medical school, arguing that it would dilute Brown's undergraduate teaching mission and strain University finances.
As faculty and administrators debated the future, Kenney and his classmates did the only thing they could do: hunker down and get to work. Glenn Mitchell recalls the first day of classes in 1971 as one of anxiety and tension — not so much about the swirling medical education questions, but rather about his anatomy course.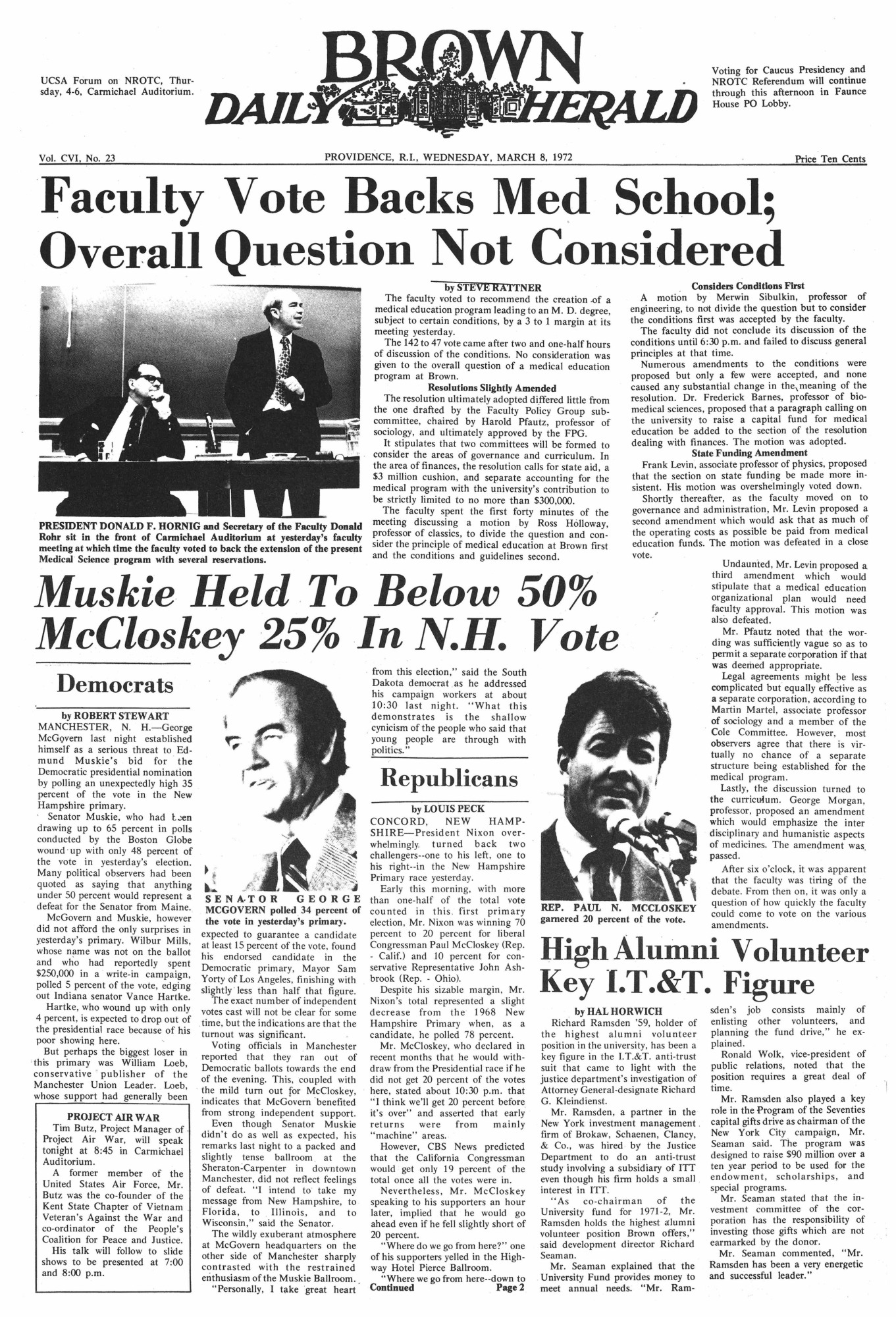 "We were all incredibly nervous because there was this gurney with a sheet over it, and we knew this was a body," Mitchell said. "What happens if we faint? It would be really embarrassing!"
After months of discussion, in March 1972 most of the Brown faculty had been swayed: they voted 3 to 1 to approve the creation of an M.D. program, which the Brown Corporation subsequently authorized.
"It was a relief that we weren't going to have to go shop for another place [to earn an M.D.], because we were loving it," Mitchell said. "So it was a lot of gratitude to the Corporation for having said yes."
Six months later, not one, but two classes of medical students officially began at Brown: Mitchell and Kenney's class, who began their second year of medical studies; and the M.D. Class of 1976, who started their first. Students from both classes would proceed to earn doctor of medicine degrees from Brown — the first medical degrees to be granted in the University's history.
Kenney remembered the relief he felt as he returned to campus. "Now we're bona fide, second-year medical students at a bona fide medical school," he said. "We could concentrate on actually learning."
The Fall 2022 semester marks 50 Years of Medicine at Brown — the 50th anniversary of the first day of classes of Brown's "bona fide" medical education program in the modern era and a half-century of education at what's now called the Warren Alpert Medical School. (A short-lived program in medical instruction existed at Brown in the early 1800s.) Over the past five decades, much of the new student experience has changed—but the core principles on which the program was founded have remained the same.Over five decades, much of the new student experience has changed. But according to students and alumni from classes that span the program's existence, the core principles on which it was founded have remained the same.