PROVIDENCE, R.I. [Brown University] — For senior orator Kailiang Fu, the "Brown mindset" crystallized during a junior-year course on computer systems.
The class taught him the concept of "fault tolerance" ­— a system's ability to continue operating without interruption even if one or more of its components fail. It clicked.
"Brown has made all of us more fault tolerant," Fu told his fellow Brown graduates on Sunday, May 28. "Even if one endeavor fails, we, as a system, can keep operating and improving. Because of that, we grew faster than ever in our years at Brown."
In their Commencement addresses atop College Hill, in front of thousands of family members, guests, friends and mentors gathered in the bright sunshine, both Fu and fellow senior orator Margherita Micaletti-Hinojal celebrated the Class of 2023's adaptability, resilience and hard work. Each encouraged graduates to approach life after Brown with an open mind, a willingness to fail and with their Brunonian values held close.
"While here, we've been encouraged to try so many different things, challenged to think critically about what we're doing and why," Micaletti-Hinojal said. "As we leave the Brown bubble, it's easy to get caught up in what we're supposed to do: Work, grad school, work, family, work, retirement. The midlife crisis is optional.  Let's not forget to continue exploring, to try new things, to question the straight path and then veer off of it. It's easier to quit than to start, so start now — you can always quit later."
The addresses from Fu and Micaletti-Hinojal marked a time-honored Brown tradition of lifting student voices at Commencement. They addressed fellow bachelor's degree recipients, as well as those earning master's, doctoral and M.D. degrees, during the University Ceremony at Brown's 255th Commencement, presided over by President Christina H. Paxson on the College Green.
Seven life lessons for the Class of 2023
Micaletti-Hinojal, a double concentrator in political science and philosophy, reflected on the qualities of the Brown undergraduate experience that drive student happiness. After all, it was one of the reasons she chose Brown during her college search, after she initially sought other qualities, searching online rankings for "best universities for future presidents" and "universities with the best food."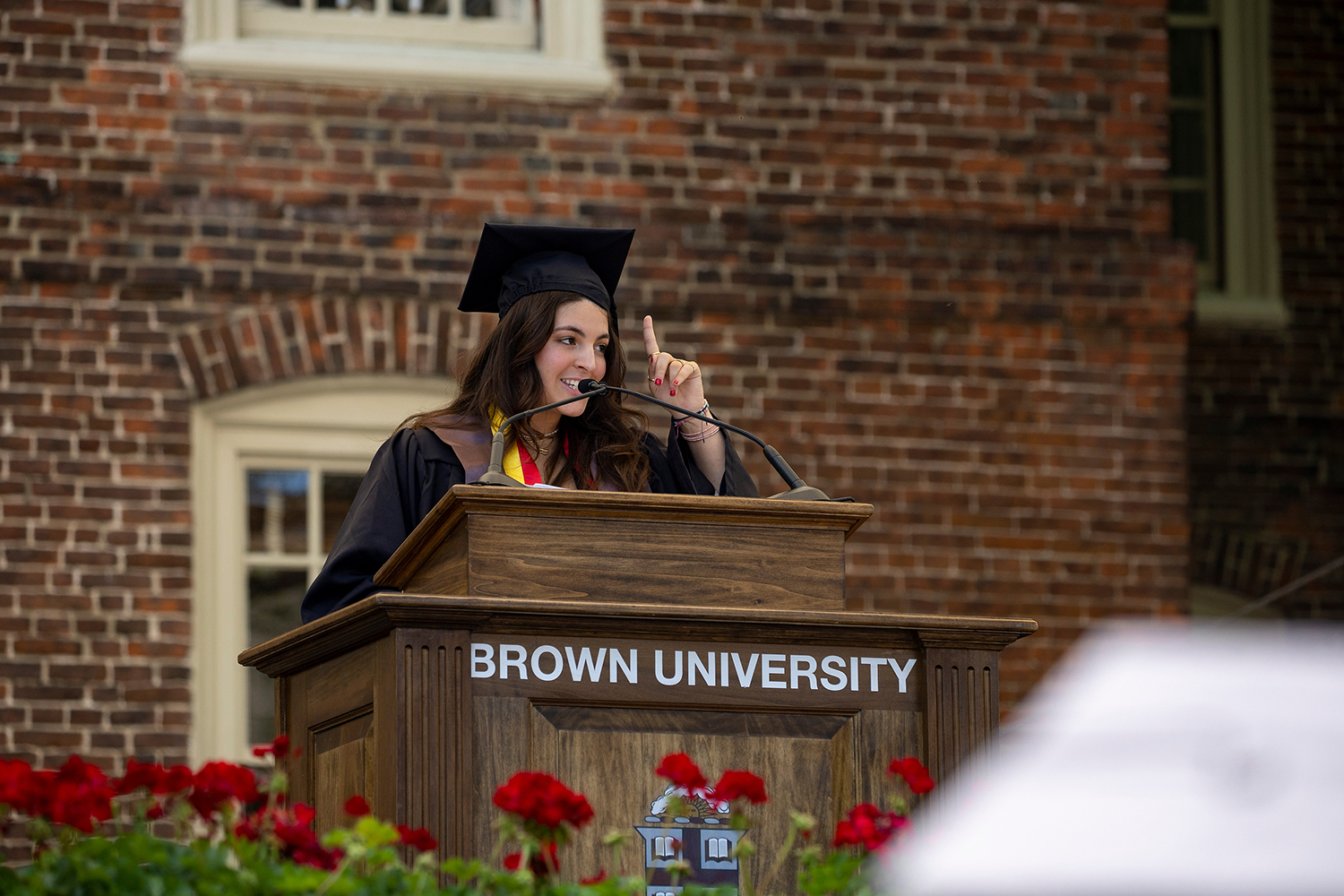 "With zero presidents educated [and] a cafeteria named the Ratty… Brown did not rank highly," she chided, prompting laughter from the audience. "But Brown was at the top of every list on the happiest students in the country. I asked myself: 'What do I want to be when I'm older?' And happy seemed like a much better answer than president."
Nearly four years later, Micaletti-Hinojal distilled the key ingredients of living and learning joyfully, which she summarized in a list of seven life lessons for the Class of 2023. The list included prioritizing well-being, finding a supportive community and reciprocating support, embracing the unknown with zeal, and expressing gratitude.
Another way to "choose happiness" is to try everything, she said. Before leaving for a semester abroad in Cuba her senior year, Micaletti-Hinojal was "terrified to leave the comfort of Brown." But she plunged headlong into the unknown — and she invited the Class of 2023 to do the same in the years ahead.
"My semester abroad was, ironically, one of my best semesters at Brown, because that semester I understood Brown's mission of having us gain knowledge and understanding in a spirit of free inquiry," she said. "I tried so many things I had never done before, and in doing so I learned more about the world and about myself than I ever knew was possible. Ultimately, that is what's so special about Brown and our community."
"Embrace failures on our journeys of exploration"
Fu, a double concentrator in history and applied math-computer science, said his education at Brown helped empower him to embrace failure, not fear it.
Like Micaletti-Hinojal, he recalled the college application process and his ear-splitting scream of relief when he was admitted to Brown, a signal of a built-up "fear of failure."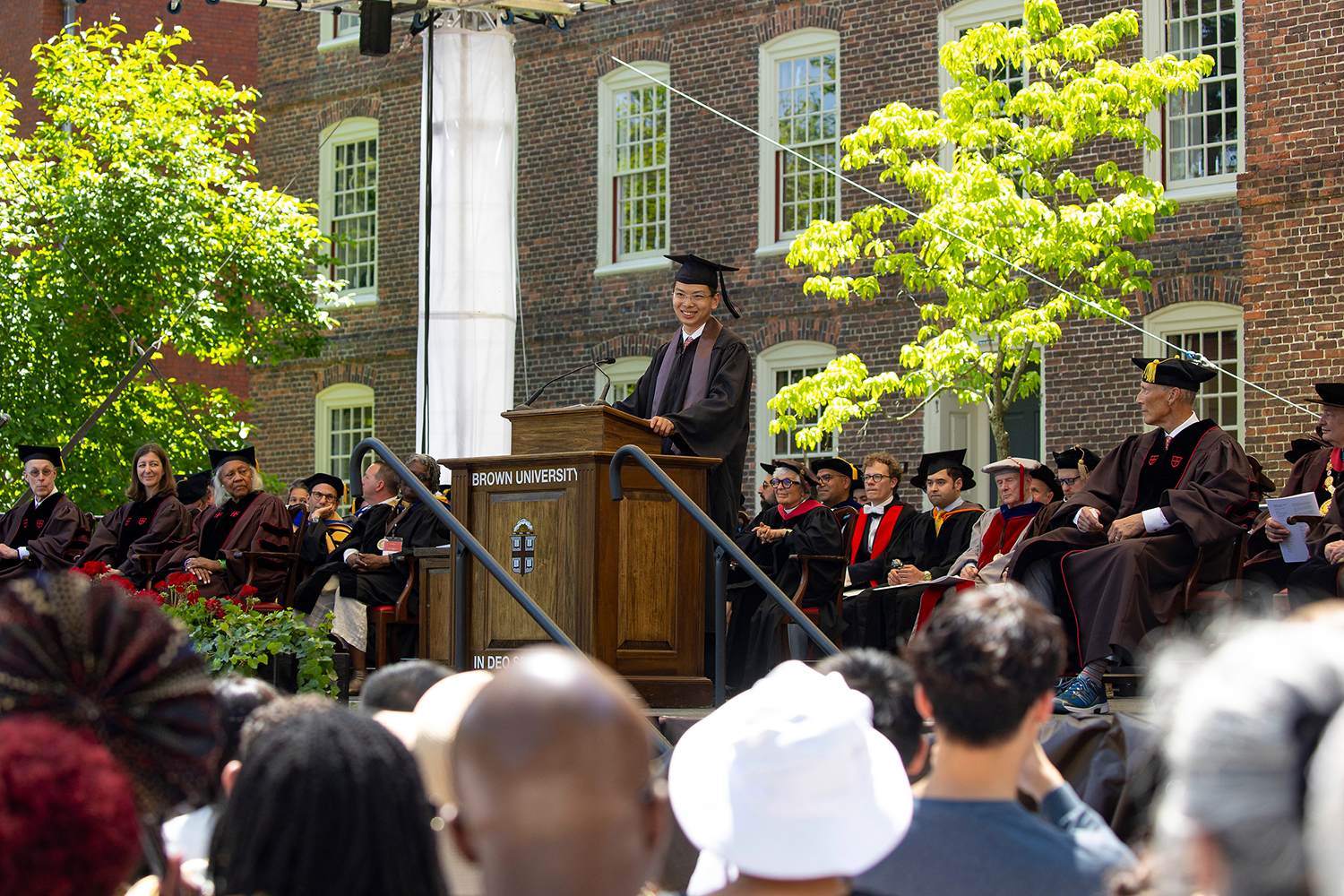 "For years, this fear gripped my mind and kept telling me if I didn't try hard and succeed in every exam and competition, I would lose at the starting line in this race of life," Fu said.
Once at Brown — fueled by the innovative Open Curriculum, support from faculty members and staff, and his work in research labs — his paradigm shifted.
"The culture I experienced here at Brown was vastly different," Fu said. "Brown encourages failures on the journey of exploration… By reducing the cost of trials and errors, Brown alleviates our fear of failure. It encourages us to take risks in the pursuit of something rewarding."
Both Fu and Micaletti-Hinojal encouraged graduates to carry Brown with them as they continue to learn, err and laugh.
"Let's take these lessons and hold them — and each other — close," Micaletti-Hinojal said.