PROVIDENCE R.I. [Brown University] — As the summer sun blazed overhead on a July afternoon, the green-tinged "Bronze Bruno" statue looked out over the College Green, serving as a 7-foot-tall sentinel and greeting Brown community members and visitors.
"Bronze Bruno" is among the four outdoor bear statues that dot the Brown University campus in celebration of the Brown mascot — statuary odes to Bruno that delight passersby and serve as popular backdrops for selfies.
In addition to "Bronze Bruno," there's "Indomitable," a 10-foot-high bronze bear sculpture in Ittleson Quadrangle; an unnamed abstract sculpture, nicknamed "Swearer Bear," nestled in the Maddock Alumni Center garden; and "Little Bear Fountain," which depicts a bear playfully lapping at a fountain of water outside the Brown Faculty Club.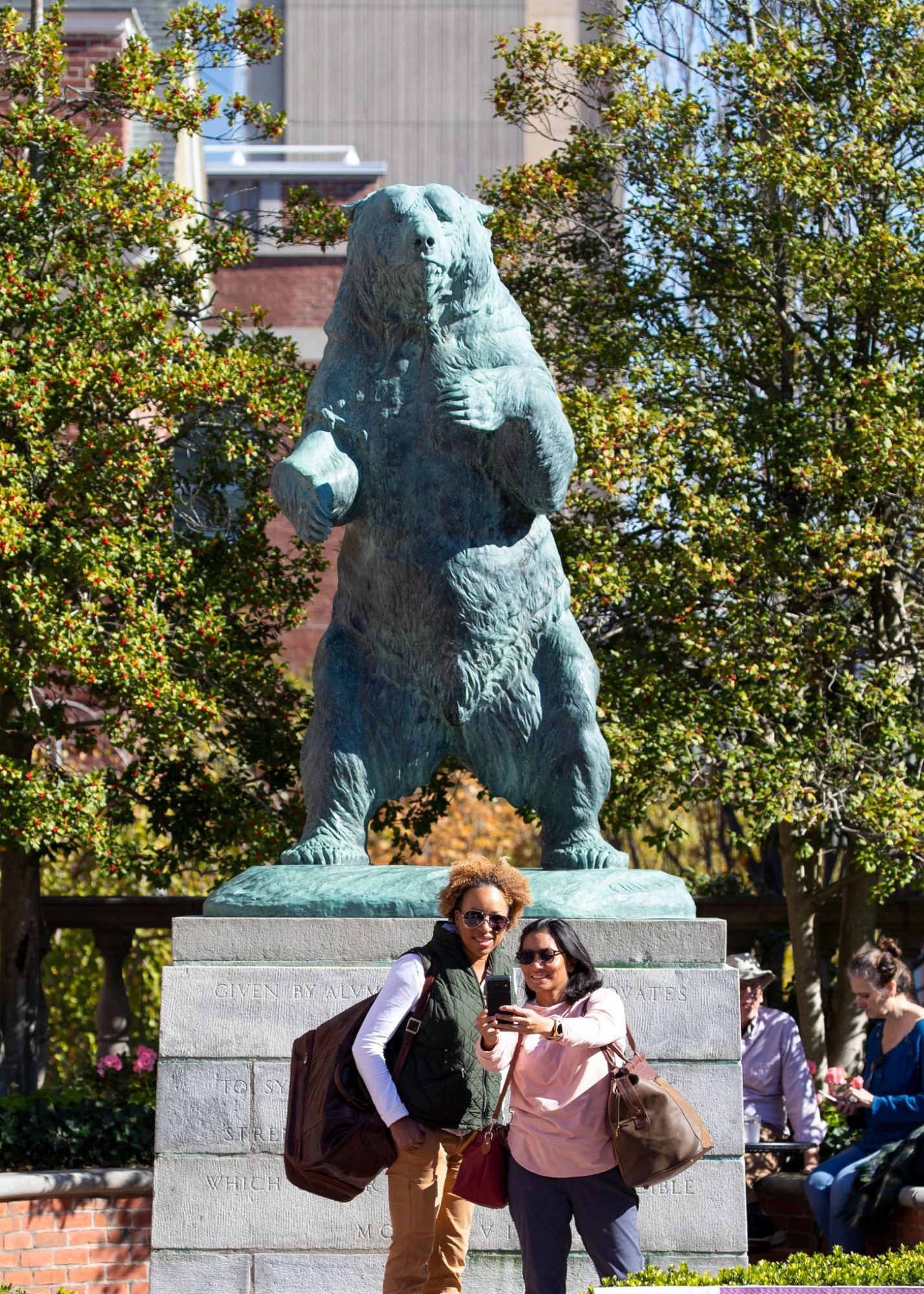 Among the fans of the bear statues is rising senior Maggie Bauer, who is concentrating in education studies with a focus in art and museum education. While she was enrolled in an American studies course titled the Promise of Informal Learning during the spring semester, she was inspired to investigate the origin of Brown's mascot and its representation through campus statues, which ultimately led her to create a Brown Bears tour art walk as a class project.
"The bear statues represent a point of pride for Brown," Bauer said. "They also serve as public art installations that anyone can enjoy, which can be really effective for learning about history in a social and pleasurable way."
Brown's bear mascot originated at the dawn of the 20th century from Theodore Francis "T. F." Green. A Brown alumnus and professor of Roman law at the University who later served as Rhode Island's governor, Green introduced the idea of a bear as Brown's mascot as an embodiment of the virtues of strength, independence and courage, according to Brown Sports Archivist Peter Mackie, a 1959 graduate who has served as an archivist for the University since 2001.
Subsequently, in 1905, a live bear named Bruno made its debut at a Brown football game against Dartmouth College, inaugurating a tradition of live bears at sporting events — which shifted to a costumed version by the mid-1960s, Mackie said.
For more than a century, representations of Bruno have delighted Brown students, faculty, staff and alumni. The following outdoor statues represent Brown's mascot through sculpture.