The Office of University Communications  offers social media avatars to all Brown units and departments to align their accounts with Brown's Visual Identity Policy while also ensuring social media users can instantly recognize an official Brown account. OUC offers a range of avatar options that empower campus units to  express their unique identity, voice and personality. 
To request a new or updated social media avatar, please Submit a Request and a member of OUC's Client Relations team will work with you to find the right solution for your department, unit, school, institute or campaign. OUC provides standard avatars free of charge.
All social media avatars should be approved by the Office of University Communications.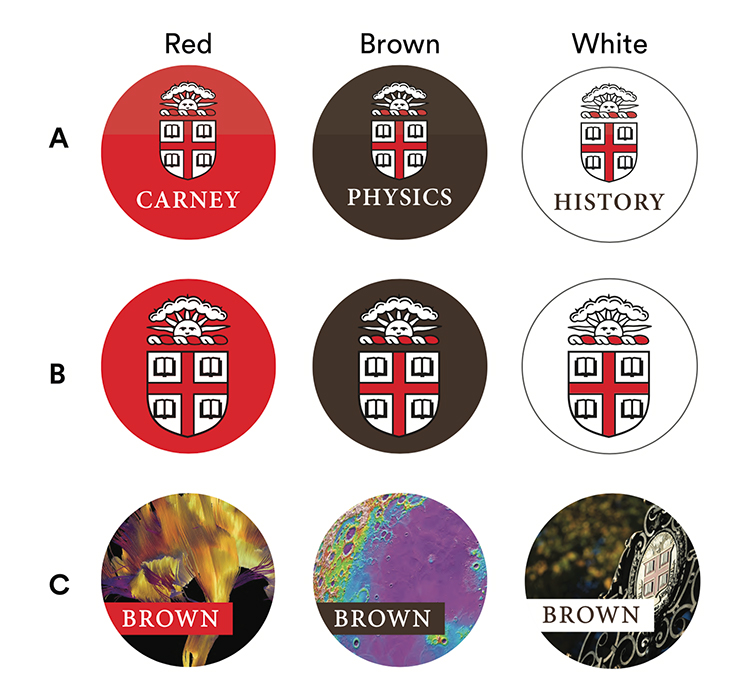 Standard Avatars

A — Primary Logo with Unit Name
Avatars may use the red, brown or white colors from Brown's primary color palette. 
Avatars are designed to be legible at small sizes, especially on mobile devices.
The use of acronyms is not recommended in social media avatars.
B — Primary Logo Only
If a unit name is too long, displaying the primary logo only is recommended.
Custom Avatars and Other Exceptions

C — Photo-based Approach
In some cases a photo-based approach is recommended if a unit has a distinct, compelling image associated with its mission. When a single photo is applied across all social media channels, it builds recognition among audiences and should not be changed over time.
Photos of buildings are not recommended.
Other Exceptions
If you wish to pursue options other than the standard avatar or photo-based approach, OUC will work with you to design an avatar system that aligns with the University's brand identity and social media guidelines. This service is billed at $90/hour. 
To request a social media avatar, please Submit a Request.