May Student Spotlight - Joshua Daniel & Rachel Deraney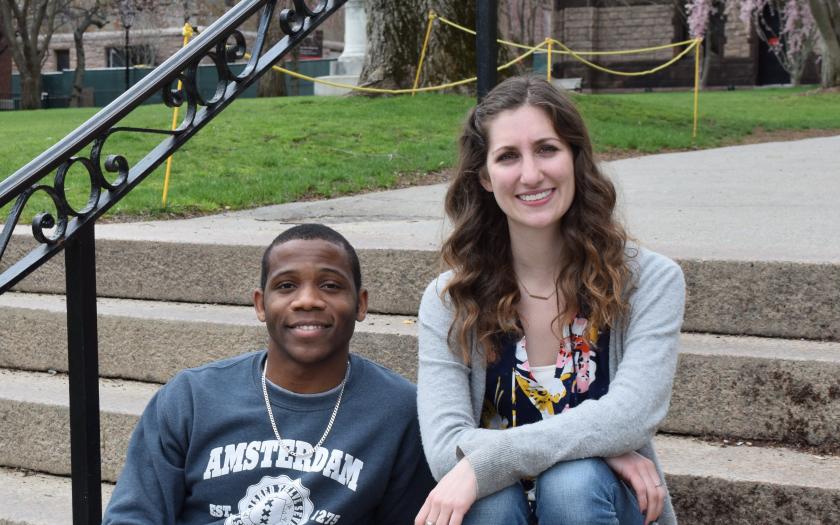 Joshua Daniel (interviewed by Rachel Deraney)
1. You didn't matriculate as a BME student, what made you switch to this concentration?
I still ask myself this question. Like most undergraduate students at Brown, I started with a broad idea of interests, but I wasn't quite sure what would be fulfilling work over the long term. Towards the end of my second semester into my third semester I realized that I really wanted to work on projects that yielded tangible solutions. This in turn complemented my desire to help persons maintain good health, an area prioritized by many.
2. What was it like finding a balance between academic and athletic commitments?
In some ways, it was very fortunate that I started the engineering curriculum as a sophomore. With regards to balancing my efforts in both realms, I think getting a solid handle on the time intensive [swimming] training schedule would've been tricky if I was also attending to the engineering studies as well as general adaptations to college life. Fortunately, when I started the engineering core at least I was no longer getting used to college life, and I had already experienced the training and recovery schedule demands of varsity athletics. All in all, because I wanted to enjoy both commitments and accomplish a lot in both spheres, I was able to make it.
3. What advice would you have for an incoming BME student?
I think the most important thing as a BME student is identifying a general area of medical engineering that you're most interested in. Passion in a field will not only make the mandatory course load more relevant, but also provide a long-term dream of fulfillment that can motivate through the hours of study. Also, finding your passion can lead to promising relationships with faculty members that can be great resources for research, academic, professional and other opportunities.
4. What has been your favorite academic course / experience?
My favorite academic experiences would be a course I'm currently taking in Computer Aided Design (CAD), as well as a course I took at RISD in Industrial Design. In the CAD course we're currently working on a class wide project to design an Ultralight in SolidWorks, a welcomed experience for me, as I love working in teams, but I also anticipate that it more closely parallels operations in industry. My Industrial Design course was a valuable learning opportunity, and I gained great exposure to the strategies and skills that persons in this realm nurture that allow for effective product design. Without a doubt, the reasons for their appeal stems from the heavy emphasis on design and creation of tangible solutions, an area I've been keen on exploring for some time. I'm glad that I have a much better grasp on the kind of work I would like to do as a career path.

Rachel Deraney (interviewed by Joshua Daniel)
1. Why did you decide to pursue a PhD?
I got a job right out of undergrad working as a research technician. I loved the work we were doing but it became clear after a year that I needed to learn more before I could advance my career and untimely become a project manager. My bosses were very supportive and helped me decide where to apply, which made the process of going back to school a bit easier!
2. What made you apply for the Open Graduate Education?
The Open Graduate Education is such a great opportunity at Brown, it was one of the reasons I decided to come here.  Since I started a research project during my undergraduate degree, it has been my goal to use engineering to create diagnostic tools to be used in resource limited settings. In the case of many diseases, the technology is available to diagnose, treat and cure a patient, but, these technologies are often not feasible for those who have the greatest need. In order to truly reduce the global burden of disease, we need to approach problems from a multidisciplinary perspective, and combining a Master of Public Health with a PhD in Biomedical Engineering will allow me to do just that.
3. What is it like combining academic course load in Public Health and Engineering, two seemingly different fields?
It has definitely been a lot of work but there is more overlap than you might think. As a biomedical engineering student in Dr. Tripathi's lab, my thesis work investigates how to develop bioengineering tools for diagnosis and management of HIV in resource limited settings. My engineering and biology coursework has prepared me to address significant scientific challenges such as sample preparation and RNA extraction, but my MPH classes have taught me how HIV spreads, what communities are the greatest risk of contracting the disease and why current tests are failing those who need them most. I don't think it would be possible to design a viable solution at my lab bench without understanding the cultural, geographical, political, economic and educational factors that globally affect HIV management.
4. Tell me about work in Kenya!
Working in Kenya was a dream come true! Thanks to the support of many faculty here at Brown, I was able to travel to Eldoret, Kenya for 6 weeks in the summer of 2017 to test the device we designed in the Tripathi lab for HIV viral load monitoring. I was welcomed by a wonderful staff at the AMPATH reference labs and was trained on the Kenyan gold standard techniques for HIV diagnosis and monitoring. I was able to use patient samples to see how well our device compared to these gold standards.  I was also fortunate enough to visit some of the more rural HIV clinics where there is a huge need for point of care testing. We lost about half our sensitivity for nucleic acid extraction compared to mirrored testes performed in the US with patient samples and we are still trying to figure out exactly why this happened. The overall story is something that works perfectly in the US might not work as well in a completely different setting, and that's the main reason more work needs to be done in global health engineering.