November Student Spotlight - Bardiya Akhbari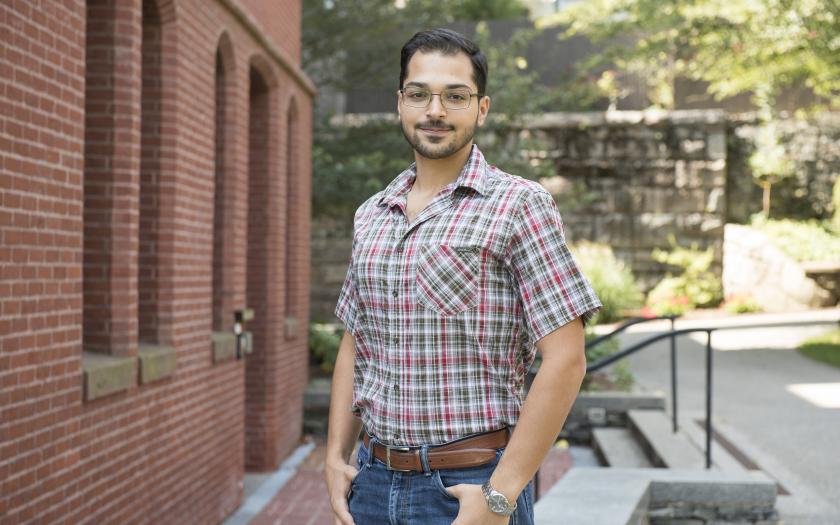 Hailing from Tehran, Iran, third year PhD student Bardiya Akhbari's road to engineering was inspired by his father who is a mechanical engineer. When Bardiya was a Mechanical Engineering student at Sharif University of Technology as an undergraduate student, he realized that he could use his modeling and programming skills to study the human body, especially joint movements and replacements. This eventually lead him to apply to graduate schools, and he ended up at University of Kansas for a master's in Mechanical Engineering at a funded program. By the end of his master's program, Bardiya decided that he wanted to pursue his passion further and get his PhD in Biomedical Engineering at Brown. "I knew about my advisor, Dr. Trey Crisco's research, and I reached out to him and applied to Brown." Bardiya studied Dr. Crisco's work as a master's student, and resonates with his work ethic, "I really like that Trey does everything that he likes to do! His research may seem different on the surface, but they have the same core interest." Dr. Crisco has given Bardiya an opportunity to diversify his arsenal of skill and research, and Bardiya loves working for him.
Bardiya attributes his choice for a US institute for advancing his degree to his father, "My father went to school in the US, and he would always talk about the life here. He encouraged my brother and me to study in the US." At Dr. Crisco's lab, Bardiya is currently working on wrist mechanics and total joint replacement for the wrist. His project entitled, "The Role of Biomechanics in Total Wrist Arthroplasty", Bardiya zealously talked about his research, "The main problem with total wrist replacement is that it has a lower success rate with respect to other joint replacements, like total knee or total hip replacement. And we believe that the discrepancy in movement between the implant and the actual wrist is the cause of high failure rates. The implants can not seem to mimic the actual joint movement." In order to study the mechanics and motion, Bardiya and his team uses some really 'cool' tools- such as the XROMM facility available at Brown- to image and understand the biomechanics of motion. Brown's XROMM innovation plays an important role in Bardiya's research, where he uses the machine to image his subjects, and create 3D models out of the captured images. "We use a specific software to understand how the implants and the joints move using the 3D models," Bardiya added, and explained how he is working to improve the software he uses for the purpose, which is an in-house Brown creation.
When he is not busy working in the lab, Bardiya engages himself in trying to make a difference. "When I moved to Brown, I found out about the Iranian Student Organization that was mostly for the undergraduate population, and not active at the time. So my friend and I decided to get involved and we created the Iranian Graduate Students Organization, because the need of graduate students vary vastly from that of the undergrads." This organization gives a platform to incoming students, and current Iranian students, to voice their problems and needs and acts as a medium of help between them and the Graduate School. "We organize various cultural students, including a major Iranian New Year celebration with more than 250 students in attendance!" Most recently, Bardiya worked with Dean Shayna Kessel at the Graduate School to waive the application fee for native Iranian students, who are affected by several new sanctions that make the process of paying the application fee cumbersome. This is a big change, and a welcoming gesture from the graduate school to the students from Iran interested in applying to Brown, "Dean Kessel made this happened so quick, and we are very thankful to the Graduate School," said Bardiya. Bardiya also serves at the International Student Advisory Board, is involved at the Graduate Student Council's International Student Organization group, and is also the Biomedical Engineering representative at the Graduate Student Council. Life as a biomedical engineering graduate student is challenging and Bardiya's involvement is definitely commendable, "I use Google Calendar to manage my time. My roommate makes fun of my Google Calendar, but I try to be as organized as possible, and I usually plan my week ahead of time." And when he is not busy giving back to the Brown community and making a difference, Bardiya enjoys reading books, and watching superhero action movies and tv shows.
The travel ban on Iran has limited Bardiya and his family's ability to see each other often, and he hopes to finish his PhD and visit his family in Iran soon. After his PhD, Bardiya wants to stay in academia and would like to stay in the US to continue in the field of research and be a faculty member. "I really like biomechanics and orthopedics, and I would love to continue doing research about things that I care about. Although, industry has its pros too. So I am keeping my options open and see what happens."