April Alumni Spotlight - Kabisa Baughen '17 ScM'18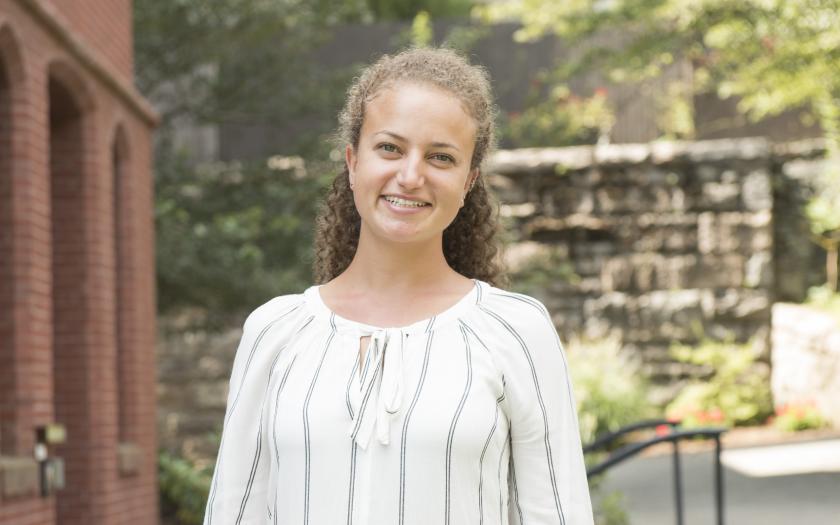 For alumna Kabisa Baughen, the journey to becoming an engineer at Catapult Product Development started with exploring her interests and options at Brown.
"I was starting school, and I liked math and problem solving. I liked the idea of something that would have an impact. I was interested in the medical field, and somewhat had an interest in veterinary medicine. I thought that engineering was a more appropriate way to study what I was interested in and thought I'd give it a shot. I ended up liking it and stuck with it."
As an undergraduate student, Kabisa worked with Dr. Edith Mathiowitz after taking her Drug and Gene Delivery course, "I took her class and talked to her because her work seemed really interesting. I thought it would be a good place to work at, and it really was a wonderful experience working in her lab."
Kabisa spent her summers as an undergraduate student exploring the medical industry from different aspects, "I had 3 internships: after freshman year, I worked for an oncologist at Florida Cancer Specialists. He was the head of the clinical trials. It was short internship, where I shadowed him and his nurse practitioners, and also helped start up the development of an app to keep doctors up to date about clinical trials, and match patients to the clinical trials that the center was running. After sophomore year, I worked for a surgical oncologist Dr. Meredith in Florida, as a research assistant. I was compiling data and analyzing them from a surgical database. He had the largest GI oncology surgical database and he was working on a project to identify some predictors for metastatic cancer. I got to watch a lot his robotic surgeries, which was neat. After my junior year, I worked for a company called BioLucid, which is now a part of Share Care. They were digital healthcare company. They did digital graphics and virtual reality for healthcare education, targeted both at doctors in training, and educating patients. I was in marketing and sales internship role there, which was my attempt to see if I was interested in the less technical and more commercial business side of things."
While she liked her lab research, things changed for Kabisa when she started working on her capstone project of neonatal transilluminator with clinical advisor Dr. Ravi D'Cruz. "I did lab research at Brown, but when I worked on my capstone project, I saw it relate to people and come to fruition a lot quicker than a lab research. Lab research always felt like you're on a small part of a very big project, and while they are cutting edge, it's always a part of something that's long term. For my capstone, it was great to work with a doctor, identify a problem, and come up with a solution for it. I had fun fabricating a prototype within a few months, and that's when I decided to go into more device focused work." Kabisa's team capstone focused on redesgining transilluminators, which doctors use to detect veins for blood draws and other procedures, are unwieldy. Kabisa and her team chose to pursue the project for an additional semester through GISP.
After finishing her bachelor's degree, Baughen decided to stay at Brown for a fifth-year master's in Biomedical Engineering. "It was a combination of different things. I had a feeling that I wanted to do master's at some point in my career to have that extra background and experience. I thought it'd be good to have some work experience and develop a direction before going into a master's program, but I also knew that if I started working, it would be harder to go back to school. Besides, I liked Brown a lot. I liked being there. I had the option of the 5th year master's program and had taken enough of the 'right' classes to go in prepared for the graduate program, and I was also excited to keep working on my capstone project." As a result, Kabisa continued working on the neonatal transilluminator for her master's thesis, with Dr. David Durfee, an adjunct electrical engineering professor and CEO of Bay Computer Associates, as her advisor. "Dr. Durfee's office was in Cranston, RI. I took the RIPTA bus and became a fan of the RIPTA! That was a part of my transition from an undergraduate to graduate. It was good transition between school and work. I was working from an office, and it was on me to structure my schedule. My project was very independent, although Dr. Durfee was there for guidance when I needed it. I had to hold myself accountable for my progress, and that year definitely helped me with my time management."
After graduating with her master's degree, Kabisa joined Catapult Product Development- a small medical device company near Boston, Massachusetts- that does contract engineering to develop medical devices, for other groups, academics and larger companies, as an engineer. Although she met the company representatives at the Brown Career Fair, her discovery started with a rather interesting confusion, "It's a funny story. I went to a talk at Brown, organized by BMES, or an engineering group- I don't clearly remember. It was a lecture by a woman who's the founder of a company called Catapult Design, a Denver based company that does product development and design based around social impact and. I thought that was really cool, and I enjoyed the lecture. When the engineering career fair came up, and I was looking at the companies in attendance and saw Catapult. I just assumed that it was the same company that I'd heard of at the lecture. I didn't realize it until a few days before the career fair, when I was doing background research on the company, that it was a different company. They also did product development, and solely for medical devices and was based out of Boston. They were the only healthcare/medical related company at the career fair that I was interested in, but I still went to the career fair and talked to them. Their head of electrical engineering was a Brown grad, and we went from there!" Baughen has been with her present company since graduating from Brown last June, "My role has changed a little bit since I first started working here. Because we are so small, our positions are flexible and fluid. I am an engineer, and I'm working on several different projects on different stages of development- meetings with clients, hashing out requirements, brainstorming, all the way up to creating prototypes. I've created prototypes from something that was just an idea. My role has gone from actually assembling ten large lab instruments, putting them together, running qualification tests, to writing protocols for verifying and validating them, running electrical safety tests, to now I'm on more of a projects management role for different projects. I am in charge of  all the transfer of knowledge and information from us, through to our clients, to the company who will take these designs to make them on a large scale."
During her time at Brown, Kabisa was a part of the equestrian team and was a mentor and coordinator the the New Scientist Collective, a mentoring community for underrepresented minority at Brown in STEM fields. She was also a part of the Engaged Scholars Program, "They have taught me a lot about time management, and they also expanded the group of people I spent time with and shaped my leadership and management skills."
Reflecting on her time at Brown, Baughen says, "At Brown, you get a very broad education in BME. You don't specialize much beyond your research, which means you can bounce around and take different classes. For me, it had helped me get an insight into a lot of different areas. I gained familiarity in a lot of different fields, and for me, it has given me the ability to view a lot different projects at a top level, and communicate between our electrical, mechanical and software departments. I took a solidworks course in as a master's student. It was really helpful, especially not being a mechanical engineer, it was an intro to the more mechanical aspect of the work. And now I am working in an environment where we use a lot of solidworks."
"So far the transition is going well. I work for a small company and that makes it feel less overwhelming. But it also means that everyone involved in the company have a lot of responsibilities. Brown prepares people well for the industry- technically and in terms of soft skills and management skills. So it's hard to say yet whether industry is what I expected it to be. It's definitely different than school where you get constant feedback. Starting anything new is overwhelming at first, but Brown prepares you quite well for the life after Brown. In five years, I would like to be in a technical project management type of role. Not sure if I'd be in the same company, or a similar small company, or work for a company that develops its own products. And I have no idea where I will be in ten to twenty years. I am just looking a few months and few years ahead. When got this job, I liked the diversity of projects I could work on. And I think this experience will definitely help me when I choose to do something different in the future." Baughen continues to ride, once or twice a week, and has picked up running as well, to maintain her work-life balance. And while she doesn't miss the assignments, she definitely misses Brown and Providence, "I honestly miss my friends, the community, the people. And I miss Tallulah's!"