CBME Program Retreat Brings Faculty, Staff, and Students Together at the Audubon Nature Center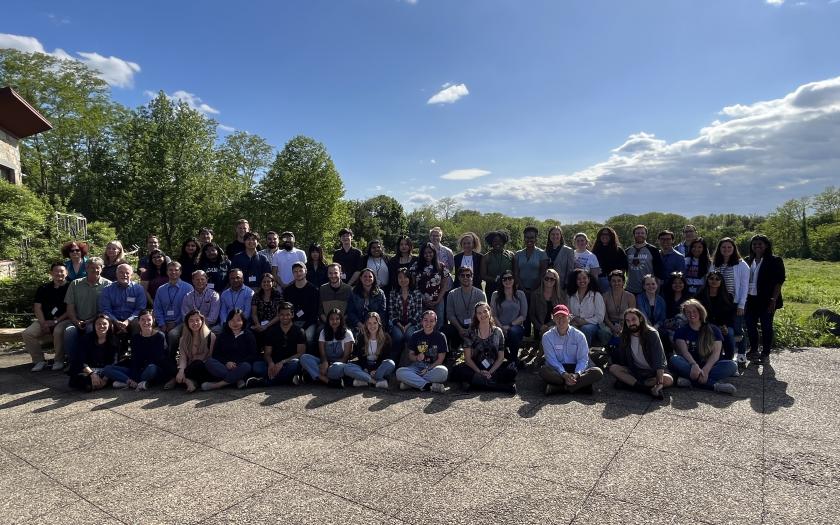 On May 24, the Center for Biomedical Engineering (CBME) graduate community came together at the beautiful Audubon Nature Center and Aquarium in Bristol, RI to celebrate their shared scientific achievement. Put together by faculty, staff, and students, the event featured student presentations, keynote speakers, and awards among numerous other community building activities. 
The morning started with a warm welcome from graduate program director Kareen Coulombe who thanked all involved in the organization of this exciting event. She explained how one of the goals of the scientific presentations to follow was to capture the research accomplishments of the CBME graduate students. Attendees were encouraged to participate in asking presenters questions by receiving custom Brown BME-style socks!
The first invited speaker was Dr. Shane Lee, a postdoctoral researcher in the Assad Lab. Dr. Lee presented his work on the motor symptoms of Parkinson's disease. He explained the importance of elucidating neurobiomarker dynamics for the development of more effective treatments for Parkinson's disease. Their lab's impressive use of machine learning to investigate the underlying mechanisms that drive debilitating tremors was inspiring to say the least. Dr. Lee's presentation highlighted their outstanding contributions towards the next generation of adaptive, closed loop neuromodulation. 
Next to present was Tripathi Lab BME PhD candidate Kiara Lee, who was the peer nominated PhD student presentation. Kiara expressed the importance of user-centered design in the development of biological sample collection devices. Kiara is also pursuing a master's degree in Public Health as part of the Open Graduate Education Program. Her cross-disciplinary research involved hours of patient interviews used to inform the development of point-of-care devices. Current blood drawing processes for diseases such as gestational diabetes can be onerous, and patients express favorability for more convenient sample collection methods such as dried blood spots (DBS). However, the high analytical burden of DBS has limited its use for disease screening. Impressively, Kiara used a method called electro-DBS to more simply and rapidly extract genomic DNA from patient samples. Her work was also designed to be reproducible in labs all across the world. Kiara's outstanding research truly addressed the concerns of the study participants and it was clear she had done an impactful job in enhancing the patient experience. 
Kiara's talk was followed up by other peer nominated speakers including master's student Jessie Rapoza from the Xu Lab, PhD candidate Ronnie Lamastro from the Shukla lab, and postdoctoral fellow Arvin Soepriatna from the Coulombe Lab. Incoming School of Engineering Dean Tejal Desai joined us virtually to introduce herself to the community and to share some of her visions for the future of BME at Brown. The morning program wrapped up with a final invited speaker presentation by Wafik El-Deiry, MD, PhD, FACP, Director of the Legorreta Cancer Center at Brown University. Dr. El-Deiry's inspiring talk was entitled, "Innovative cancer therapeutics require transdisciplinary collaboration." We are eager to see where continued collaboration between biomedical engineers and cancer biologists can lead!
A casual lunch was served such that students, faculty, and staff could mingle, enjoy the grounds, and/or picnic on the lawn on gifted Brown BME beach towels. Faculty convened after lunch for a faculty meeting while graduate students enjoyed free time and ice cream. The community gathered together again in the late afternoon, and the following awards were given out to some outstanding members of the CBME Graduate community:
Outstanding Contribution to Community Life: Dr. Rajeev Kant PhD'22
Outstanding ScM Thesis Award: Stephanie Roser ScM'22
Engaged Post-doctoral Scholar Award: Dr. Akram Abasi
Outstanding PhD Dissertation Award: Dr. Lindsay Schneider PhD'21
Outstanding Diversity, Equity, and Inclusion Leadership Award: Dr. Celinda Kofron
Finalists from the elevator pitch competition that was held as part of the Biomedical Engineering Graduate Program Seminar Class were also shared with the community. The finalists included Dominique Barnes, Josephine Kalshoven, Kevin LoGiudice, and Sophie Brown. PhD student Samuel Parker won the competition that called for a 90 second video of a STEM topic that they are passionate about. Director Vicki Colvin gave closing remarks before the retreat programming concluded. A group photo and happy hour closed out the community event.