October 2022 Student Spotlight - Prateek Rajpara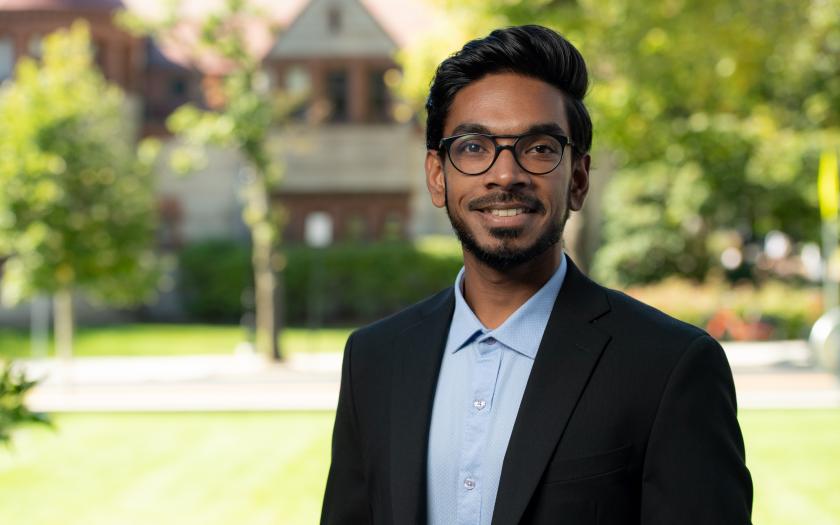 Prateek is a 2nd year Biomedical Engineering master's student pursuing the non-thesis track. In his third semester at Brown, he was able to participate in the co-op program as an international student. Prateek worked in the Research & Development team at BD in Warwick, RI.
What kind of work did you do at BD? What department were you in, and what was your day to day like?
I work in R&D of the Biosurgery department here at Becton Dickinson, Warwick. Currently, I am working on multiple projects under the hemostatic sealants portfolio. One of the projects is in the early-stage concept phase and the other one is in its late stage; and both have specific roles and responsibilities. In addition, I got to lead one of the projects in collaboration with other BD partners. My day-to-day activities involve planning and executing experiments, analyzing data and reporting, data validation and verification, and meetings.  
As an international student, how difficult was it to secure a co-op position? Are there any specific details that future international students need to know before applying?
I personally did not face any challenges securing a co-op position. I was able to find a position of my interest through LinkedIn and then share it with Dr. Jacquelyn Schell who further helped forward my resume to the respective group at the company. I give credits to the co-op program advisor, OISSS, and Dr. Marissa Gray who provided me with necessary resources and help during the search and hiring process. A prospective student should start building their network early on and reach out to as many people as possible. A good place to start would be connecting and reaching out to alumni and employees of prospective companies on LinkedIn. My advice to all future international students is to shortlist all the companies which match their long-term goals and familiarize themselves with their visa and CPT related requirements before accepting any offer. 
How did you find your co-op position? Did you apply to other companies apart from BD?
I did my research on various company portfolios and came across one of the co-op positions in the field of my interest on LinkedIn. I shared my interest and resume with Dr Schell and received an interview call within a week. Apart from BD, I applied to Amgen, Boston Scientific and Pfizer.
How did your co-op position help you with your career goals?
The co-op has given me hands-on learning experience to build skills and connections in the field I am passionate about. It has prepared me for the future by enabling me to make decisions based on experiences I gained. Living and working away from home, combined with learning both hard and soft skills, has helped me to build confidence. 
What are your plans after graduation?
I hope to apply my knowledge from my engineering curriculum and work experience to continue to learn and develop my career in the medical device industry.