September 2022 Student/Alumni Spotlight - Kevin LoGiudice ScM'21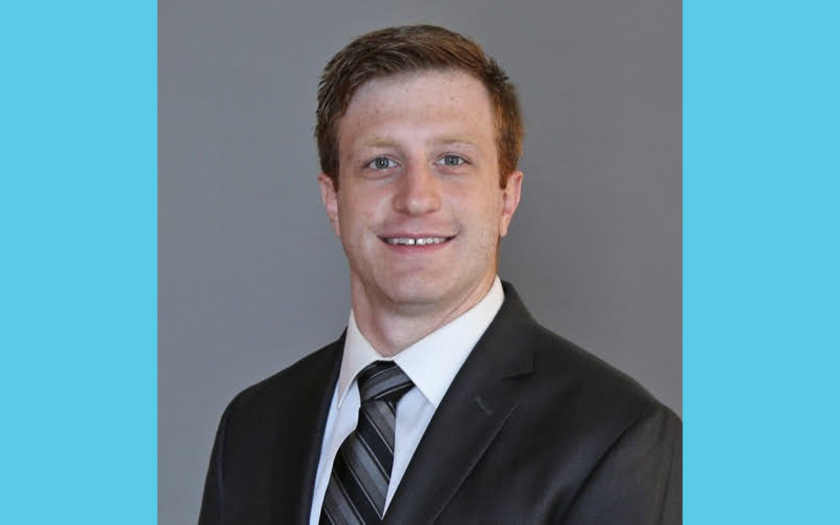 Kevin Logiudice is a 2nd year PhD student in Dr. Srivastava's lab. He graduated from the ScM program in 2021 and continued to do his PhD in the same lab where he conducts biomechanics research. Prior to joining Brown in 2019, he worked in the chemical engineering industry but decided to refocus his career towards the biomedical field.
1. What kind of research did you do for your master's thesis?
My master's thesis focused on regulating the pH of the tumor microenvironment through a buffer eluting hydrogel system. This characteristic reduction in pH is caused by altered cancer cell metabolism, greater diffusion distances to vasculature, and lack of buffer in the extracellular space. As a result, chemotherapy efficacy diminishes, immune response impairs, and malignant phenotypes are preferentially selected. I hypothesized that a buffer would counteract the acidity of the tumor microenvironment and reverse its negative effects. I tested this by introducing a buffer-loaded hydrogel to a cell culture of a breast cancer line. My results showed promise in improving the efficacy of doxorubicin (a chemotherapy drug), inhibition of cancer cell proliferation, and hampering cancer cell migration. Future experiments look to include anti-cancer drugs in the hydrogel formulation which could be a solution to the harmful side effects of systemic chemotherapy administration. 
2. Before starting your master's, what kind of work did you do in industry?
My job in industry was as an Estimator & Process Engineer for a company in the midwest specializing more in chemical engineering services for specialized coatings. I designed the processes for coating many pieces of equipment for use across a wide range of fields such as biomedical, aerospace, petrochemical, defense, electronics, and more. I enjoyed this part of the job a lot, but I was also responsible for estimating the cost for these coatings. This part of the job I enjoyed less because it felt very monotonous and less related to engineering. Overall, it was a good experience because I was able to work with and learn from a diverse group of colleagues across a wide range of industries. 
3. Why did you decide to pursue your master's degree?
I chose to pursue a master's degree for two reasons. First, I desired to refocus my career away from chemical engineering and back towards the biomedical field. Second, I wanted to experience an academic research environment to see if I liked it more than working in industry. In the end, I had a great experience researching in academia and liked it much more compared to my experience in industry, so I decided to continue by pursuing a PhD. If anyone is unsure about a career in industry versus academia, I recommend seeking a master's to experience research first-hand because it definitely helped me make my own decision. 
4. How was the transition from the master's to the PhD program? 
My master's and PhD experiences have been similar in some regards and different in others. Although my research topics are different, the day-to-day tasks are almost identical with reviewing existing literature, learning new laboratory techniques, designing and performing experiments, and analyzing data. The timeline for master's research is faster paced, but the scope is much smaller than that of a PhD. My advisor for my master's was Dr. Vikas Srivastava and when I made him aware of my wish to continue on to a PhD he was very enthusiastic about keeping me in the lab for a PhD. I applied elsewhere to explore all of my options, but in the end I made the decision to stay in his research lab due to my familiarity with the university, previously working with him as my PI, the culture of our lab and its members, and him giving me lots of freedom over my research project. 
5. What kind of mentorship experiences have you been involved in at Brown?
During my master's, I was a part of the Brown Executive Scholars Training (BEST) program run by the graduate school where we learned directly from university executives at Brown and were able to ask them questions. I loved this experience because I am considering a future career in academic administration. I liked mentoring undergraduate student-athletes during my time as a manager for the Brown men's hockey team. I obtained a certification in reflective teaching from the Harriet W. Sheridan Center last fall and this fall I will be acting as a teaching consultant for the seminar. This past summer, I instructed and aided high school students in their projects for the Brown pre-college program as a teaching assistant for the engineering design studio course. I also got involved as a mentor for international graduate student orientation because my past experience with some international labmates helped me understand how difficult the transition to life at Brown can be for individuals new to America.
6. Tell us more about the mentors you've met during your time at Brown.
Of course my advisor, Dr. Srivastava, must be mentioned for his efforts in teaching me how to perform high quality research. I am lucky to have many great mentors in my life. My former college coach, Mark Ostapina, is one of my heros who I have learned a lot of life lessons from. Once I arrived at Brown and connected with the hockey team here, it naturally led to finding another great mentor in Head Coach Brendan Whittet. In the past, I have been pre-judged by those in academics as the jock stereotype and those in athletics as a nerd stereotype, so I never really felt like I fully belonged. Coach Whittet and Assistant Coach Jason Smith really helped me overcome this mentality to understand that I excel in both areas and I absolutely belong here at Brown. I must have an affinity for coaches because another great mentor, Chuck Stollenwerk, coaches a sport I have never participated in, rowing. The BEST program afforded me the honor of having Reverend Janet M. Cooper Nelson, Chaplain of the University, as my faculty mentor. She has advised me greatly in my interests in advocating for mental health in STEM and athletics. Through my involvement with the Brown University Community Council (BUCC) I met Ethan Bernstein, Executive Dean of Administration and Finance, who has helped guide me in building towards a future in academic administration. I am so beyond grateful for all of my mentors and I encourage others to find their own here at Brown. 
7. What do you like to do outside the lab? 
I grew up playing ice hockey since I was 3 years old and continued to play NCAA hockey during undergrad, so I have now moved on to coaching the sport. I was even fortunate enough to work as a student manager for the varsity hockey team here at Brown during my master's. I also love taking advantage of the equipment and tools available to students in the Brown Design Workshop (BDW) and the Multimedia Labs (MML) to create things. I especially like to 3D print and laser cut stuff for my friends and family. One fun thing I do is print batches of small brown bears to give to people around campus so they can keep it on their desk or work area.