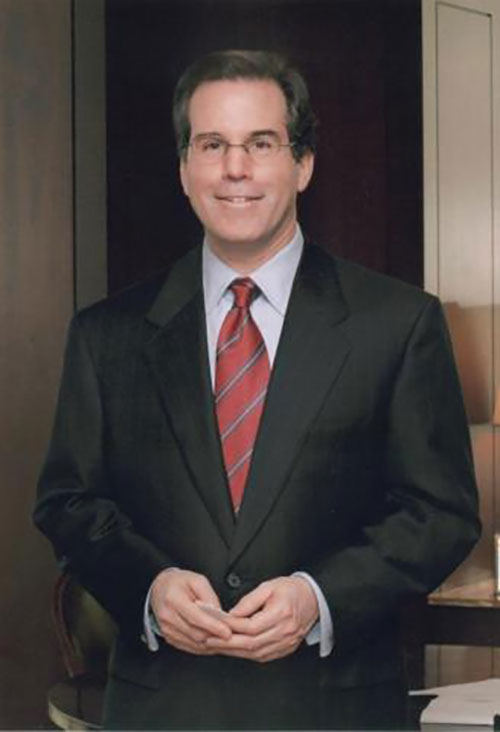 PROVIDENCE, R.I. [Brown University] — With a $25-million gift to create the Jonathan M. Nelson Center for Entrepreneurship, Brown aims to launch an interdisciplinary center for entrepreneurship learning and research that is unique in higher education.
The gift from Jonathan M. Nelson, a 1977 Brown undergraduate alumnus and founder and CEO of Providence Equity Partners, will support a student-centered and faculty-led initiative that will differ from many other programs in its action-oriented and interdisciplinary approach to entrepreneurship. The Nelson Center for Entrepreneurship will operate in collaboration with existing departments, schools, and centers at Brown to provide students with a strong academic grounding in entrepreneurship, blended with applied experiences and mentorship opportunities.
Funding from Nelson's gift will also allow planning to begin for a facility to house classrooms, workspace, and areas for faculty and students to collaborate on developing new ventures. Entrepreneurs-in-residence and a range of student-led activities will also be housed in this center.
"The Nelson Center for Entrepreneurship positions Brown to amplify our impact, extend our reach, and educate the next generation of Brown students with the knowledge and practical skills to actively engage in entrepreneurial activities in the United States and around the world," Brown President Christina Paxson said. "In keeping with Brown's distinctive approach to research and scholarship, the center will encourage students to apply classroom learning to experiences working with entrepreneurs and developing their own ventures."
The new center aligns with commitments in the University's Building on Distinction strategic plan. "The plan emphasizes bringing together people and ideas from across the campus to learn about and work on issues that demand multidisciplinary perspectives," Paxson said.
The new center will link to existing departments and programs at Brown and will be open to students from across the University regardless of their areas of concentration. It will bring together faculty and existing programs and activities that span the schools of engineering and medicine and the departments of economics, sociology, computer science, and public policy, among others. It also will benefit from the resources of academic and co-curricular institutes and centers, such as Brown's Howard R. Swearer Center for Public Service, which continues to earn national recognition for its leadership in social entrepreneurship education.
In addition, students from the Rhode Island School of Design will be welcome to participate in the activities of the center. RISD currently participates in student-led initiatives with Brown that bring students together with designers, educators, and innovators to use design for the social good.
Nelson, who serves as a fellow on the Corporation of Brown University, said innovation and entrepreneurship are important bridges between the strong academic tradition at Brown and providing students the tools to make an impact in their communities and in society.
"Embedded in Brown's culture is a desire of students to make a positive difference in the world," Nelson said. "In many cases this is ultimately expressed by students seeking to provide a service or product through innovation. The vision for this center is to provide the tools and real-world exposure that will increase the chances of success for Brown students aspiring to be tomorrow's entrepreneurs. Achieving this goal has widespread implications as entrepreneurship is playing an increasingly important role in driving progress around the world."
Nelson said it's important that the starting point for the center is a rigorous, interdisciplinary academic program focused on entrepreneurship.ß
"Teaching, mentoring, and providing the opportunity for real-world experiences are all essential components of the program," he said. "This center will leverage Brown's distinctive competence in interdisciplinary work with the well-recognized qualities of Brown students. It is a perfect fit for Brown."
Entrepreneurship + educational innovation
With growing demand from undergraduate and graduate students for greater support for student entrepreneurship, the Nelson Center for Entrepreneurship will align existing entrepreneurship activities, courses, and resources while also identifying areas for growth and development in terms of faculty hires, course offerings, and related programming.
The work of the center will focus on:
enhanced entrepreneurship education, including recruiting new faculty and successful practitioners who are appointed as professors of practice or as entrepreneurs-in-residence;
student opportunities for applied learning and support for the translation of research and scholarship into enterprises that have an impact in the world;
robust venture-mentoring and internship opportunities for students provided by alumni, including collaboration with the BrownConnect alumni mentoring and internship initiative;
support for co-curricular activities that enhance the educational experience. This includes the Brown Breakthrough Lab (B-Lab) program that teaches venture development; the Faculty Engagement Research + Scholarship (FEAST) program that attracts faculty committed to exploring entrepreneurship and innovation as fields of study; and planning for a new series of campuswide challenges that will mobilize students to develop practical solutions to society's most pressing problems.
"This is a unique moment in the history of Brown and a perfect time to launch a truly distinctive center focused on entrepreneurial innovation," said Brown Provost Richard Locke. "The center will become a vibrant hub on campus to host an array of events from a range of disciplines, and it will blend academic expertise with real-world practical experience to enrich our students' learning. Brown's goal is to develop an ambitious program that will stand out among entrepreneurship programs across the country."
The Nelson Center for Entrepreneurship will build upon existing Brown initiatives that include the master's-level Program in Innovation Management and Entrepreneurship (PRIME); the undergraduate business, entrepreneurship, and organizations concentration; and the Swearer Center for Public Service. Student groups also contribute to the vibrant life of entrepreneurial activity on campus through the Brown Entrepreneurship Program, A Better World by Design (the student-led initiative with RISD), and the Social Enterprise Ecosystem and Economic Development Forum, among other efforts.
An investment in the future
Nelson said he was inspired to fund the entrepreneurship center at Brown because of the University's distinctive approach to education and the unique characteristics of "the Brown student."
"The qualities of an entrepreneur are, in my mind, the same as the qualities of students at Brown," Nelson said. "With the open curriculum, Brown already has the students to make an entrepreneurship program a success — independent thinkers who are collaborators, self-motivated and multidisciplinary in their approach. These students self-select into Brown and are aspiring entrepreneurs. We're filling a demand."
Nelson believes that the measure of success of the center will be the endurance of the ventures that arise from it.
"When these students go on from Brown and make a difference, and at some point look back and say, 'That learning at Brown really helped me,' that would be a great outcome," he said.
Nelson's gift for entrepreneurship is part of Brown's $3-billion BrownTogether comprehensive campaign, launched in October to support the goals of the University's strategic plan. Nelson is serving as a campaign co-chair and has a long history of service to Brown. He became a member of Brown's Board of Trustees in 2000 before being elected to the Board of Fellows in 2011. Brown's Nelson Fitness Center bears his name in recognition of his philanthropy.
"With Jonathan's generous gift to support entrepreneurship, we will engage students across many fields in business, social, and organizational innovation," Paxson said. "We expect to make a major impact on undergraduate education at Brown."