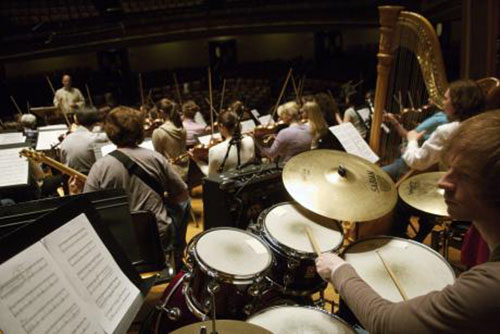 PROVIDENCE, R.I. [Brown University] — Brown University's Department of Music will host the renowned Boston Modern Orchestra Project (BMOP) and its conductor, Gil Rose, for a residency this spring that will include a lecture, faculty showcase concert, and student recording sessions.
BMOP is widely recognized as the leading orchestra in the United States dedicated exclusively to performing new music. Its signature record label, BMOP/sound, is the nation's foremost label launched by an orchestra and solely devoted to new music recordings.
"The residency puts a special focus on Brown's undergraduate and graduate composition programs in acoustic and electronic music, both by giving students opportunities to have newly composed works recorded by members of this world-class ensemble, but also by featuring the music of three members of Brown's composition faculty in a faculty showcase concert," said Eric Nathan, assistant professor of music whose work will be featured in the Feb. 12 faculty showcase concert.
The group will begin its residency with a visit to campus on Feb. 11 and 12, which will include a public performance featuring compositions of Brown faculty, a lecture, and open rehearsals. The faculty to be featured in the showcase concert include Nathan, Butch Rovan, and Wang Lu.
When BMOP returns for its second visit on April 28, the group will read and record compositions by Brown undergraduates in the Department of Music and graduate students in the Department of Music's Computer Music and Multimedia program.
The Music Now lecture by BMOP conductor Gil Rose and the faculty showcase will be open to the public. Rehearsals are open to the Brown community, and the student recording sessions are open to Brown students and faculty.
Thursday, February 11
4:15-5:30 p.m.
Music Now: Lecture by BMOP conductor Gil Rose
Orwig Music Hall, Room 315
Open to the public
7-10 p.m.
Faculty Showcase open rehearsal with BMOP, Gil Rose and saxophonist Philipp Stäudlin
Works by Wang Lu and Butch Rovan
Granoff Center for the Creative Arts, Martinos Auditorium
Open to the Brown community
Friday, February 12
3:30-6:30 p.m.
Faculty showcase dress rehearsal with BMOP, Gil Rose and saxophonist Philipp Stäudlin
Works by Wang Lu, Eric Nathan, Butch Rovan
Granoff Center for the Creative Arts, Martinos Auditorium
Open to the Brown community
8 p.m.
Faculty Showcase Concert with BMOP
Music by Wang Lu, Eric Nathan, Butch Rovan
Gil Rose, conductor
Philipp Stäudlin, saxophonist
Moderated by David Josephson, professor of music
Granoff Center for the Creative Arts, Martinos Auditorium
Reserve free tickets: www.brown.edu/music/events
The Program
Eric Nathan
LUMEN for electronics
Omaggio a Gesualdo for string quintet
Missing Words for chamber octet
Paestum for chamber orchestra
Butch Rovan
Aerial Variations for alto saxophone, chamber orchestra and interactive computer music
Wang Lu
Cross-Around for ensemble and live video
Siren Songs for ensemble
An Atlas of Time for large ensemble and electronics
Thursday, April 28
Reading/recording sessions of new compositions by undergraduate and graduate student composers for chamber ensemble (with/without electronics)
Session 1: 2:30-5:30 p.m. (undergraduate student composers)
Session 2: 7-10 p.m. (graduate student composers, MEME program)
Grant Recital Hall
Open to the Brown students and faculty