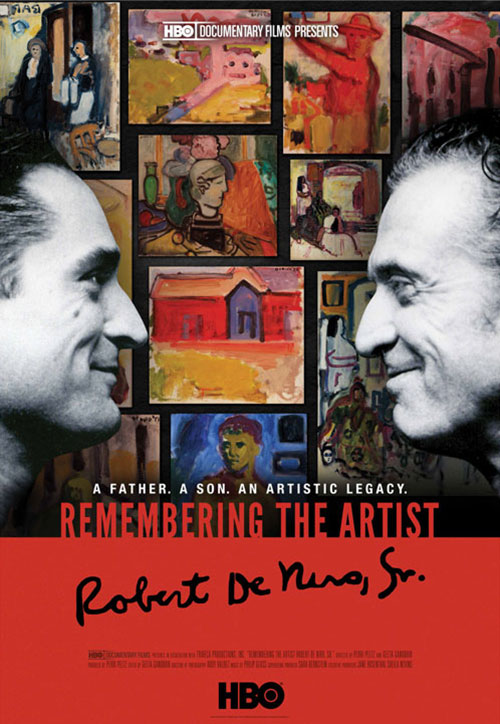 PROVIDENCE, R.I. [Brown University] — Actor Robert De Niro, documentary filmmaker Perri Peltz and art advisor Megan Fox Kelly will come to Brown University on Thursday, April 7, for a screening and discussion of Remembering the Artist: Robert De Niro, Sr. as part of the Ivy Film Festival.
The film chronicles the career of Robert De Niro Sr., a painter who was a member of the renowned New York school of American artists who came to prominence in the years after WW-II, and tells a story about how the rise of abstract expressionism and pop art affected the legacy of figurative painters of the time. It will be screened at 5 p.m. at the Salomon Center for Teaching's DeCiccio Family Auditorium on the College Green at Brown.
Following the film will be a moderated panel discussion, introduced by Brown President Christina Paxson and featuring De Niro, Peltz and Kelly. The event is open to the public, and free tickets can be reserved at the Ivy Film Festival Facebook page on April 4 and 5. Half of the available tickets will be released each day.
The Ivy Film Festival is a student-run film festival with a 15-year history of showcasing the work of student filmmakers and hosting master classes, panels and workshops by entertainment industry professionals over the course of a week at Brown each spring. Brown undergraduates Angela Guo and Solveig Xia, the festival's executive directors, said that central to the programming is a long-standing commitment to featuring documentaries that illuminate the understanding of a person, event or issue.
Originally released by HBO Films in 2014, Remembering the Artist: Robert De Niro, Sr. confronts the power of the abstract expressionism and pop art art movements and their impact on De Niro Sr.'s critical reception and status. Kelly – a graduate of the master's program in the history of art and architecture at Brown as well as the manager of De Niro Sr.'s estate – said the artist "is celebrated for his vibrant paintings that synthesize traditional subject matter with modernist abstraction, bridging the gap between European modernism and abstract expressionism." De Niro Sr.'s work was shown at Peggy Guggenheim's Art of this Century Gallery but as a painter who rendered representational subject matter, his success was gradually eclipsed by the rise of non-figurative abstract expressionists and pop artists in the 1950s and '60s.
The impact of this marginalization was more pointed because De Niro Sr. moved in a world that Peltz's co-director, Geeta Gandbhir, described on the television show "The View" as very small: he was working in New York when there were only about 10 art galleries in the city. There was a great deal of overlap among the artists in his generation, according to Courtney J. Martin, assistant professor of history of art and architecture at Brown. "A lot of these artists were working in the same schools, under the same teachers, in the same neighborhoods, and had the same friends." And like De Niro Sr., many of them were making representational and semi-representational work.
In the trailer for Remembering the Artist: Robert De Niro Sr., his son says, "Part of recognition is luck. Artists are always recognized after they're long gone. I just want to see him get his due. That's my responsibility."
Peltz, a Brown graduate, and Gandbhir came into contact with the story of De Niro Sr. as a project originally conceived as a part of the De Niro family archives. Peltz had worked as a broadcast journalist and had interviewed De Niro many times. "I was a known quantity, and he was interested in telling the story of his father's life and art," Peltz said.
Jane Rosenthal, a film producer and the co-founder with De Niro of the Tribeca Productions film studio and the Tribeca Film Festival, was instrumental in getting the documentary underway. Peltz said that Rosenthal pushed De Niro to preserve the stories of De Niro Sr.'s friends, like Albert Kresch and Paul Resika, who were aging. At first, the plan was to "just do interviews with his friends who were still alive, because we didn't want their stories to get lost," Peltz said. Soon, however, it became clear that "his story was not just about him, but of many figurative painters of the time." Working with Kelly, Peltz and Gandbhir created a film that looks closely at De Niro Sr.'s art and situates it within the historical and institutional context of the postwar period.
The film also considers personal issues, such as De Niro Sr.'s divorce from Virginia Admiral, Robert De Niro's mother and a talented painter who moved away from the profession. In the film, Robert De Niro reads excerpts from his father's journals, providing insight into how his temperament and conception of self impacted his career.
In a review of the documentary in Modern Painters, Bruce W. Ferguson wrote, "In the end, Robert De Niro Sr. comes off as a committed artist of talent and unique foresight who may have been lesser-known than others of his time, but whose clear personal vision and strong aesthetic progress is captivating."