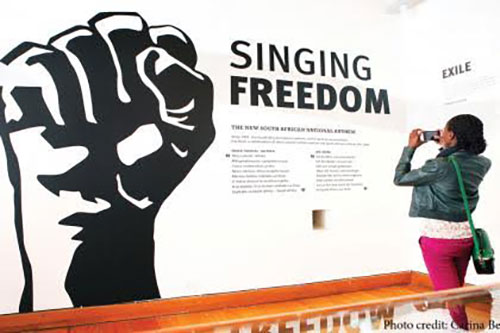 PROVIDENCE, R.I. [Brown University] — In the struggle against apartheid, the brutal system of racial segregation implemented in South Africa from 1948 to 1994, music was a crucial form of resistance and inspiration. It accompanied and documented uprisings, communicated the state of the human rights crisis and functioned as a call to action.
Scholars from Brown University's Center for the Study of Slavery and Justice (CSSJ), in collaboration with the Iziko Museums of South Africa, have produced the Singing Freedom Catalogue, a comprehensive educational resource that complements the exhibition "Singing Freedom: Music and the struggle against apartheid," on view through April 30 at the Iziko Museum's Slave Lodge, an exhibition space that was formerly used to house slaves when they came to port in Cape Town, South Africa.
Anthony Bogues, the Asa Messer Professor of Humanities and Critical Theory and director of the CSSJ, produced and edited the collection with Shana Weinberg, assistant director of the CSSJ, and Maiyah Gamble-Rivers, a graduate fellow for the study of the public history of slavery at the CSSJ and at the John Nicholas Brown Center for Public Humanities and Cultural Heritage.
The catalogue includes South African, African American and reggae songs that protested Apartheid and provides select lyrics, images of musicians and laborers, and articles about songs, artists and key individuals working to resist Apartheid. The catalogue includes a long section on reggae music that was preoccupied with liberation as well as music from the American Civil Rights era. It spans the beginning of the 20th century to 1994, when Apartheid ended.
The catalogue was launched today in a ceremony presided over by Roksana Omar, CEO of the Iziko Museums. The exhibition demonstrates how events such as the 1952 Defiance Campaign, the Sharpeville Massacre and the Soweto Uprisings included and were often also memorialized through song, according to the museums' website. The exhibit also includes oral history interviews with a range of former activists and musicians.
Bogues said that the catalogue was designed to be used as an educational resource for researchers, high school audiences and the general public. "We spent a lot of time thinking about the design so that it could be used for educational purposes," Bogues said. "It is written so that you have the historical material about the struggle and the music that accompanies it like a soundtrack."
Bogues, Weinberg, and Geri Augusto, the Gerard Visiting Associate Professor of International and Public Affairs and Africana Studies, are in Cape Town today for the catalogue's launch and for a series of meetings this week with representatives from eight museums around the world that are developing a curatorial plan for an international exhibit around slavery. The Smithsonian Institution's National Museum of African American History and Culture, the National Museum of World Cultures in the Netherlands, the IFAN Museum of African Arts in Senegal, the International Slavery Museum in Liverpool, England, and others will participate in several days of intensive meetings hosted by the Iziko Museums.