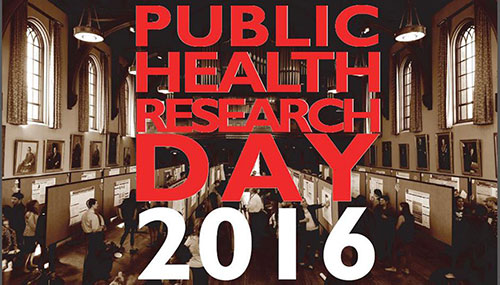 PROVIDENCE, R.I. [Brown University] — Public health is a field as diverse as the population it serves. Four events between April 13 and May 4 at Brown University will provide members of the community with the chance to learn about research, policy and advocacy on scores of urgent issues. All events are free and open to the public.
"On the heels of National Public Health Week, we have organized several events that bring light to public health challenges that face the entire population — from Rhode Island to Samoa," said Terrie Fox Wetle, dean of the School of Public Health.
On Public Health Research Day, April 13, 68 posters explaining current research underway at the school will be on display at in Sayles Hall. Researchers ranging from undergraduates to faculty members, along with representatives of partner organizations, will be there to explain their work on topics such as health in Rhode Island, smoking and addiction, the effects of toxicants in the environment, care for the elderly, and global health.
Research presentations will begin at 1:30 p.m. followed by a reception at 3:30 p.m.
Topical speakers
The next day, April 14, alumna Jennifer Klein, a senior advisor on women's issues to Democratic presidential candidate Hillary Clinton, will deliver a presentation titled "Women's Health and Rights: A Matter of National Security?" Klein has held a front-row seat on global matters affecting women, having served from 2009 to 2012 as a deputy and senior advisor in the Office of Global Women's Issues within the U.S. Department of State.
On April 20, Elizabeth Bradley, professor and faculty director of the Global Health Leadership Institute at Yale University, will deliver the 2016 Barnes Lecture with an international perspective on health. Her talk, "Paradox of American Health Care: Paying More, Getting Less" will put the entire U.S. health care system in global context.
Both lectures will take place from 4 to 5 p.m. in Room 375 at the School of Public Health building at 121 S. Main St. in Providence.
Gun violence and kids
On May 4, U.S. Rep. David Cicilline (D- R.I.) and Harvard University public health Professor David Hemenway will address "Youth and Gun Violence: Strategies for Prevention" when they deliver the annual Lipsitt-Duchin Lectures in Child and Youth Behavior and Development.
The symposium, co-sponsored by Brown University and Rhode Island Kids Count, is important because the dangers of guns among youth are growing, said Brown Professor of Epidemiology Stephen Buka, who helped to organize the lectures.
"Whether directed at oneself through suicide or at others, growing rates of youth gun violence affect thousands of lives and are a national public health priority," Buka said. "This symposium brings a special mix of science and policy, as David Hemenway, an internationally known economist and researcher, reviews the latest evidence on the origins and prevention of youth gun violence, and Congressman Cicilline shares his experiences implementing national policies to stem the tide of youth gun violence in the U.S."
The event occurs from 4 to 6 p.m. in Room 120 of the List Art Building at 64 College St