PROVIDENCE, R.I. [Brown University] — When Robert De Niro took the stage of the DeCiccio Family Auditorium at Brown's Salomon Center for Teaching last night, he was met with cheers from the 400-plus audience members, most of whom were students. The crowd had just viewed the documentary "Rembering the Artist: Robert De Niro Sr.," which documents the life and work of De Niro's father, a member of the New York school of painters whose early acclaim as a semi-representational painter was overshadowed by the fame afforded abstract expressionists and pop artists.
De Niro had accepted an invitation to come to the University to participate in a panel discussion and question-and-answer session as part of the Ivy Film Festival, a weeklong student-run festival that showcases student films, feature films and documentaries, and includes panels and discussions with members of the industry.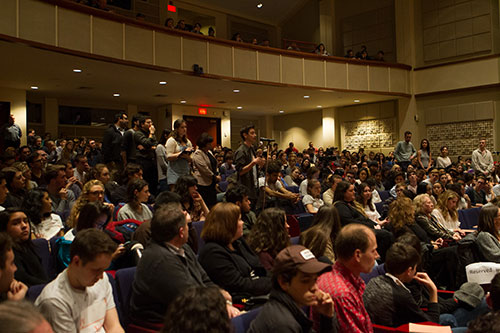 Brown President Christina Paxson moderated the panel, and De Niro was joined by two Brown alumnae who were essential to the making of the documentary: Perri Peltz, who produced and co-directed the film with Geeta Gandbhir, and Megan Fox Kelly, an art advisor and the manager of Robert De Niro Sr.'s estate.
The film, which was made with archival footage and includes excerpts from De Niro Sr.'s journals as well as interviews with friends recorded after his death, evolved from a personal, archival project into a public project, released by HBO in 2014 and scheduled for re-release this year. Peltz said she and her colleagues realized that De Niro Sr.'s story was representative of other artists' experiences as well as a narrative about his own dedication to his art.
Asked by an audience member if he had any concerns about making the film public, De Niro said: "I had no reservations. I had to do it." He answered a question about the impact making the film had on his grieving process by saying: "It helped because I did what I set out to do. It was my obligation, my responsibility."
That sense of responsibility arises in part from De Niro's firsthand knowledge of the depth of his father's commitment to his art. "His dedication even when he was young — it was very strong. I saw it and I sensed it," the actor said, fighting back tears.
In the film, De Niro says of his father, "part of recognition is luck… I just want to see him get his due." Kelly noted that De Niro Sr. had an exhibition every year during his career, which she identified as a signal achievement, but one that did not seem to satisfy the artist. De Niro said that his father worked almost compulsively. "That was what my father wanted to do. It's not even a virtue, it's just what he wanted to do."
A student asked De Niro for advice about how to avoid having regrets about one's relationship with his or her parents. "A lot of us still have the opportunity to know our parents," the student said. "Do you have advice on how we can know and love them?"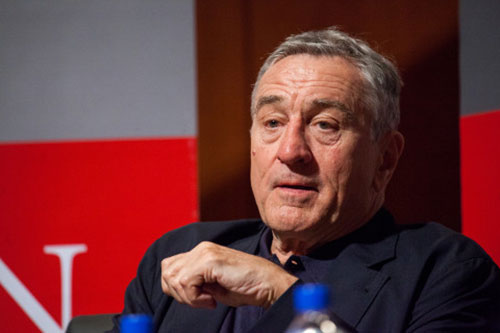 "Don't take them for granted while they are around, because one day they won't be," De Niro answered. "You have to force yourself to do certain things with your parents. I wish I had spent more time with my parents, even if in the moment you don't want to… Just try to be aware."
De Niro added that he did not view his own busyness during his parents' lifetime as a regret and that he did make time for them and travel with them. As an active person, he said, he wanted his own children to be active and feels that his parents were happy that he had not been doing something "negative, wallowing or depressing" during their lifetimes.
Peltz shared a story about De Niro Sr. — whom his former students had characterized as a man of few words in class — insisting that all of his art students to go out and see his son's first film when it came out. "We know he was tremendously proud of Bob and his work," she said.
During the hourlong presentation, De Niro and the panelists answered a variety of questions from audience members, who formed two long lines at the microphones. Almost all of them thanked the actor and the panelists for being there, several described De Niro's visit as "a blessing." At least two became emotional when their questions included references to their own late fathers.
When asked for advice from a student filmmaker on what he should do to make inroads in the industry, De Niro's advice seemed to reflect what he had learned watching his father. He said, "Follow your own instincts. Nobody can do it like you. That's the simplest way to distinguish yourself."