PROVIDENCE, R.I. [Brown University] — The Brazilian Amnesty Commission and the United Nations Development Programme have awarded Brown University's Opening the Archives Project a grant to more than double the number of declassified U.S. government documents on Brazil, produced during that country's military dictatorship of 1964 to 1985, that are publicly accessible through the project's open-access website.
Organized by James N. Green, director of the Brazil Initiative at Brown's Watson Institute and the Carlos Manuel de Céspedes Professor of Modern Latin American and Portuguese and Brazilian Studies, the website launched in 2013 with nearly 10,000 documents from the U.S. National Archives and Records Administration. Those were scanned by a team of undergraduates from Brown and the Universidade Estadual de Maringá in Brazil.
In 2014 and 2015, additional teams of students worked to enlarge the archive; currently, it contains more than 40,000 items from the U.S. Department of State and government archives. The ultimate goal is to have 100,000 items digitized and indexed by 2021.
"The Opening the Archives Project is an effort to support international researchers interested in U.S.-Brazilian relations during two very difficult decades in the nation's history," Green said. "The Brown website makes these documents easily available to scholars in Brazil and abroad."
The new $60,000 grant will allow the project to add more than 3,500 documents from the Lyndon B. Johnson Presidential Library in Austin, Texas, which cover the crucial first years of the military dictatorship, as well as 400 military intelligence files from government archives.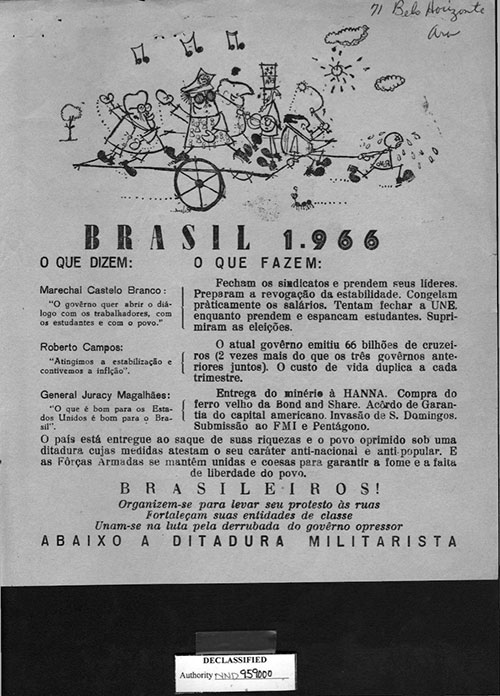 Along with those documents, Green plans to make available to the public "all of the documents on Brazil at the John F. Kennedy Presidential Library in Boston, the Jimmy Carter Presidential Library in Atlanta and the Gerald R. Ford Presidential Library in Ann Arbor, Michigan," he said. "In a final stage, we will tackle the Nixon and Reagan libraries in Southern California."
While an earlier phase of the project was funded through the Brazilian Amnesty Commission, a government body dedicated to providing indemnification to victims of state-sponsored human rights violations and to preserving the history of country during the military regime, the new funding for the project's expansion arose when a member of the commission received a firsthand view of Brown's Brazil Initiative.
"Amnesty Commission President Paulo Abrão visited Brown University in 2013 for a conference on human rights violations during the dictatorship and was incredibly impressed by our initiative," Green said. "He recommended the project to the United Nations Development Programme, which decided to fund the effort."
Green and other scholars working on this period in Brazilian history are currently preparing an edited collection of articles based on research findings drawn from Opening the Archives documents.