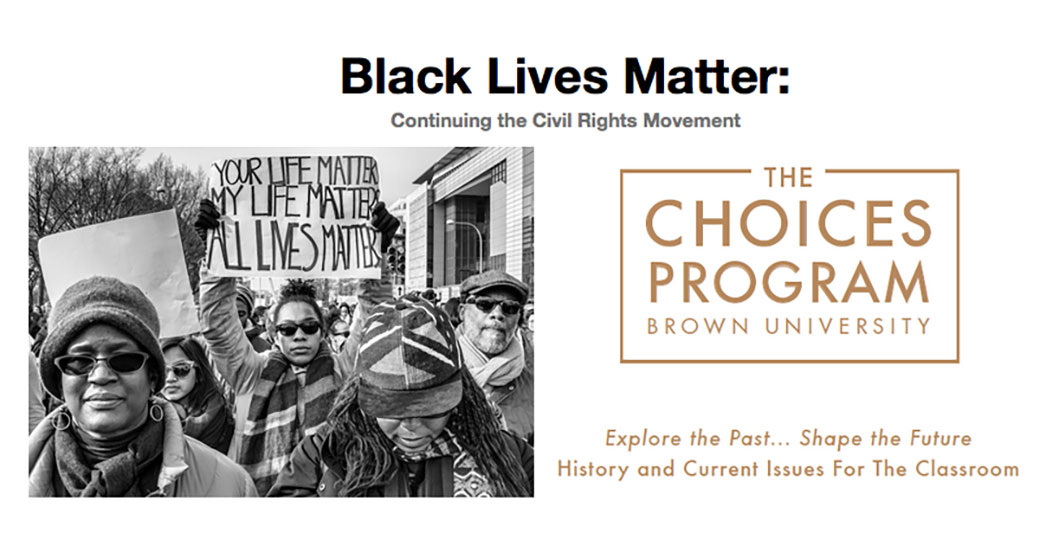 PROVIDENCE, R.I. [Brown University] —  An interactive timeline informed by the scholarship of Brown University faculty and offered through the Teaching with the News initiative will give high school students a new tool for exploring the roots of the Black Lives Matter movement and the history of black activism.
Susan Graseck, senior fellow in international studies and founder of the Choices Program — a Brown-based nonprofit that develops curriculum on current and historic issues — said that widespread news coverage on a topic doesn't necessarily result in greater understanding.
"Media clips often fail to address historical complexities," she said. "Why does the movement emphasize 'Black Lives Matter' and not 'All Lives Matter'? What are the movement's goals? These are some of the questions students grapple with."
By providing a context that considers the legacies of colonialism, slavery and imperialism, students can draw their own conclusions and engage in informed discussions outside of the classroom, Graseck said.
Titled "Black Lives Matter: Continuing the Civil Rights Movement," the free web resource features videos and photographs of pivotal moments in Civil Rights history that date to the 1950s. It begins with murder of Emmett Till in 1955 and extends through February 2016, when Black Lives Matter activist DeRay Mckesson announced his candidacy for mayor in Baltimore.
"Current events can leave many students asking if black lives matter. It's important to validate this inquiry, to support it and contextualize it as we have here," said Camisia Glasgow, a writer working with the Choices Program at the School of Professional Studies. Another contributor highlighted the role of teachers: "As schools become increasingly diverse, educators play an essential role in helping students grapple with complex issues of identity and diversity, including race," said Mackenzie Abernethy.
The topic is one of several presented through the Teaching with the News initiative. Other recent subjects include climate change, the refugee crisis and the Iran nuclear deal. The Black Lives Matter lesson and timeline are both available online.