PROVIDENCE, R.I. [Brown University] — He and his wife are among Brown's most generous supporters, but his name is not on any building. He is known for his fervent advocacy of the University's academic excellence, but he demurs having professorships in his honor. The common refrain from his closest friends and colleagues is that no one cares more about Brown than he does.
Over the past two days, members of Brown's leadership, alumni peers, friends, and fellow members of the Corporation of Brown University had this to say, and more, about the leadership of Chancellor Thomas J. Tisch.
After nearly a decade leading the Corporation through both challenging moments, including the 2008 financial crisis, and also through a period of significant growth for the physical campus and for the stature of the University, Tisch will conclude his service as chancellor in the coming weeks. University leaders, alumni peers, and friends and family celebrated his legacy during a reception and dinner May 26, followed by the chancellor's traditional resignation from his post during the Corporation's business meeting May 27. Tisch, a 1976 undergraduate alumnus, began his service as chancellor in 2007 and service on the Corporation in 2003.
"Tom has given countless hours of his time to Brown," President Christina Paxson said at the dinner honoring Tisch, "providing me and other members of the administration with wise advice and brilliant ideas; steering the University through the 2008 financial meltdown and other difficult times; and reconnecting alumni to Brown through the Under the Elms program.
"Although Tom's name does not appear on any university building or endowed professorship, he and Alice are the largest benefactors to Brown," Paxson said. "Throughout, he has continued to press for the ideals of academic excellence and open inquiry."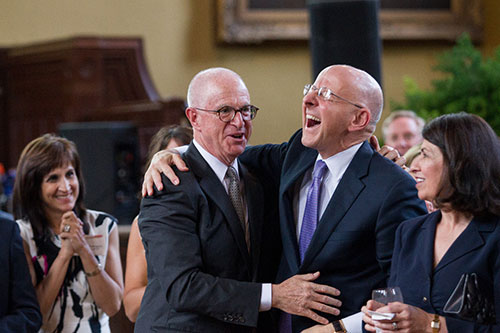 In an honor befitting a chancellor who is quick to credit the lineage of Brown leaders who preceded him, the celebratory reception included the unveiling of Tisch's portrait, which will be installed in Sayles Hall alongside those of many of the Brown luminaries from whom he has drawn inspiration.
Paxson said artist Matthew Watson "has given us a very compelling portrait of a very compelling man." In depicting the chancellor on the corner of George and Brown streets near the College Green, the lifelike painting features oil paint on copper, an age-old portraiture medium admired by Tisch, a devoted historian.
The portrait's unveiling and the chancellor's transition mark a historic moment for Brown. When Chancellor-elect Samuel M. Mencoff succeeds Tisch on July 1, it will mark only the 20th such transition since the University was founded in 1764. Brown announced the election of the new chancellor and Corporation officers after a Corporation vote in February.
"I have nothing but optimism for the future of the Corporation under its new leadership," Tisch said. "The talent and commitment of Sam Mencoff, Alison Ressler and their fellow members will provide both a sense of continuity and a drive to ensure that Brown continues to fulfill its promise as a world-class university in the years to come."
Tisch said he believes Brown stands ready to build on its strengths to rise to new levels of excellence.
"The vision is really simple for me. Brown has always been a very special place. It's a magical mix of an urban campus that's not too porous, but not too encapsulated. We have the aspirations of the greatest of research universities, but we build from the idea that research and teaching can exist in harmony… There are so many opportunities for greatness in our grasp."
Reflecting on years of service
In reflecting on his years as chancellor, Tisch said before this week's events that he is proud of the work of the Corporation and its commitment to taking the long view in its role stewarding the resources of the University in alignment with "what is Brown."
"Brown University has a clearly defined mission," Tisch said. "Our responsibility on the Corporation is to continually assess the course we're on and ensure that it is consistent with our highest aspirations and our deepest values."
Working in support of the administration, there have been many important decisions that have contributed to Brown's educational leadership, Tisch added. "I just think of the changes in the last nine years: working financially toward steady-state excellence; strong relationships with the city and state; and new buildings impacting life on campus, like the Stephen Robert Campus Center, The Walk, Granoff, Nelson Fitness Center, Applied Math, John Hay, the medical school and a new engineering building in the works."
The Corporation approved these projects with a commitment toward strengthening the academic core at Brown, Tisch said. Other major projects during Tisch's tenure included investments in the growth of the Watson Institute for International and Public Affairs and the founding of the Institute for Computational and Experimental Research in Mathematics.
In her remarks during Thursday's celebration, Paxson reiterated many of these accomplishments and enumerated many more. Despite the challenges prompted by the 2008 financial crisis just a year into his term, Tisch's nine years in office were marked by major developments for the University.
"Under Tom's watch," Paxson said, "a marvelous new building for medical education was opened in Providence's Jewelry District. Brown has excelled in the humanities and established new schools of engineering and public health that are vibrant centers of research and undergraduate and graduate education.
"Brown has seen a renaissance in policy-focused social science in the Watson Institute and its allied departments," she added. "It is building a new data sciences program on the foundation of its very strong math, applied math, biostatistics and computer sciences departments. Brown built an award-winning arts center — the Granoff Center — and has plans to do much more in the arts."
Paxson said that although Tisch was at the center of these accomplishments, he is the first to note that such progress would not have occurred without the hard work and dedication of individuals across campus.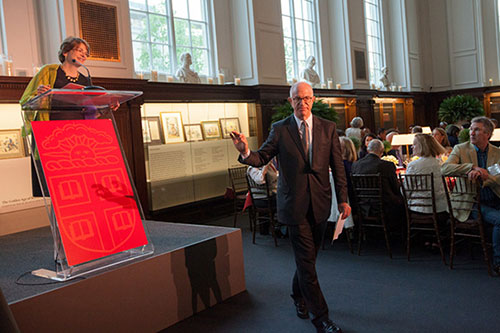 Building on distinction
Tisch attributes Brown's growth to a collective and very intentional focus among Corporation members and senior leadership on building from the historic and distinctive strengths of Brown. The University's excellence in integrating knowledge across the disciplines, for example, is no accident, he said — it's a direct outgrowth of what he called "the blessing of our structure" at Brown.
"Our operating structure looks more like a Silicon Valley startup than a big ossified corporation," Tisch said. "In 1951, Henry Merritt Wriston called this Brown's structural 'compactness' — the value of that compactness is as true today as when the piece was penned. It offers us a tremendous advantage in collaborating across disciplines and working in the white space between fields, which has enormous consequences for teaching and research and drives our excellence in a way that's distinctively Brown."
At the dinner at the John Hay Library that followed the Sayles Hall celebration on Thursday, Paxson told guests about a letter Tisch wrote to then-Chancellor Stephen Robert in 1997. Robert had just had a chance encounter with Tisch — who was not closely connected to Brown at the time — and had asked for thoughts on what Brown might look for in a new president.
In reply, Robert received a candid letter that parsed the University's evolution over the previous century and offered a critique that Paxson called a masterpiece.
Tisch emphasized the idea that "Brown should focus on creating towers of excellence, and that trying to be all things to all people was a recipe for disaster, both academically and financially," Paxson said. "He highlighted the centrality of the faculty in creating and sustaining outstanding departments. And he warned of threats to the value of open inquiry that is so central to Brown's identity."
"In short, he established a roadmap for Brown," Paxson asserted.
Moderator, convener, leader
Jerome C. Vascellaro — Brown's longest-serving Corporation member who has worked with Tisch as vice chancellor since 2007 and will depart that post this month — witnessed the chancellor's unwavering focus on that long-term roadmap during the nine years they shared leadership.
"When you think about guiding an institution like Brown, there are thousands of issues, hundreds of processes and a dozen other things you could worry about," Vascellaro said. "For me, watching Tom stay so focused on the core fundamentals of culture, freedom, openness and academic excellence was greatly impressive."
Tisch, taking his inspiration from a sentence in the University's 1764 charter, has consistently defined his role as the "moderator" of the Corporation — creating a culture that allows effective decision-making on issues of central importance to the University's future.
Vascellaro said that Tisch's inclusive, open and authentic leadership style ensured ample opportunity for shared governance among Corporation members.
"Tom cared about deep-keel issues around the culture of the Corporation," Vascellaro said. "This is an academic institution of the highest intellectual caliber, and he wanted people who were unequivocally committed to the success of Brown."
One power reserved for the Corporation — selection of the Brown president — proved both "terrifying and satisfying," Tisch said, after Ruth Simmons shared her intent to step down. But Vascellaro said the process of identifying Brown's next president illustrated Tisch's leadership at its best.
"Given the importance of this decision for Brown, the way Tom led the process that resulted in the selection of Christina Paxson as president was one of his finest moments," the vice chancellor said. "This was the best example of his open leadership style and his willingness to embrace people and perspectives. And it is his most meaningful accomplishment in terms of ultimate impact, because from that selection came our strategic plan and all of the substantive work happening now."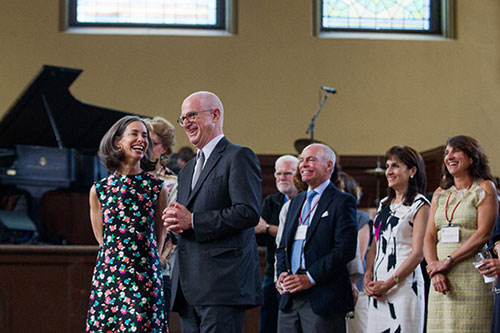 Tisch said he couldn't have accomplished anything in isolation. At the portrait unveiling, he singled out physics professor Chung-I Tan, who led the campus advisory committee as part of the presidential search process, and told Vascellaro: "Jerome, you are the greatest partner that any partner can have."
Paxson said that under Tisch's leadership, the collegiality of the Corporation has been among its greatest assets.
"It is not the superficial, polite collegiality that suppresses discussion for fear of giving offense," the president said. "Rather, it is an openness to listen and learn in an atmosphere of trust and mutual respect. This is precisely the kind of collegiality that we aspire to achieve in the Brown community as a whole."
Tisch, who Paxson said will remain an important presence in the Brown community in the years ahead, agreed that one of the hallmarks of the Corporation is the group's approach to decision-making — a fact that gives him confidence in those who will succeed him and Vascellaro.
"Brown is lucky to have a great Corporation, defined by intelligence, breadth, collegiality and an unambiguous commitment to Brown's success," Tisch said.