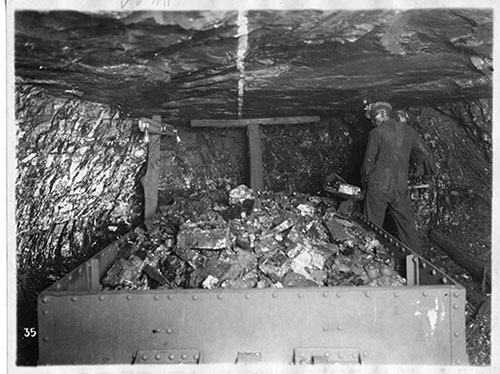 PROVIDENCE, R.I. [Brown University] — An exhibit that explores the often-overlooked stories of African-Americans who migrated from the rural South to Kentucky, West Virginia and Tennessee to work as coal miners in the 20th century has opened at Brown University's Center for the Study of Slavery and Justice and will run through October.
"The Black Shackle: African Americans and the Coal Economy" is based on the work of Karida Brown, who earned her Ph.D. in sociology from Brown in May and is a descendent of black coal miners who settled in Lynch, Kentucky.
The Center for the Study of Slavery and Justice (CSSJ) exhibit, co-curated by Brown with Biff Hollingsworth of the University of North Carolina at Chapel Hill, is an outgrowth of Brown's work on the Eastern Kentucky African American Migration Project (EKAAMP), which is housed at UNC and represents the seldom-seen history of African-American movement into and out of the Appalachian region.
Brown told North Carolina Public Radio in an interview that a visit to Lynch early in her graduate studies was the impetus for EKAAMP and, ultimately, the CSSJ exhibit. She said she noticed that the town's population had greatly diminished in the decade since she had last visited, and she was concerned that the town might not be there for the next generation. So Brown set to work reconstructing the history of the place and the people who had lived there, she said
Through more than 200 interviews with former residents of Lynch and two other towns in Harlan County, Kentucky, and the items the interviewees gave her, Brown traced the history of African-American coalfield workers who were recruited to the region by large steel companies.
She described how the companies used "an intentional strategy called 'judicious mixture'" in establishing their workforces in the coalfields. The tactic involved enticing pre-set percentages of workers of different ethnicities and races to work in the coal fields in order to thwart unionization efforts, she said.
Among those recruited, Brown said, were southern Europeans as well as African-Americans from the rural South. Some African-Americans from Alabama, Brown said, had experience working in the coal mines in that state — and, because in the early 20th century Alabama still used the convict leasing system in which prisoners worked in coal mines and at other jobs for free, moving or escaping to Appalachia to work would be an opportunity to "become a working-class citizen," Brown said. Black laborers, she added, were also often used as replacement workers during labor strikes.
Brown initially planned to focus on collecting the oral histories of African-Americans who live in or left the region, but when many of her subjects offered her artifacts ranging from documents and photographs to chunks of coal, she steadily built an archive.
Brown differentiates this cache from other kinds of collections, calling it a "participatory archive."
"The concept of the participatory archive reframes the institution and the practice of archiving from a tomb (a place where things go to die) to a womb (a life-giving space)," Brown said. "Unlike traditional collections that are bought or acquired through impersonal channels, the participatory archive inserts agency and allows people to become partners in the history-making process. They choose what and when to donate and have a seat at the table when it comes to their collection."
Brown and Hollingsworth worked with three graduate students — including Virginia Thomas, an American studies scholar at Brown, and Bernetaie Reed and Ashlyn Velte from UNC — to select items for the CSSJ exhibit.
The exhibit will be on view through October 31, 2016, at the Center for the Study of Slavery and Justice gallery at 94 Waterman St. in Providence. The gallery is open Monday through Friday from 9 a.m. to 4:45 p.m. daily.