PROVIDENCE, R.I. [Brown University] —Two Brown University alumni are among 90 scholars to be awarded competitive Gates Cambridge Scholarships to study at the University of Cambridge, England. Peter Asimov and Emily Kassie were selected from more than 4,500 applicants in the United States and abroad.
Recipients were chosen based on their commitment to service, leadership potential and outstanding academic records.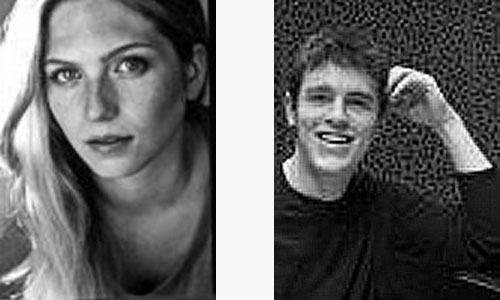 "Similar to the Rhodes, the Gates is a prestigious international award," said Linda Dunleavy, associate dean of the college for fellowships and pre-law programs. "It's wonderful for Brown that we have two alums in the 2016 cohort. "
Dunleavy praised the unique talents that Asimov and Kassie bring to the program.
"Peter Asimov is an incredibly talented student of music who fused comparative literature with his studies in musicology," she said. Likewise, Kassie is "an extremely impressive artist and journalist with a myriad of skills in various genres."
Asimov, who grew up in New York City, will pursue a doctorate in music. Concerned with the challenges faced by emerging and diverse immigrant populations, Asimov hopes to develop a musical notion that embraces multiple viewpoints and theories to describe "synthetic musical voices."
The goal of his research is to provide "insights on the impact of multiculturalism on Western music and musicians," he said. Asimov also plans to advocate for interdisciplinary study of music in schools.
Kassie, a Canadian citizen, will pursue a master's degree in international relations and political science. Her research will examine early interventions and crisis identification, specifically investigating the case of Burundi. She hopes to eventually use that knowledge to assist governments in making decisions that protect people and promote regional stability.
For the last two years, Kassie has worked as an investigative journalist and filmmaker to shed light on social justice and human rights issues. While at Brown, Kassie produced the award-winning documentary "I Married My Family's Killer," which focused on inter-marriage in post-genocide Rwanda and formed the basis of her honors thesis. She is currently the creative director of the Huffington Post's long form magazine Highline where she covers major global and American issues from ISIS and the refugee crisis to police brutality, corporate corruption and sexual assault.
In receiving Gates Cambridge Scholarships, Asimov and Kassie join a diverse group of scholars from all over the world and from varied walks of life. This year's awardees hail from 98 institutions across 31 countries.
Established by a $210 million donation from the Bill and Melinda Gates Foundation, the program is the largest single donation to a university in the United Kingdom. Since 2001, more than 1,500 Gates Scholarships have been awarded to students in 103 countries and 600 universities.