PROVIDENCE, R.I. [Brown University] — Information can save lives, so state officials hope that a new easy-to-use but information-rich website — a "dashboard" — can save many of the dozens of people dying every month in Rhode Island of drug overdoses. The site, announced today by Gov. Gina Raimondo at the Brown University School of Public Health, presents most of its information via infographics, interactive maps, charts and videos.
"Addiction is a disease and recovery is possible," Raimondo said. "Our campaign will put a human face on this crisis, reduce the stigma of this disease and connect Rhode Islanders with recovery services."
One way to do that is via the dashboard site. It has many resources and target audiences, including individuals at risk of an overdose and the family members or friends who could help them. For instance, users can learn about where to buy naloxone (or Narcan) in their community and how to administer it if someone is overdosing. The site can also help healthcare providers and policymakers by showing them the most current data on where overdoses and emergency department admissions for overdose are occurring.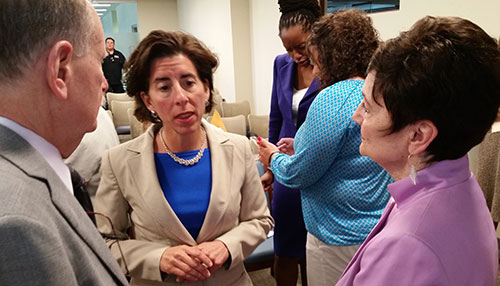 Professor Terrie Fox Wetle, dean of the School of Public Health, joined Raimondo and other state health leaders in announcing the comprehensive overdose prevention campaign, including the new site.
"This crisis does not discriminate and touches every community," Wetle said. "Our researchers will continue to work with the Governor and the many stakeholders she has brought to the table to understand this crisis."
Among them is Brandon Marshall, the Manning assistant professor of epidemiology. He directs the dashboard as part of his service as an expert consultant to the Governor's Overdose Prevention and Intervention Task Force. Members of his research team, including Brown undergraduates and public health concentrators Ben Bouvier and Elliott Liebling, continue to play key roles in developing the dashboard website and keeping its data up to date.
Below, Marshall answers questions about the new dashboard.
What is the overall goal of the site?
Our goal is to provide all Rhode Islanders with timely, accurate information about the overdose crisis affecting our state. We are working with the Rhode Island Department of Health and other partners to ensure that anyone who visits the site can find addiction treatment, prevention and harm reduction resources in their community.
The website offers resources for people who may be at risk of overdose, health care professionals who would like to learn more about treating addiction, as well as concerned family members and friends.
What are some of the ways you expect it to be used?
The overarching goal of Governor Raimondo's Overdose Prevention and Intervention Task Force Action Plan is to prevent overdose and save lives. We wanted to create a resource in which everyone who visits the website can learn what they can do to prevent overdose, whether that is finding treatment information for a family member or learning where to buy naloxone.   
We know that across the whole state this is a major crisis, but a key goal of the website is to provide more local information for people to take action in their own communities.
We tried very hard to make the information as geographic as possible. A lot of pages have maps about where they can find resources, for example. We're working on a mobile version so that information will come up on phones to give people a sense of what immediate actions they can take if they are in need of help or have a friend or family member who might need support.
The site provides those immediate resources, but also it provides statewide epidemiological data. Why provide both kinds of information?
During the website development process, we heard from our community partners that accurate, timely overdose data was critical to addressing the overdose crisis. But saving lives relies on action at both the individual and community levels.

This website — a publicly visible dashboard — provides the public and policymakers with real-time data to track the progress of the governor's action plan.
We will use the site to monitor and evaluate key components of the action plan, including improved access to evidence-based addiction treatments (like Suboxone) and increased coverage of the lifesaving overdose drug naloxone (Narcan).
Second, by understanding where overdoses are occurring and who is most affected, we can develop programs that more effectively respond to the needs of communities across Rhode Island. We anticipate that our partners (including government agencies and community-based organizations) will use the dashboard to identify overdose "hot spots" as they are happening in real-time.
During our beta testing phase we heard from a physician who said, "When I saw the website, I was shocked about how many overdoses were in my town. I just didn't realize it was such an issue potentially among my patients." It elicited a lot of discussions among her colleagues about their prescribing practices and encouraged them to learn more about addiction treatments.
There is a heavy emphasis on infographics and not too much text. What drove that design philosophy?
Our dashboard development team worked closely with experts who create useful, easy-to-navigate health information websites. Ultimately, infographics provide a better way to communicate important health information to a broad audience, rather than text-heavy resources such as flyers or brochures.
How have you and other Brown faculty members been involved in this effort and the overall strategic plan?
Dr. Josiah (Jody) Rich and Professor Traci Green were lead advisers in the development of the state's strategic plan to address overdose and are involved in the dashboard project. I have been very fortunate to work with such dedicated and knowledgeable colleagues. The website wouldn't have been possible without their insights, as well as the invaluable efforts of so many individuals who work every day to prevent overdose and save lives.
As the director of the dashboard project I have a tremendous team of passionate staff and students who have been critical to building the site. We work collaboratively with government and community-based organizations that are providing the data that you see on the page.
The funding for the project comes from the Department of Health as part of a larger grant from the Centers for Disease Control and Prevention to address prescription drug overdoses in Rhode Island. Since sustainability is a key part of this work, the funding is a five-year grant, and we look forward to continuing to improve the website with our partners and the Rhode Island Department of Health.