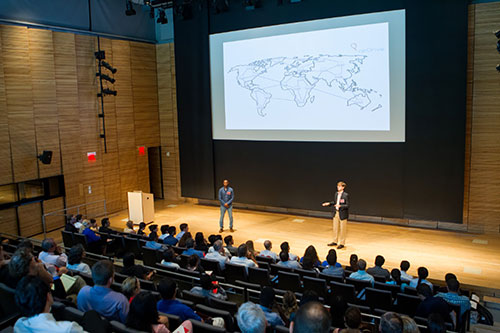 PROVIDENCE, R.I. [Brown University] — Thirty-eight students marked the end of an intensive eight-week summer program in entrepreneurial innovation at the closing ceremony for the Breakthrough Lab (B-Lab) at the Granoff Center on Thursday, July 28.
The B-Lab students, who worked in two- or three-person groups on 16 ventures ranging from connecting low-income patients with medical resources to creating novel energy storage devices, were welcomed to the Martinos Auditorium by Jason Harry, B-Lab director and associate professor of the practice in engineering and Brown President Christina Paxson, who spoke about the difficulty and excitement involved in the entrepreneurial process.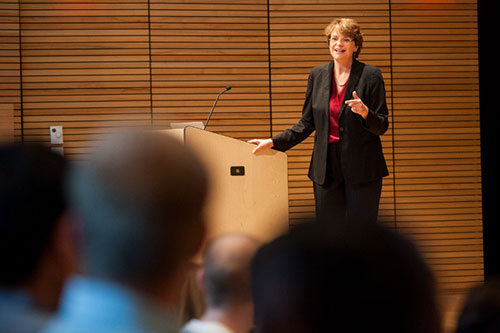 "It's really easy to go to a job where someone puts a folder on your desk and says, 'Here's what you're going to be doing for the next six weeks,'" Paxson said, noting that the B-Lab students had created projects from scratch and reinvented the ventures repeatedly as the institute progressed. "We're asking our students in this program to think in novel, creative ways. It's hard, and I also hope it's very exciting."
This is just the second year of the immersive program, which is an initiative of the Provost's office, but B-Lab has accrued a great deal of momentum and a track record of success, Thursday's speakers said.
Participants from the 2015 cohort have launched businesses like Healthy Roots, a toy company that teaches natural hair care to young girls of color and combats internalized colorism. Others have worked on creating a scaled-down version of a Brown School of Engineering device that harnesses tidal energy in rivers and oceans.
Driving such creative projects forward requires a particular environment and set of practices, according to Paxson, who said, "This kind of ecosystem we're trying to create doesn't just happen by accident. You have to cultivate it."
Harry, who directed the B-Lab program for the first time this year, spoke about the program's emphases on learning by doing, engaging with the real world, holding work to business standards, meeting aggressive goals and investing in the community. He was impressed by the students' level of engagement.
"These guys have worked hard and worked smart," Harry said. "Learning by doing means that you change what you're doing, sometimes on a daily basis."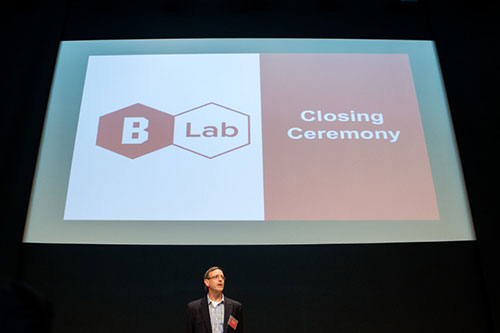 And the students were very productive, he added, saying that half of the ventures were going live in the next six months, according to aggressive timelines that the students set themselves.
Each B-Lab team must include at least one Brown or Rhode Island School of Design student as a founder. Undergraduate and graduate students from all disciplines – from the arts and humanities to social sciences, engineering, life sciences and the physical sciences – are encouraged to apply.
Ryan Carlson, who worked with Kyle Meyer on Altor, a tactical drone security firm that aims to reduce casualties in mass shooting incidents, talked about Harry's approach to guiding the students, as well as the intense research that B-Lab participants undertake and the critical involvement of mentors. Carlson said the B-Lab participants would create extensive plans for their ventures and how to execute them. Harry, he said, "walks in, looks at them and tells you you're wrong," something the students valued, he noted, because, with limited resources and time, they could reevaluate and find the best path forward.
Also crucial to the students' process was bottom-up research, Carlson said. Teammates Brittany Cohen and Amily He initially planned to make kinetic clothing that helped elderly individuals get dressed, but they changed their plan and their product after talking extensively with staff at care facilities, doctors and elderly would-be customers. Realizing that their proposed solutions would be too complex for their clients, they found another problem to fix.
In their three-minute presentation on their venture, something that every B-Lab team delivered at the closing ceremony, Cohen and He explained that they instead created pajamas with inflatable air bladders to help prevent bed sores, a common, distressing and expensive problem among patients unable to move or turn themselves in bed.
Elsewhere among the array of projects presented by B-Lab students was airDrive, developed by Gregory Carlin, Sergio Chen and Thomas Abebe, which allows people to rent out the unused storage space on their computers for consumer credit or cash, and Choose Something Good, a nonprofit volunteer platform devised by Elie MacAdams and Adrian Grant-Alfieri. Choose Something Good links volunteers with local nonprofits that lack the resources to fundraise, advertise, gather volunteers and promote events.
The audience listening to the student presentations included Brown students, faculty and administrators along with investors, members of the community and some of the many mentors who helped B-Lab students during their eight-weeks.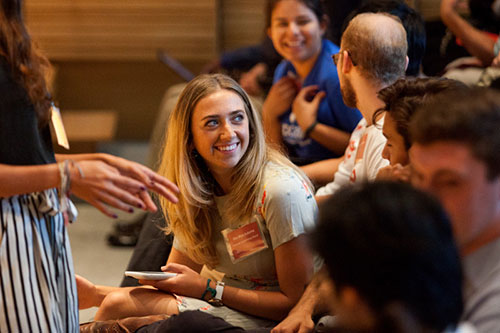 Harry noted that the mentors, who included a wide range of professionals and Brown alumni, enthusiastically gave their time, working directly with B-Lab students on their ideas via Skype, Google hangouts and in person.
The willingness of Brown alumni to engage so deeply with students in B-Lab was something that Paxson noted was particular to the Brown ethos of collaboration, and she extended her hope that the group assembled at the closing ceremony would help in the success of Brown's continued work in entrepreneurship.
As nearly every student group presenting their venture closed by inviting the audience to talk with them, share opinions and help them continue to develop their projects, it became clear that the teams would continue to engage deeply in entrepreneurship.
"Eight weeks is too short to get to everything," Carlson said in his speech, "but enough time to get to the hard problems."