PROVIDENCE, R.I. [Brown University] — Just off the small rocky beach at the 372-acre Haffenreffer estate near historic Mount Hope in Bristol, Rhode Island, a sizable black bird flies close to the water.
Perched on the beach, a handful of high school students track its flight closely with binoculars. Once the bird disappears from sight, Brown University pre-college instructor Erik Donofrio hands a birding guide to one of the students and walks the group through the process of identifying the water bird they just spotted.
"It looks like some kind of cormorant," one student says.
"A double-crested cormorant, maybe?" another asks.
Right answer, Donofrio confirms. He promises the students that later, there's more to come on cormorants — the reason their bones are more solid than other birds and why they stretch their wings out for their feathers to dry. For now, however, it's off to find their next bird.
Meanwhile, another group of students learns about the harm that plastics cause to the ocean, picking up trash from the shore during the lesson; yet another sits on the lawn above the beach, talking through everyday ways they can make their lives less impactful on the planet.
It's part of a typical day at the Brown Environmental Leadership Lab (BELL), a pre-college program where students spend two weeks living and learning in an outside classroom focused on both environmental studies and leadership development — all within the framework of understanding the causes and impacts of climate change and, ultimately, brainstorming take-home solutions.
The brainchild of Robin Rose, now a senior advisor in Brown's School of Professional Studies, the program's 2002 launch was motivated by her concern for the environment, her passion for education and her feeling that Brown would be an ideal home for this kind of immersive, experiential, interdisciplinary pre-college experience.
"Through BELL, we help students develop an intellectual understanding of environmental issues, but also a physical, emotional and spiritual connection to the natural world," Rose says. "Our experience tells us that this approach is effective. It combines the best of the academy with the power of an experiential pedagogy. Students leave with a more intense and well-informed commitment to environmental sustainability."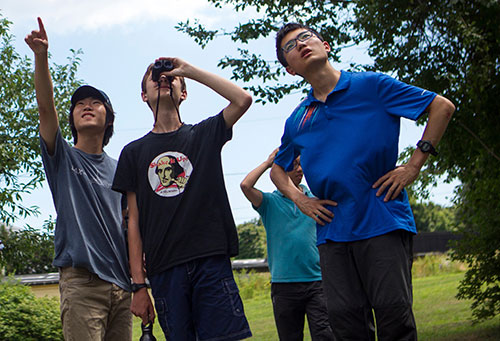 The pairing of environmental studies with leadership lessons is intentional, says Lauren Watka, BELL's current director. The underlying belief, she says, is that future environmental scientists need more than just scientific knowledge to solve the world's climate woes. They must possess leadership skills and an understanding that spans disciplines that range from political science to economics to sociology.
"At Brown, we know that the only way these really big environmental challenges are going to be solved in the next century is by people working together — out of conventional silos," Watka says. "We try to reflect that at BELL. We could be a program that focuses solely on the natural sciences, but those are not the only skills scientists of the next generation will need. We incorporate the social sciences, environmental justice and science communication."
A day in the life
At first glance, BELL feels a bit like summer camp. Canvas tents where the students sleep in groups of eight are scattered across the property. Laundry drying on a clothesline wafts in the breeze. There's a volleyball court, a fire pit and hammocks stretched among the trees. Framing the scene are expansive vistas of Mount Hope Bay, an arm of Narragansett Bay, with sailboats and fishing vessels dotting the horizon.
Though idyllic, this location — in one of the country's most densely populated watersheds — makes it the perfect place to examine up close the challenges of protecting the environment while meeting human needs. The daily schedule is packed, from wakeup to lights-out, with classes and activities that do just this.
The curriculum at BELL constantly bridges environmental studies with real-world issues and solutions. A kayak trip to explore wildlife and plants along the shore is prefaced by a lesson on local ecology. Students learn how to measure water quality — looking at metrics like nitrogen content, dissolved oxygen and turbidity — and then spend the afternoon touring a wastewater treatment plant. After simulating an environmental negotiation by role-playing various stakeholders, students meet with local environmental advocates engaged in inter-agency collaboration. In every class and experience, students work together to make connections between daily topics and the overall course theme.
"Suddenly talking about forest or water management isn't theoretical, it is real," Rose says. "They can see it, touch it and even taste it. Experiential education invites students to learn by doing, observing, reflecting and connecting their experiences to their intellectual understanding of environmental science and policy."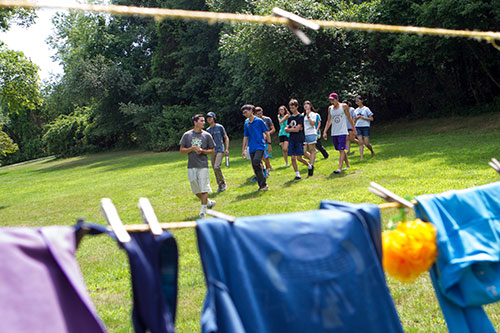 The importance of community is emphasized as well. Students live, learn, work and eat side by side. They relinquish cell phones upon entering the program to better facilitate face time, and each is expected to contribute to upkeep of the community, with daily chores ranging from trash removal to meal preparation and cleanup. Watka says that cultivating this sense of connection doesn't just make the experience at BELL more fruitful — enabling students to securely step outside their comfort zones and learn more — it will also serve them in the future as they forge partnerships to solve real-world problems
The community aspect is what ultimately appealed most to Francelis Morillo Suarez, a rising senior from Lawrence, Massachusetts, who participated in a BELL session this summer. Suarez came to the program mainly because of her interest in environmental science and the outdoors but was pleasantly surprised by the strong friendships she quickly forged there. "I have never been around a small group of people that got along so well," she says. "We all still talk to each other every day."
Suarez says this closeness enabled the group to dive into thorny issues like environmental justice.
"I was able to think more about racial and gender connections to environmental issues, how depending on who you are and where you live, you experience different environmental impacts," she says.
These conversations happen among a diverse group with students from a wide range of geographic, racial and socioeconomic backgrounds. Out of the 92 students who attended the BELL Rhode Island programs this summer — over three distinct two-week sessions — 69 American students hailed from 21 states, and 23 international students traveled from seven countries. Thirteen percent attended with the assistance of scholarships provided by the University and national organizations Brown partners with to bring students to these programs.
Taking action
The lessons imparted at BELL extend beyond the two weeks spent in Bristol.
During their time in Bristol, students define an issue they are passionate about and construct an action plan to tackle the issue when they return home. Instructors work with students to set realistic goals, identify mentors and resources, and anticipate challenges. Examples of action plans have included writing a grant to install solar panels at a student's high school, developing a school composting program and coordinating an e-waste collection day.
Though Suarez spends most of her academic year at a boarding school in New Hampshire, what she learned about environmental justice at BELL persuaded her to implement her action plan in her hometown, where she says it is needed more. Suarez says that as one of the poorest cities in Massachusetts, Lawrence struggles with environmental contamination in the form of waterway pollution, illegal dumping and lead paint contamination, as well as a citywide lack of green space.
At the park just a few blocks from where she lives, Suarez plans to plant a "rain garden" composed of native plants designed to withstand drought and dissipate harmful storm water runoff. She also wants to bring in recycling containers, with instructions printed in both English and Spanish, reflecting Lawrence's large Latino community.
Two weeks after returning from BELL, she quickly ticks off all the people she needs to talk to make her action plan a reality. "The mayor's office, the parks and recreation department, people at city hall," she says. "Yeah, I need to start making phone calls. I'm on it!"