PROVIDENCE, R.I. [Brown University] —While Labor Day, for many, may be spent at beaches or barbecues, bidding a de facto farewell to summer (or reflecting on the achievements of the American labor movement), the early September holiday marks the beginning of academic life at Brown for the University's incoming first-year and transfer students.
Two days before classes begin across the University, new students gathered in groups with faculty, staff and student facilitators to discuss "My Beloved World," the memoir of U.S. Supreme Court Justice Sonia Sotomayor. The book, which students read over the summer, recounts Sotomayor's journey from a housing project in the Bronx to her role as the first Hispanic and third woman appointed to the nation's highest court.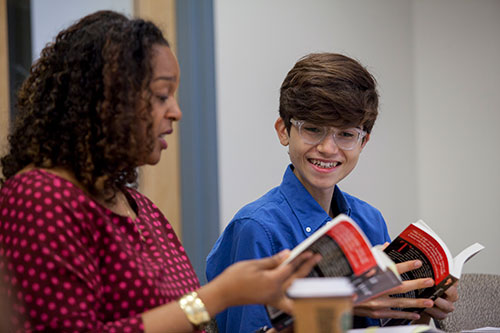 The First Readings program exposes the Class of 2020, which includes individuals from 48 U.S. states and 58 nations, to Brown's rich learning environment in an integrative way, said Maud S. Mandel, dean of the College and professor of history and Judaic studies.
"The broad vision for the program is to provide an introductory experience that draws from across the liberal arts tradition," Mandel said. "We therefore consider submissions from the humanities, social sciences and STEM fields with the hope, over time, of incorporating texts from a wide range of disciplines." 
The book is selected with a diverse incoming class in mind, Mandel said, and with the goal of providing them their first shared academic experience.
"Will it speak to them?" she asked. "Can they access it? It should be a passionate reflection of the self and society, defined broadly."
Françoise Hamlin, associate professor of Africana studies and history, who led a discussion session with a group of about 12 gathered in J. Walter Wilson, told the students: "These moments are really important to give you access to each other and to gently let you know what's expected of you in a college classroom. Don't take what you're reading at face value, ever. Everything has bias. Everything has meaning added to and embedded in it. Be vigilant when you're reading."
With her co-facilitator Timothy Ittner, a junior double concentrating in Africana studies and social analysis and research, Hamlin engaged the students in a wide-ranging discussion of the form, style and message of the book.
They began by talking about whether they liked the book and moved on to grapple with issues of whether Sotomayor is exceptional, what it means to write a memoir from a high-profile position that is often politicized, and what costs are associated with her professional achievement. Students also talked about identity and perception as it relates to one's professional life, as when Sotomayor notes in her book that because she is light-skinned, she sometimes "can pass for white or Jewish," one student said, asking, "How would it be if she were Afro-Latina?"
"It made me think of all the different perspectives that there may be at Brown and the validity of all those stories," said new student Benjamin Lederman.
In Hamlin and Ittner's session and in a discussion group held later in the day by Omar Galarraga, assistant professor of health services, policy and practice in the School of Public Health, students talked about Sotomayor's drive, often leading them to reflect on how they, about to embark on their college careers, would make their way.
One student speaking in the session led by Galarraga and his co-facilitator, sophomore Evan Lehmann, said that she felt that she may have projected onto the text a sense that Sotomayor was bragging, because she had so recently emerged from the college application process, where she was constantly thinking of how she stacked up against other applicants.
Another student said Sotomayor's "entire life is a moral responsibility." That student said she had made goals about her academic life and career, but added that she hadn't spent a lot of time thinking about what she was going to contribute to the world.
In Galarraga and Lehmann's session, which took place in Barus and Holley, students spoke about the hardships in Sotomayor's early life. In talking about the way she overcame poverty, the early death of her alcoholic father and the diagnosis of diabetes that caused her to take responsibility for administering her own insulin shots as a child, students posed larger questions about mechanisms and types of achievement, and how privilege or social and economic obstacles impact the trajectory of one's life.
Lehmann pointed out that in "My Beloved World," systems and structural barriers were everywhere in Sotomayor's life, and that Brown was a place where students worked to address them.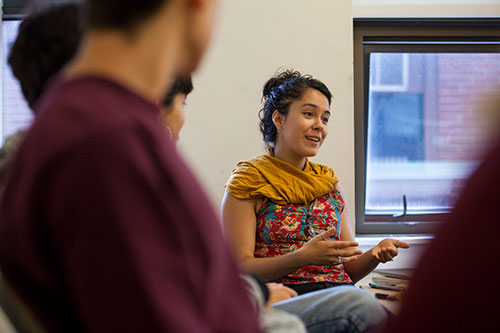 Galarraga asked: "Should we talk with bigoted people? It's a hot topic. Sonia Sotomayor gives us a good insight into the importance of listening to others. We do want to have systems changed," he added, noting that listening strategically, as Sotomayor advocates, and finding "win-win" situations or "how things happen behind closed doors" is important as well as knowing "when we have to make a stink."
He gave as an example his public health perspective on HIV drug access, in which activists worked hard to convince pharmaceutical companies to lower prices for antiretroviral drugs so that more people could afford treatment.
"You are lucky to be here," Galarraga said. "You will have a lot of power to do something good. You can bring about change in a good way."
Hamlin and Ittner pointed out that students have plenty of time to identify their paths and what impact they will have, and that sense of discovery is something to be prized rather than a source of worry.
Ittner said, "It's okay to have failures at Brown, and it's okay if you don't have a passion right now. Don't think you have to have your eyes set upon a spectacular achievement."
Hamlin agreed. "People don't do what they said they would at the start.  That is the whole point of the Open Curriculum and being here… I was originally interested in the law, and you see where I am now."
Creating a campus-wide experience
For students who want to continue to discuss "My Beloved World," they will have not only facilitators and other new students to talk with, but also a large number of staff and faculty.
This year, the University extended the program beyond incoming students, inviting faculty and staff to help select the book, read it and participate in discussions led by senior leaders and others at Brown. The response was very positive, with all 150 staff slots filled shortly after the staff readings were advertised.
"We were hoping to spark a community reading," Mandel said, "and to build community across campus by including more people, including staff, in a common intellectual conversation."
Provost Richard Locke, who co-sponsored the program with the President's Staff Advisory Council, said, "By extending the First Readings program to interested staff, we reinforce our connections as a community, reading the same text as incoming first-years and transfer students, and offering an opportunity for faculty and staff from across the University to gather to discuss their perspectives about the book and the issues it raises." 
Mandel said that individual departments that wish to host events or further programming related to Sotomayor's memoir receive support from the Office of the Dean of the College.
Whether or not more formal events on the book take place, however, thousands of students and hundreds of faculty and staff, meeting in offices or waiting in line for coffee, are likely to find, if they ask the person next to them, that they have something in common to talk about.