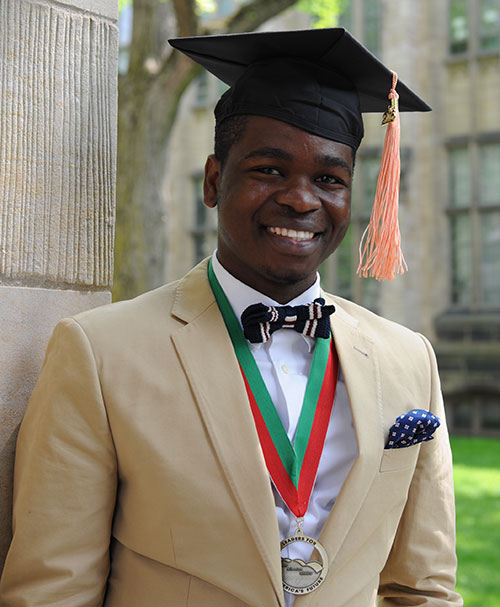 PROVIDENCE, R.I. [Brown University] — Adedotun Ogunbajo is only beginning his doctoral studies in the Brown University School of Public Health this fall, but he already has a national credential: he is one of the first 40 Robert Wood Johnson Foundation Health Policy Research Scholars.
The newly created, competitive award provides first- and second-year doctoral students from historically underrepresented groups with training and mentoring in health policy that they can integrate into their research.
"I hope to apply skills learned during the fellowship to understanding how policy impacts people living with HIV around the world," said Ogunbajo, who grew up in Nigeria until his family moved to Maryland when he was 13.
Ogunbajo has remained engaged with the health concerns of the region. In studying for his master's of public health at Yale University, Ogunbajo, who speaks Yoruba, spent last summer in Ghana interviewing people living with HIV about how interpersonal and systemic stigma affected their access to treatment and the course of their medical experience. This summer he interned with the U.S. Agency for International Development.
He earned bachelor's and master's degrees from Johns Hopkins University before going to Yale. Along the way, he said, mentors such as Dr. Renata Arrington-Sanders at Johns Hopkins and Professor LaRon Nelson of the University of Rochester have been huge sources of support.
Now Ogunbajo has come to Brown to work with Matthew Mimiaga, professor of behavioral and social sciences and an expert in the global HIV epidemic. Ogunbajo had applied to several programs, but Brown offered the chance to study with someone whose papers he was already citing in his scholarship. Moreover, he said, Brown stood out when he attended "Super Monday," a day in the spring when the Graduate School invited newly admitted students from underrepresented groups to meet with faculty, staff and students to help them to get to know the University.
Brown also awarded Ogunbajo a Presidential Fellowship. That, combined with the Robert Wood Johnson Foundation award's stipend of up to $30,000 over four years, will support his studies.
Programs that encourage students from minority groups or disadvantaged backgrounds are important, Ogunbajo said, because they can provide seats at the academic and policy tables for scholars who have different and pertinent perspectives on many of the key issues being discussed.
"[Underrepresented students can] design interventions and implement research studies that allow them to apply their expertise on the subject area but they also have the added element of being from the community or having a good idea of the issues the community faces," he said. "Things that other people talk about anecdotally are lived experiences for me, so I think about those issues very differently."
At the same time, Ogunbajo acknowledged that he has a lot to learn about policy, given that he's only ever had one policy class.
"You can do all the research you want and implement wide-reaching interventions, but if current policies are incongruent with the goals of your project, it's a setup for failure," he said.