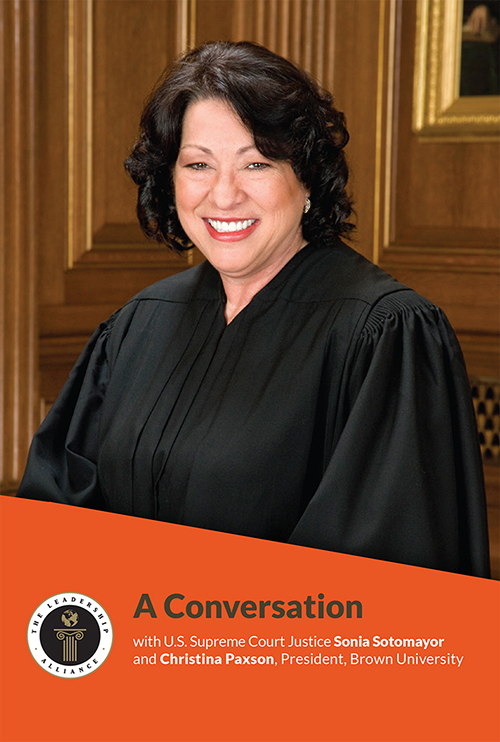 WASHINGTON, D.C. [Brown University] — A decade after a historic meeting of university presidents set the stage for the nonprofit Leadership Alliance's work to train, mentor and inspire students from diverse backgrounds into professional research careers, leaders from higher education and public and private sectors will convene in Washington, D.C., on Nov. 4 to develop new strategies for diversifying America's research workforce.
A conversation with Justice Sonia Sotomayor of the U.S. Supreme Court will highlight a daylong Presidential Forum at the National Academy of Sciences. Sotomayor's journey from a Bronx housing project to her appointment as the first Hispanic and third woman on the nation's highest court exemplifies the impact that mentors can have in launching the careers of underrepresented students.
The event coincides with the upcoming 25th anniversary of the Leadership Alliance, a coalition of 36 premier research and teaching institutions that recruits and mentors underrepresented students and has propelled more than 3,000 participants to research careers through its signature summer research initiative and other programs.
"Already, we have made an impact in building the next generation of scholars from historically underrepresented groups in academia and beyond," said Executive Director Medeva Ghee of the Leadership Alliance. "While challenges persist, they can only be met through a concerted and collaborative effort on the part of educators working in conjunction with leaders in the public and private sectors."
President Christina Paxson of Brown University, one of 36 member institutions of the Leadership Alliance and home to its executive office, will host the forum and moderate the conversation with Sotomayor.
"As part of our commitment at Brown to strengthening diversity and inclusion on campus, we have greatly emphasized strategies for building an academic community that embodies the social and intellectual diversity of the world," Paxson said. "The work of the Leadership Alliance is a great complement to efforts at Brown and at other educational and research institutions, and this is a critical moment for us to use our leadership roles to influence higher education and our nation in a positive direction regarding the challenges and demands of diversity."
Prior to the evening conversation with Sotomayor, participants will explore strategies for continued pursuit of diversity in the country's research workforce. Two major panels — "Creating and Sustaining a Diverse 21st Century Workforce" and "Preparing America's New Majority: The Next Generation of Leaders and Role Models in Academia, Public and Private Sectors" — will be held in the afternoon.
Nearly 125 attendees will participate, including university presidents and leaders from federal funding agencies, industry-based research organizations, nonprofits and more. More than 500 students, faculty, staff and alumni from the Leadership Alliance's mid-Atlantic partner institutions will join the attendees for Sotomayor's visit.
Ghee said Sotomayor's experience mirrors what she hopes will be the path for many of the students who complete the Leadership Alliance's programs.
"A significant part of Justice Sotomayor's story includes the mentors who influenced her success and the opportunities she earned along the way," Ghee said. "Our goal at the Leadership Alliance is to identify talented students from a diversity of backgrounds, expose them to the research environment, launch careers and inspire a lifetime of success. We are honored that Justice Sotomayor will share her inspirational story with us."                                                                                                                                                                                     
A quarter century of leadership
Founded on the Brown University campus in 1992 to address the shortage of historically underrepresented students in graduate programs in the sciences, the Leadership Alliance has worked for more than two decades to mentor the next generation of leaders in academia and beyond.
Members include leading teaching and research institutions — including each of the eight Ivy League schools — historically black colleges and universities, several institutions that primarily serve Latino or Native American students, and a corporate research institute.
The organization's centerpiece is its annual Summer Research Early Identification Program, in which undergraduate students from traditionally underrepresented groups who are interested in research careers work for eight to 10 weeks in the summer under the guidance of a faculty or research mentor at one of the 22 consortium research institutions. A stipend covers all costs, and a national conference convenes students with mentors, program coordinators and alumni at the summer's end.
More than half (54 percent) of the Leadership Alliance's 3,000 participants have completed or are pursuing advanced degrees. The number of scholars who have achieved doctoral degrees is nearing 400. Among those now in the workforce, 47 percent work in academia (61 percent in tenure-track faculty positions), 27 percent in the private sector and 12 percent in the public sector. Another 14 percent are postdoctoral fellows poised to launch their research careers.
This year's forum will build on the successes of the historic gathering of college and university presidents in 2005, when the Leadership Alliance convened its first Presidential Forum to discuss the academy's efforts to diversify higher education and to devise strategies for further progress. The collective expertise of participants contributed to the development of a 10-year strategic plan, a roadmap that shaped programs and guided the work of the Leadership Alliance in the years since.
Given the continued evolution of the higher education landscape over the last decade, this year's Presidential Forum will offer the chance for leaders to reconvene and examine solutions for further diversifying America's research workforce. The insights produced via the forum will inform the development of the Leadership Alliance's next strategic plan.
Media access
Members of the news media are invited to attend portions of the President's Forum with advance registration. Please register for media access by contacting Brian E. Clark of Brown University's Office of University Communications at 401-863-1638 or [email protected]. Media registration deadline is 5:00 p.m. on Thursday, Nov. 3. Some limitations to media access will be in place.