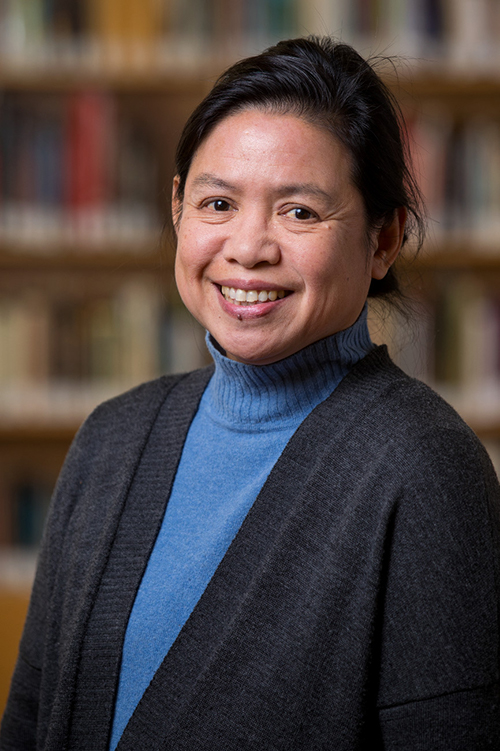 PROVIDENCE, R.I. [Brown University] — On March 17 and 18, Brown University will bring together students, faculty, alumni and others from more than 20 Ivy League universities, liberal arts colleges and peer institutions for a summit on diversity and inclusion in higher education.
The summit, titled "Developing Pathways to Diversity and Creating Inclusive Environments in Higher Education," features an array of discussions, workshops and seminars exploring how research and scholarship can inform the work of advancing diversity and inclusion on college campuses, said Liza Cariaga-Lo, Brown's vice president for academic development, diversity and inclusion.
The event comes less than 10 days after Brown issued its first annual report outlining the University's progress toward the goals of Pathways to Diversity and Inclusion, an ambitious action plan launched in 2016 that outlined concrete steps for creating a more diverse and inclusive academic community.
Keynote lectures will feature three thought-leaders in the field: Earl Lewis, president of the Andrew W. Mellon Foundation; Natasha Warikoo, an associate professor at Harvard and author of "The Diversity Bargain: And Other Dilemmas of Race, Admissions, and Meritocracy at Elite Universities;" and Robin DiAngelo, social justice education expert and author of "What Does it Mean to Be White: Developing White Racial Literacy." A fourth keynote session will include diversity officers from Harvard University, Wellesley College, the University of Connecticut, the University of Rhode Island and Providence College, who will discuss diversity and inclusion initiatives at their respective institutions.
A live stream of the summit will be available beginning at 4 p.m. on Friday, March 17. For a full schedule of sessions and speakers, visit the summit website.
As attendees began to arrive for the summit, Cariaga-Lo offered her thoughts on Brown's role in creating conversation on diversity in higher education and how convening students, faculty, staff, alumni and thought leaders from different institutions can advance innovation in creating more diverse and inclusive campuses.
Q: What role has Brown played in shaping conversation about diversity and inclusion in higher education? What strengths does the University bring to the table?
Together, the Brown community has done a lot of important work to develop innovative practices that inform the larger landscape of understanding how to do diversity and inclusion work well in higher education. This is perhaps best exemplified in the Diversity and Inclusion Action Plan (DIAP) that was released last year, a plan that is unique in its interdisciplinary and collaborative approach — and one that has made Brown an incubator for diversity and inclusion practices that we hope will be enhanced and replicated at other institutions.
Even before the release of the DIAP, Brown has been a place for innovative scholarship and practice in addressing diversity and inclusion in higher education. The Center for the Study of Race and Ethnicity in America, the Center for Study of Slavery and Justice, the Pembroke Center for Teaching and Research on Women and the Annenberg Institute for School Reform, for instance, have been sites for critical scholarship on race, ethnicity, social justice and disparities that have drawn from research by our Brown faculty. Our partnerships with Tougaloo College, a historically black college, and the Leadership Alliance consortium, which provides research opportunities for underrepresented undergraduate students, have for many years served as models for collaboration across institutions and have allowed us to develop and nurture the diverse talent pools in the academy.
Q: What can we learn from other institutions who are doing work in this area?
Many institutions today are experimenting with new ways to approach diversity and inclusion work, using evidence-based data and research related to experiences of students, faculty and staff in higher education. We can learn a great deal from the work of our colleagues about effective practices for different constituent groups, and we can also share common insights and challenges that we can, through collaboration with our peers, more effectively address through the implementation of programs that are synergistic across institutions.
Q: How will the keynote speakers enhance the conversations and interactions that will take place at the summit? 
As thought leaders, the keynote speakers will be able to provide critical framing for the necessary work that we need to do in higher education to make progress on our diversity and inclusion goals. They will be able to share the principles that guide this work (as Earl Lewis, president of Mellon Foundation will do), highlight more fully the experiences of diverse students and the choices and challenges they face daily (exemplified in the work of Natasha Warikoo of Harvard), and help us understand the impact of race and how white fragility must be understood in context of diversity and inclusion practices (from Robin DiAngelo's research). Finally, we will hear from chief diversity officers from a breadth of higher education institutions who will be able to share with us their work on the ground in strategically overseeing and addressing the enormous variety of diversity and inclusion concerns that institutions face daily.
Q: What results do you hope to see from the diversity summit?
We hope that this summit will give us opportunities to learn about recent scholarship, innovative practices and policies, and strategic approaches to effectively fulfill our goal of inclusive excellence in the academy. We also hope that through lively discussions in the sessions we can initiate and seed new ideas for innovative approaches for developing, implementing and assessing our work on diversity and inclusion in our institutions.