PROVIDENCE, R.I. [Brown University] —Adam Blumenthal, virtual reality artist-in-residence at Brown University, is a man who keeps his door open. Brown students, known for their intellectual curiosity, are unlikely to pass up a chance to discover something new.
So when Blumenthal set up shop in the Granoff Center for the Creative Arts in May 2016 and launched into an immersive virtual reality (VR) project focused on the Revolutionary-era Gaspee Affair, intriguing a team of young scholars—who then volunteered to pitch in— took no time at all.
Fast forward a year or so, and Blumenthal and 14 undergraduates in a group independent study project titled Virtual Reality for Education have collaborated on an educational VR experience that, when completed, can teach middle and high school students about  a significant event in the march toward the American Revolution.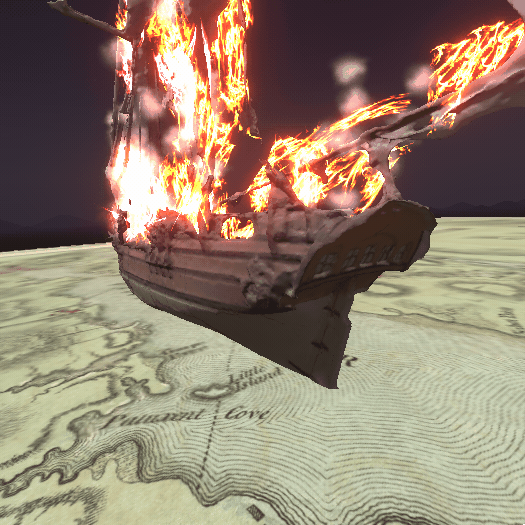 "There's a dotted line from the Gaspee Affair to the Declaration of Independence," Blumenthal said of the 1772 incident in which Rhode Island colonists boarded and burned the HMS Gaspee, a British Royal Navy schooner helmed by a captain with a reputation for confiscating cargo and harassing merchants and fishermen.
Blumenthal said this local, dramatic and historically important story was ideal for an immersive educational experience because VR can simulate the sensation of presence in an environment that's otherwise impossible to enter and surround users in contexts where new insights can be gleaned.
When all is said and done, students will be able to learn about the events by donning a pair of VR goggles and virtually entering a tavern where reenactors discuss plans to board the ship, traveling in a rowboat up Narragansett Bay toward the target, or listening in as officials debate how best to punish the colonists for their acts.
To create such an innovative educational experience is no small undertaking.
Engagement and learning
Blumenthal said that sense of being immersed in an environment where history is being made makes VR an effective tool to overcome disengagement among students, a key goal in light of a 2015 Gallup poll indicating that about 50 percent of high school students report feeling disengaged in class.
Hannah Seckendorf, a cognitive science concentrator at Brown and project participant, said that VR is often referred to as an empathy machine.
"In school, a lot of that lack of engagement is students feeling that the material they're studying isn't relevant, or that it has no importance in daily life," she said. "In VR, it is relevant to you, because it's your environment."
Beyond getting students' attention or wowing them with technology, Blumenthal wants to make sure the VR experience helps them think critically about the material.
"I want students to think about what was at stake for the raiders who attacked the Gaspee," Blumenthal said. "It wasn't just folly. They were about to commit treason and maybe murder. Some of them were very frightened, and they could have been captured and hung."
Testing VR for education
With the formation of the independent study project, Blumenthal said he gained  a group of 14 creative minds— students who are not much older than the target audience for the project.
"They were great collaborators," he said of the students, who are concentrators in more than a dozen disciplines, from computer engineering to visual art. "What I taught them was how an interactive media production works, from concept to almost completion."
The project was managed, Blumenthal said, as a research and development lab that would both review literature on VR for education and produce a prototype that would work with local students. VR for education is a relatively young field, unlike the use of video games for education, but it is expected to have a dramatic impact on learning, research and presentation in the next decade, he noted.
The students on the Gaspee team had to think hard about how to structure the project so it was both manageable to produce and met the educational requirements.
"We were really focused in the beginning on how you could put this into a curriculum," said Zev Izenberg, a computer science and visual art concentrator. "By the end, we realized how difficult it was to create anything at all in VR… The hard stuff is getting it there in the first place."
A complex production
Creating the Gaspee project involved historical research, script writing, reenactments of historical scenes using volunteer actors, animation, 3-D modeling, coding and learning how to use new and emerging VR programs.
The team shot the scenes using a 360-degree Google Jump camera rig that the company loaned to Blumenthal, a designated "trusted tester" of Google VR technology. Each of the 16 lenses on the rig is a GoPro camera that shoots stereoscopically.
Blumenthal explained that after shooting a scene, footage from each of the individual cameras is uploaded to a Google program where stitching software creates one beautiful, high-definition, high-resolution sphere.
"Twelve to 24 hours after we shoot the footage, we can download it," Blumenthal said. "It's like stepping back in time, in a way, to the kind of filmmaking where you can't see what you've shot until later."
One of the difficulties with that process, Seckendorf said, was that if one of the cameras was not working, the team would not know until after the shoot was done and the footage came back. In VR, there is no way to cut together bits and pieces of scenes filmed, so the group could discover that they had lost an entire day of shooting long after the set had been broken down.
The production also involved 3-D modeling and a technique called photogrammetry, in which up to 150 photos are taken in a systematic way in one direction and then uploaded to software that figures out the geometry or shape of things in the environment. Students also used Tilt Brush, a Google VR painting program.
The group used all of these elements, weaving the story through them, adding voiceover narration and using spatial audio to guide a student through the experience.
VIDEO: Adam Blumenthal and students Hannah Seckendorf, Quinn English and Zev Izenberg discuss the Gaspee Project and working in VR
New roles in an emerging field
Some of the students were entirely new to VR, and none of the students was an expert with all of the tools, Izenberg said, so the team learned VR and other skills as the project progressed. Izenberg had never been on a production team before but learned how to create scenes on both sides of the camera.
"It was a weird experience being a first-year student… and still being the person that assigned people tasks. I learned a lot as far as leadership is concerned."
Seckendorf said her lack of exposure before the project was beneficial, ultimately:  "I came in with no expertise in VR and no experience with coding," she said, "but this allowed me to do a lot of self-directed learning."
Quinn English, an economics concentrator who helped write the project syllabus, said that while he loves movies, he did not consider himself a filmmaker. Nevertheless, he wrote a script based on historical research and joined the reenactors in one of the scenes.
And while the students made huge strides in mastering VR techniques and production skills, they also had to learn to let go of ideas that were interesting but not, Seckendorf said, necessary or educationally important — like including quizzes to get from one scene to the next, involving video-game like challenges or adding fun but not crucial special effects, like throwing the torch that would set the ship alight.
In the schools
Because the project focused on research and development, and because of Blumenthal's "trusted tester" role with Google, the Gaspee project is being created for high-end technology including the HTC VIVE, for use with hand controllers and goggles.
"We're designing it for the best system with the most features so it's interactively rich," Blumenthal said. "Because it's an experiment, really, we wanted to see, in the best-case scenario, what we could make."
What that means for a middle or high school student down the line is that they can "enter" the captain's quarters on the Gaspee and look at his possessions, items that are now artifacts housed in the Rhode Island Historical Society's collections. With VR hand controllers, they will be able to take a book from a shelf and open it, or pick up an item and feel what it was like to raid the captain's quarters.
Blumenthal acknowledges that many schools do not have access to such high-end technology, so he is also working on creating a VR experience that can be viewed on a Google Cardboard viewer, which costs about $5 and requires just a smartphone to work.
"A lot of the best practices for VR are still being developed," Blumenthal said. "Here at Brown there is the chance to be innovative, break new ground and experiment."
VIDEO: Adam Blumenthal discusses the impetus for the Gaspee project.