PROVIDENCE, R.I. [Brown University] —On Wednesday, Sept. 6, the David Winton Bell Gallery at Brown University will debut "What Remains," an exhibition of sculptures and wall-mounted works by Richard Fishman, a longtime professor of visual art at Brown, that documents a distinct evolution in his work.
Jo-Ann Conklin, the Bell Gallery's director, described Fishman as a "consummate experimenter" who since the 1960s has created works in a variety of materials from traditional metals to objects found in nature. "What Remains" includes three types of work: sculptures emanating from his work with Elm Tree Project; a series of freestanding sculptures that possess the thorny texture of a briar patch, according to Conklin; and wall-mounted pieces that are described in the show's catalogue as "works that concurrently are (and are not) drawings, prints, molds and sculptures."
The Elm Tree Project began when a 100-year-old elm on Brown's campus succumbed to Dutch elm disease in 2003, and Fishman, at the encouragement of then-president Ruth J. Simmons, launched a collaborative effort between Brown and the Rhode Island School of Design to work with the wood from the tree in multidisciplinary classes and projects.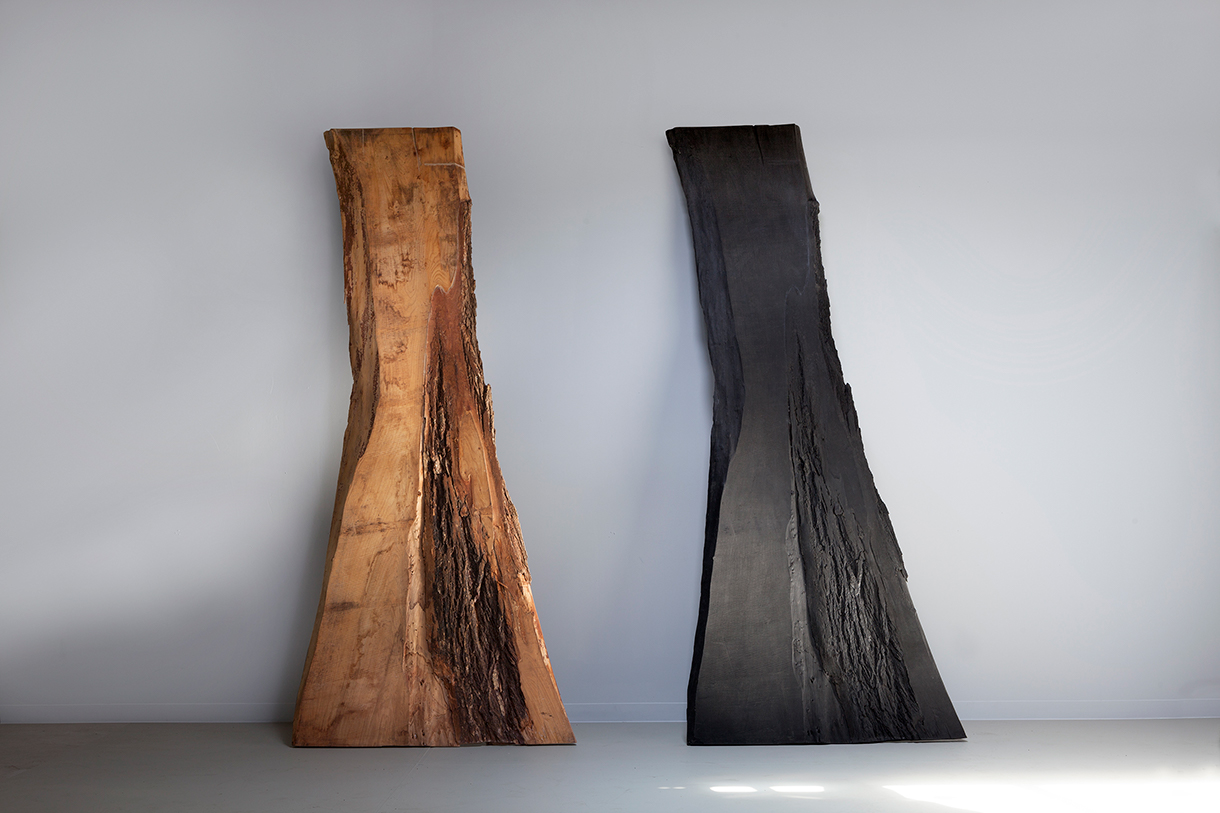 "I thought it would be interesting to take this great natural wonder that made such an impact on Brown as a tree and do something else with it," Fishman said.
The wood was used by students to produce works in media ranging from sculpture and furniture-making to photography, video and fashion projects. In 2010, Fishman began making his own work from the nearly 30,000 pounds of wood the felled tree provided. Visitors to "What Remains" can see ultra-thin slabs of elm coated with reinforcing carbon fiber. Fishman noted that both materials, the elm wood and the carbon fiber, have interlocking fibers, like the warp and weft of fabric, making each material more resilient, flexible and strong.
"I wanted to make the smallest intervention that respected the shape of the trunk, the edge, and alter it slightly," Fishman said of creating the sculptures. "It was an attempt at taking a natural form and using that as a clue for the way I would intervene in the perimeter."
Some of the elm slabs have smooth, high-gloss surfaces that evoke a meditative calm, unlike the second body of work, which Fishman said he nicknamed "the witches." Those are ominous, freestanding sculptures with bristly surfaces of resin-coated carbon fiber draped and wrapped over armatures. The stiff, twisted pieces have what Conklin described as an agitated quality.
"The sculptures evoke dark spirits," Conklin said, and Fishman "has titled one 'Sebastian,' in reference to the martyred saint who is traditionally represented shot with arrows." The culminating sculpture in the series is a massive, nearly ceiling-high work that is 5 feet in diameter, festooned with shredded fibers.
Describing how he turned to this body of work, Fishman said, "I felt I was exhausting what I was doing with simple pieces." He was also inspired by a pile of scrap carbon composite left on a shelf in his Tockwotton Studio by engineering students in the Brown Formula SAE racecar design and build team who were working there.
"I had looked at it for years and one day saw something interesting there," Fishman said of the pile of scrap. He was drawn to the idea of struggle and what formal qualities would evoke it.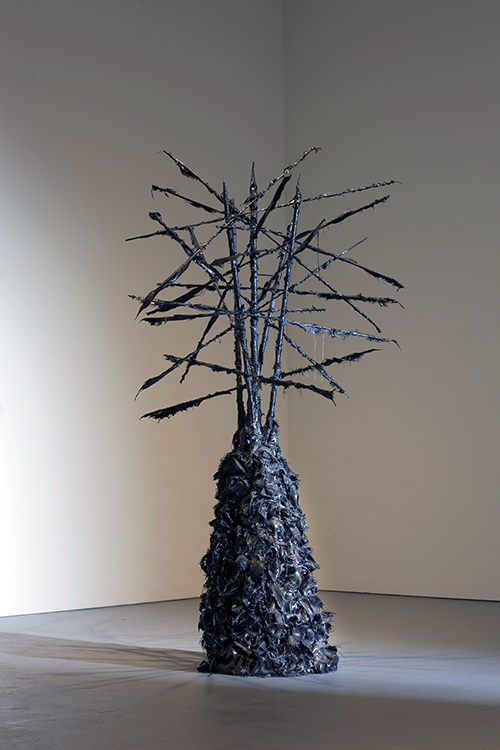 "There is a certain danger in coming too close to this and touching it," he said of one of the "witch" sculptures. "That is in part a result of the natural way that the carbon fiber becomes sharp and hard when the epoxy sits. I wanted a less friendly experience that is more evocative of elements in nature that are designed to repel things, like thorns on plants."
The third group of works in the show, the wall-mounted pieces, do not settle neatly into either category of drawing or sculpture. This seems appropriate for an artist who has long worked across boundaries in his art and work — using everything from medical-imaging techniques to live plants — and who at Brown has focused on creating initiatives and courses exploring the connections between the arts, science and technology.
Since he began teaching at Brown in 1965, Fishman has chaired Brown's visual art department three times, helmed the Brown Creative Arts Council, and served as a driving force behind the creation of the Granoff Center for the Creative Arts, which has become a headquarters for cross-disciplinary scholarship.
Over the course of his career, Fishman has exhibited often and widely in solo and group exhibitions, received many awards and had his work collected by the DeCordova Museum, the Hirshhorn Museum, the Rose Art Museum and others.
"What Remains" will run in the Bell Gallery, which is located in Brown's List Art Center at 64 College Street, through Sunday, Oct. 29. An opening reception will be held on Friday, Sept. 15, at 5:30 p.m. in the gallery.
The gallery is open Monday through Wednesday and Friday from 11 a.m. to 4 p.m., Thursday from 1 p.m. to 9 p.m., and on Saturday and Sunday from 1 p.m. to 4 p.m. For more information, call 401-863-2932 or visit www.brown.edu/bellgallery.